Valle d'Aosta (Aosta)
North West Italy

The northwest of Italy is divided into four regions: Valle d'Aosta, Lombardy, Liguria and Piedmont, the latter of which is regarded by some as Italy's most significant, largely on account of Barolo - a Nebbiolo based red and arguably the countries greatest wine.
In Lombardy, sparkling wines from Franciacorta are generally considered to be Italy's finest expression of the style.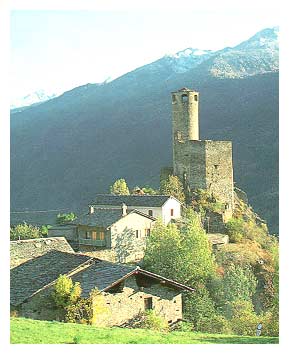 Primary grape varieties:
White Grapes:
Blanc de Morgex, Pinot Gris, Moscato di Chambave, Pinot Blanc, Chardonnay.
Red Grapes: Dolcetto, Nebbiolo (Picotendro), Petit & Gros rouge, Pinot Noir, Gamay, Syrah, Grenache, Fumin.



We begin our survey of Italy's wine regions in France. Entering through the 'Traforo del Monte Bianco' (the tunnel under Mont Blanc), we cross the border to arrive in the stunning Aosta Valley, Italy's smallest wine region, overlooked by the massive Mont Blanc and the famed Matterhorn. This is a mountain paradise for hikers and skiers, perhaps more suited to animal grazing than viticulture. Yet miniscule amounts of wine are produced here - and produced in styles distinct from anything else in Italy or from its foreign neighbors. Vineyards are planted for the most part on rugged hillsides on either side of the Dora Baltea, before the land rises too high for viticulture to be practicable.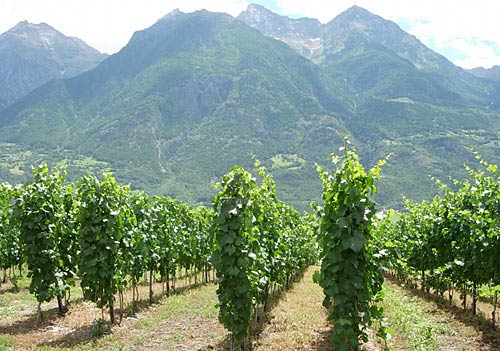 The wine production of the valley is almost entirely consumed within the region itself, hence, labels like 'Donnaz' or 'Enfer d'Arvier' are destined to remain obscure. Until 1985 these names were the only DOC's from the region's vineyards, but have now been incorporated within an umbrella denomination "Valle d'Aosta" which has a number of sub-zones. The pride and joy of the valley is Donnaz, a soft red wine that improves substantially with age. It's claimed that its origins go back to the Middle Ages when a similar wine was produced there. A notable white, Blanc de Morgex La Salle, is another of the region's rarities produced from some of the highest vineyards in Europe, situated at elevations around 1300m above sea level. It is a must with cheese fondue and enhances river trout and other fish dishes. The scarcity of these wines means that high prices for better vintages are not uncommon.