Lombardy (Lombardia)
NORTH WEST ITALY

Primary grape varieties:
White Grapes: Chardonnay, Pinot Bianco, Pinot Grigio, Trebbiano di Lugana
Red Grapes: Barbera, Chiavennasca (Nebbiolo), Pinot Nero, Cabernet, Merlot, Bonarda, Croatina



Today, Lombardy is considered the commercial capital of Italy and the gateway to Europe. Geographically, its provinces of Bergamo, Brescia, Como, Cremona, Mantova, Milano, Pavia, Sondrio and Varese represent a region of contrasts: from the flat plain of the Po Valley and the snow clad Alpine peaks to the frantically busy, industrialised cities to the tranquil, peaceful hamlets perched on the hilltops overlooking Lake Maggiore or Lake Como. Viniculture does not rank high on the list of Lombardy's numerous industries - the citizens of Italy's largest, most populous and well-to-do region are better noted as wine consumers than wine makers.
Nevertheless, Lombardians do produce some fine wines.

The region's chief viticultural districts boast favourable terroirs, particularly where the Alpine climate is tempered by the lakes of Garda, Iseo, Como and Maggiore in the north, and the Apennines to the south. There are three main regions: Valtellina in the north is close to the border with Switzerland;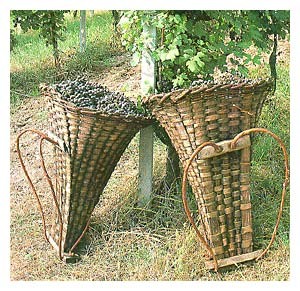 Oltrepò Pavese lies in the southwest corner near Emilia-Romagna; while Franciacorta, arguably the most important of all Lombardy's wine regions, lies in the east near Lake Garda. These three areas produce quite diverse wine styles which has meant that unlike other Italian wine regions, Lombardy has neither a single key variety or wine by which it is known and marketed. This has not hindered a handful of dedicated locals and newcomers from carrying on the viticultural tradition, despite the harsh winters, rugged terrain and temptation to migrate to an easier life in the cities. This is especially true in the north, on the steep terraces of Valtellina near the Swiss border, where grapes are still gathered and taken down to the waiting carts in 'gerle' (shoulder baskets traditionally used for centuries by the menfolk of this valley). In places, vineyards are so steep that grapes are hauled in baskets on cables. Harvesting a clone of the Nebbiolo grape, locally called 'chiavennasca', DOCG has been granted to Valtellina Superiore and its four sub districts: Grumello, Inferno, Sassella and Valgella. These wines have gained local and international attention, along with the rich and mellow Sfursat (made from partly dried grapes) or Sforzato di Valtellina DOCG. Due to the cool ripening conditions on mountain sides, the Superiore reds of Valtellina rank among the most austere of all Nebbiolos. But their initial tightness often belies a stamina to improve for well over a decade in bottle, testified by the fact that of the six million bottles of Nebbiolo reds produced annually in the Alpine Valtellina, a significant number are spirited away by the neighboring Swiss before Italians have a chance to buy them.

Wines of lighter character are produced in the southernmost part of Lombardy along the Po Valley and known after the name of the area, as 'Oltrepo Pavese' meaning 'beyond the Po River'. The region roughly corresponds to the Pavia province and was once a part Piedmont but has always had Milan as its primary market. It is by far the largest DOC of Lombardy, producing both red and white wines, however the red is the most prized. Composed mainly of Barbera, Croatina and Uva Rara (Bonarda), these wines exhibit good character, fruit and complexity. Today Oltrepo Pavese still provides many of Piedmont's sparkling wine producers with its Pinot Nero (Pinot noir) grapes.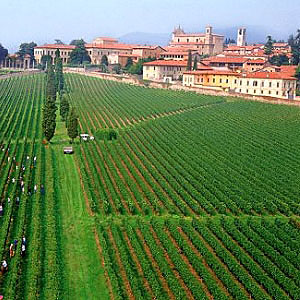 Respectable wines are also made in the provinces of Bergamo, Mantova and even Milano, but the prize for quality and variety goes to Brescia, which boasts seven of the region's 13 DOCs: Botticino, Capriano del Colle, Cellatica, Franciacorta, Lugana, Riviera del Garda Bresciano and San Martino della Battaglia. In Brescia, Botticino and Cellatica are produced, red blends made from Schiava, Barbera and Marzemino grapes. Further east, near Lake Garda, an excellent Trebbiano based white called Lugana is made - a fruity fragrant wine, soft and quite delicate.

Lombardians also show growing pride in their preferences for the 'metodo classico' sparkling wines from Franciacorta [right]. This is the youngest of the three DOCG zones producing about a third of Italy's classical spumante, though most of that is not DOC. Yet the wines produced are considered by some to be the best examples of the style in Italy. They are made using the traditional 'champenoise' method, using Pinot Bianco (to provide a stiff, acidic backbone), Chardonnay (to add plump flavors of apple and pear as well as for improved oak aging), Pinot Grigio (to transmit characteristics of terroir as well as mineral aromas) and Pinot Nero (to improve both acidity and more backbone). Amongst the many wine makers in the area is Berlucchi, arguably producer of the best Italian spumante, who's pioneering success in the 1970's gave Franciacorta a reputation as Italy's answer to French Champagne.