Emilia Romagna
CENTRAL ITALY

The central regions of Italy are home to wide diversity of styles and values:
Emilia Romagna gave the world Lambrusco, the better examples of which are rarely encountered outside of Italy; Lazio produces its famous light, dry Frascati whites and Abruzzo is becoming justly recognised for examples of its dry white Trebbiano d'Abruzzo. But it is in Tuscany that we find the best known of all Italian red wines, Chianti, made primarily from the Sangiovese grape and sold at a range of quality levels. So-called 'Super-Tuscans' - an off-shoot of Chianti made outside the DOC/DOCG rules - can offer top quality, but often at extraordinary prices.





Emilia Romagna (Emilia)

Primary grape varieties:
White Grapes:Albana di Romagna, Trebbiano, Malvasia, Chardonnay, Pagadebit
Red Grapes: Lambrusco, Sangiovese di Romagna, Barbarossa, Cabernet, Bonarda, Barbera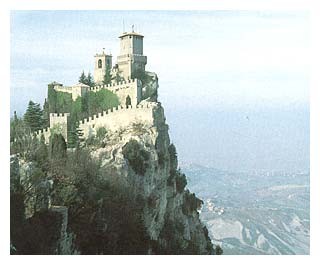 As the hyphenated name suggests, Emilia-Romagna is composed of two quite distinct areas with Bologna, the region's capital, more or less marking the dividing line: Emilia, with its provinces lined along its Roman-built 'Via Emilia', occupies the western sector, while Romagna lies to the east of Bologna and stretches all the way to the Adriatic Sea, to the historic town of Ravenna and the well-known resort of Rimini. Much of the region lies in the Po river plain within some of Italy's most fertile agricultural ground. Not surprisingly, agriculture has long been the main source of the ongoing prosperity in the area, a theme synonymous with the local culture, traditions and popular festivals. Even today, Emilia-Romagna's cities rank at the top of the national listing for the quality of life with Modena and Reggio Emilia competing at times for the title of Italy's wealthiest city. It has a history of characters too; remarkable people such as opera stars Luciano Pavarotti and Mirella Freni, composer Giuseppe Verdi, film directors Federico Fellini and Pupi Avati, fashion guru Giorgio Armani and the painter Ligabue all originated from the area. To this list must also be added Enzo Ferrari and Ferruccio Lamborghini, world famous automobile makers.

On the whole, Emilia-Romagna's wines do not carry connotations of quality in the mind's of wine lovers, and only around 10% of its abundant annual output is dedicated to DOC wines. This is not to deny its potential for better, as wines from Romagna on the eastern side of Bologna have demonstrated. Sangiovese di Romagna, (a very different clone of the noble red variety from Tuscany) is a dry, ruby-red wine with a delicate bouquet reminiscent of violets. It's a slightly tannic style and a favourite of Romagnans. Though, increasingly producers are making reserve expressions of the style cropped at lower yields with more careful vinification, resulting in wines of greater depth of bouquet, flavour and the capacity to age gracefully.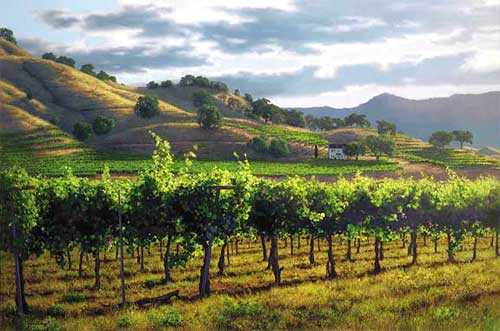 Two pleasant white wines are Albana and Trebbiano di Romagna. The former has been produced for centuries and can be either dry or semi-sweet, typically displaying intense almond and peach notes, and holds the distinction of having become Italy's first white DOCG in 1987. The latter wine is dry and balanced. Both are available also in a sparkling version with the traditional rich, semi sweet Albana Spumante made from partly-dried grapes.

However, the wine for which Emilia Romagna has become most renown is Lambrusco, named after the grape variety it is made from, grown on high trellised vines in four DOC zones in the Modena, Parma and Reggio Emilia provinces. DOC's producing drier style Lambruscos include Lambrusco di Sorbara, Lambrusco Grasparossa di Castelvetro, Lambrusco Salamino di Santa Croce, while Lambrusco Reggiano, tends towards slightly sweeter styles (usually labeled 'amabile', the sweetness is generally supplied by the partly fermented must of the Ancellotta grape, permitted up to a maximum of 15% in the blend). There are historical precedents for both dry and sweet styles which are believed to have been made since the 13th century, though the dry is considered the unparalleled match for the region's hearty cuisine. Lambrusco's most notable characteristic is, of course, its momentary frothy 'head' which is achieved via either the bulk Charmat process, or for higher quality examples, via secondary bottle fermentation.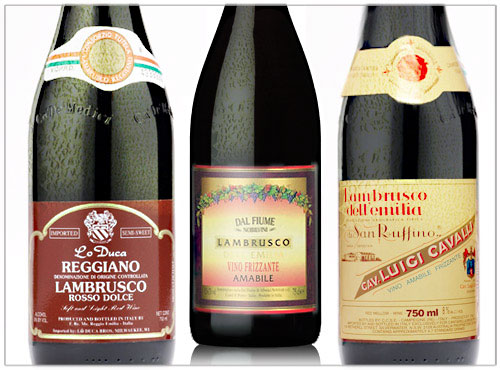 Sweet Lambrusco became the fashionable party drink in America during the 1970's (and for some time in Australia too), however, the wine known to the rest of the world is not what is generally consumed by the locals. Most exports continue to be mass produced sweet examples, sold without an appellation, whereas the opposite applies for domestic consumption. Regardless of the style or appellation, Lambrusco is always made for immediate drinking.

Moving our attention to the hills of Bologna, the capital of the region and the most prosperous town of the area, we discover three reds and five whites known as Colli Bolognesi. Amongst them, Barbera, named from the grape variety it is made from, is perhaps the most outstanding: a deep ruby red wine, well balanced and with a pronounced bouquet, that can age moderately and can be called 'Riserva', after three years. Good results have also been achieved here with traditional Bordeaux varieties such as Sauvignon Blanc and Cabernet Sauvignon.
Elsewhere, on the northern hills of Piacenza, a thriving town on the south bank of the River Po, Gutturnio dei Colli Piacentini can be found. This is a red largely made from Barbera and Croatina grapes, with a deep colour and a marked vinous bouquet. Under the DOC Colli Piacentini come eleven wines, among them Monterosso Val D'arda, a white made from several grape varieties, dry or slightly sweet, at times semi-sparkling, and best enjoyed young.

Substantial improvements continue to be made in the organisation and structure of the wine production in Emilia-Romagna, thanks to the growth of co-operatives equipped with modern facilities and staffed by technically proficient winemakers who are determined to improve quality. Local vintners and winemakers are also actively building interest in rare local wines such as the DOC white Pagadebit and the red Cagnina and Bosco Eliceo in an effort to build a more distinctive profile for the region.