Central Italy
Abruzzo (Abbruzi)
Primary grape varieties:
White Grapes: Trebbiano d'Abruzzo (Bombino)
Red Grapes: Montepulciano, Barbera, Sangiovese

Abruzzo is a refreshingly simple exception to the confusion commonly associated with Italian wine regions. Small, rugged but enchanting, where the Apennines reach their highest point in the Gran Sasso d'ltalia, that towers over 10,000 feet above sea level, Abruzzo, not unlike the rest of Italy, is home to a scattering of artistic treasures. The mountains run close to the sea and leave a narrow coastal plain along the Adriatic. Some favourable growing terroirs offer a tiny percentage of DOC and classified wines based on Montepulciano, Sangiovese (red) and Trebbiano (white), such as those found on the sunny eastern slopes of the Apennines, towards Teramo, Chieti and Pescara. However, the remainder of the region's significant production remains relatively undistinguished. Quantity tends to prevail over quality.
Abruzzo's Montepulciano is not to be confused with the town of the same name in Tuscany that is known for Vino Nobile di Montepulciano. The grape is deserving of higher distinction than it currently holds in Abruzzo where it finds a wide variety of expressions, from light, refreshing rose (known as 'Cerasuolo', because of its cherry hue) to dry, soft, slightly tannic and frequently earthy or gamey reds that age well and go superbly with red meat dishes. Sangiovese comes second to Montepulciano and is generally blended.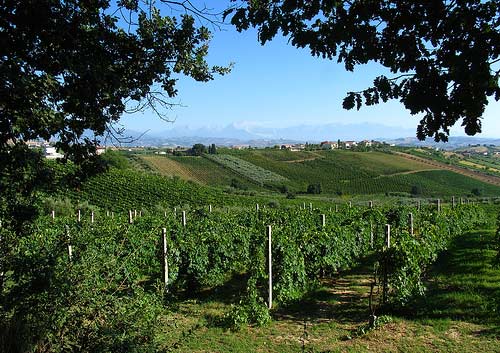 Along with Cattarato, the most widely planted white varietal in Italy is Trebbiano d'Abruzzo, which can also be a superior table wine. Mostly, these are pale, light bodied, easy drinking wines. it is produced in a relatively large area throughout the region from the Bombino grape, a variety widely employed in Apulia. Particularly suitable with fish and poultry, this delicate wine is becoming increasingly known, largely due to the efforts of a single notable traditionalist, Eduardo Valentini. By combining low yields, fermentation in barrel, followed by maturation and a severe selection process in the cellar, Valentini's Trebbiano d'Abruzzo has raised the variety to new heights and offers a decidedly different style from his peers.
Elsewhere in the region, experimentation is underway with Cabernet, Merlot, Chardonnay, Sauvignon, Pinot Bianco, Pinot Grigio and Riesling.
Molise
This small, mountainous and frequently overlooked region was an appendix of Abruzzo until the 1960's and gained official DOC status in the 1980's with Biferno and Pentro di Isernia. (There are now three DOC's in the region though the majority of production continues to be focused on bulk wine). The aptitude for vines on the sunny hillsides between the Apennines and the Adriatic suggests that Molise's vignerons could potentially match the quality of their neighbors in Abruzzi, Apulia or Campania, albeit on a much smaller scale. As in Abruzzo, Montepulciano and Trebbiano d'Abruzzo are the primary grape varieites.