Trentino-Alto Adige


Primary grape varieties:
White Grapes:Garganega, Trebbiano di Soave, Tocai, Prosecco, Verduzzo, Durella, Vespaiola, Chardonnay, Sauvignon, Pinot Bianco
Red Grapes:Merlot, Cabernet, Corvina, Rondinella, Marzemino, Molinara, Negrara, Barbera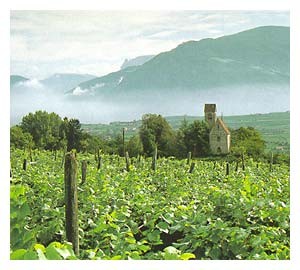 Moving north east, we travel to what is perhaps the least Italian of all of Italy's wine districts. Situated below the Austrian border, Trentino-Alto Adige is yet another spectacular area of saw-toothed ridges and snow-capped peaks, alpine meadows and glittering waterfalls with a viticultural heritage that pre-dates Roman times. Following the fall of the Roman Empire, Trentino-Alto Adige underwent the same fate as many other parts of Italy, whereby subsequent waves of occupying invaders caused a centuries long period of economic and social stagnation. It was during the Middle Ages that the current ethno-cultural mix composed of mostly Italian and Germanic people emerged, and as its present title suggests, the region has been formed by two separate autonomous provinces: In the south, Trento (Trentino, also the region's capital) is Italian speaking while in the north, Alto Adige (from 'alto' (high) referring to the higher Adige River), is German speaking, though most inhabitants are bilingual. The region's traditional festivals reflect this ethnic mixture with some local traditions, wines and cuisines calling on German roots, and others having a strong Venetian or Lombardian influence. In addition, there are still isolated communities high on the Alps, such as Luserna or the Mocheni Valley that trace their roots back to medieval times and maintain their own unique customs. Despite these cultural differences, the region remains relatively cosmopolitan, exemplified in its viniculture by the popularity of international grape varietals such as Gewurztraminer, Pinot Grigio, Muller Thurgau and Riesling.

Most vineyards lie along the Adige and Sarca rivers on soils that contain limestone in glacial or alluvial deposits of gravel, sand or clay. Though not fertile they are light and well drained and so suited to the cultivation of vines. What's more, although the region is in the country's north, viticulture is not necessarily limited to the early ripening varieties. Heat rapidly builds up at lower latitudes during the summer months so that most vineyards include red varietals as well as whites. Vineyards are generally cropped at high yields and geared towards production rather then quality, though some recent developments demonstrate the region is capable of producing premium wines.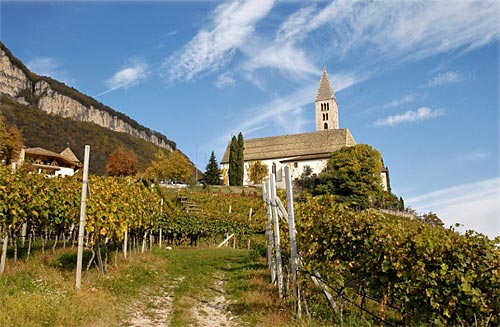 Image: Maurizio Moro
Notably, Trentino is responsible for Italy's largest production of Chardonnay, as well a being a leader in sparkling wine production. Red varietals here include Cabernet, Merlot, Marzemino, Lagrein and Pinot Noir. The vineyards of the southern part around Trento, produce Teroldego Rotaliano, a red wine also known as the 'prince' of Trentino wines: pink or ruby red, this is a pleasantly fruity wine.
Alto Adige's native red varietals include Lagrein and Trentino's Teroldego. Here also, the Marzemino grape creates a casual red for easy quaffing and considerable emphasis is placed on Cabernet and Merlot, on their own or blended.
Of the white wines of Alto Adige, it is often said that they have a particularly Germanic bouquet, fruitiness and strength of character found nowhere else in Italy. (The wines are often presented with Austro-Germanic looking labels). Two reds of distinction are Caldaro, a superior ruby red, full bodied wine, soft and smooth; and Santa Maddalena. These wines are made from vines grown in mountain valleys at altitudes of between 1,500 feet and 2,000 feet, and both have a distinct aroma and taste of almonds.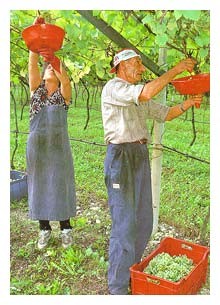 Other lesser known wines from the region include Valdadige, both white and red, which are good table wines made in substantial quantities from a mixture of grape varieties; at Bolzano we come across Terlano, a pale straw coloured wine with greenish reflections and a dry balanced taste; from the slopes that surround the well known tourist centre of Merano, comes the choice ruby red Meranese di Collina, a balanced dry wine of good quality.
"Pane e vino fanno un bel bambino"
("bread and wine make a beautiful baby"). This expression reflects the widespread belief in Trentino-Alto Adige regarding the fundamental sources of nourishment and growth, both physical and emotional. That said, Trentino-Alto Adige produces less than 1% of Italy's national wine production, instead accounting for about 10% of grappa production (a vodka-like traditional Italian spirit, made from the leftover skins and seeds of wine grapes). Nevertheless, wine co-operatives of the region are tending towards New World wine styles which may determine a brighter future for the local economy.