Umbria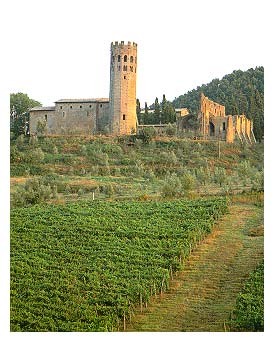 Umbria
Primary grape varieties:
White Grapes: Procanico (Trebbiano), Grechetto, Verdelho, Drupeggio (Canaiolo Bianco), Malvasia, Chardonnay, Sauvignon
Red Grapes: Sangiovese, Ciliegiolo, Canaiolo, Cabernet, Merlot, Montepulciano, Sagrantino

Umbria is a small internal region, with a prosperous and splendid countryside. It is a land of poets and painters, where a 'Franciscan serenity' has remained unspoiled since the time when the great saint was born in Assisi. As in Tuscany, viticulture here dates back to pre-Roman times, to the Etruscans, though today it is of relatively small consequence to the local economy.
Soils consist of calcareous clay and sand that is rich in limestone and similar in colour to the soil of Champagne. Rainfall is ample in cold months with summers that are sunny yet cooled by breezes that keep the vineyards from becoming overheated. Given this terroir, Umbria has been considered to have as great a potential for outstanding wines as Tuscany. This potential has only begun to be realized through lower grape yields, more meticulous selection and by letting the grape skins remain in contact with the juice for a time before fermentation.
The best known of Umbria's wines is a white - 'Orvieto', named after the charming mediaeval city that stands on a massive volcanic rock, now in danger of collapse, riddled as it is with caves where the local winemakers mature their wines. It's said that the painter Pinturicchio undertook to do the frescoes of Orvieto's Cathedral on condition that the supply of Orvieto wine would be unlimited for him and his helpers - perhaps going some way to account for the eleven years it took to finish the commission. The wine is primarily made from Procanico and Grechetto grapes with the addition of some Verdelho and Malvasia and comes in two styles: Abboccato (semi-sweet) - (Pinturicchio's favourite) - a straw coloured wine 'dancing with golden lights', and Secco, (dry). The former is the original wine, produced for centuries and described by some experts from outside Italy as 'a masterpiece of winemakers' art'; the latter, with a slightly bitter aftertaste, is a more modern development, produced to meet the demand for drier whites.
Wines from around Lake Trasimeno, near Perugia, produce Colli del Trasimeno white and red. Both are made from several grape varieties typical of the region with the red permitting up to 40% of Gamay in its blend (the grape variety of Beaujolais). Named after a town by the same name, Torgiano indicates a red wine - dry, delicate, well balanced, which withstands moderate aging - and a white, which is a fruity and pleasantly acid. The red Torgiano riserva, aged for three years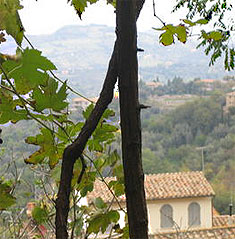 has been upgraded to DOCG status. So has Montefalco Sagrantino, though not well-known, this assertive, powerful red wine has the ability to age for many years and provides healthy competition for its neighbouring rival, Brunello di Montalcino. In passito form, Sagrantino adopts a port-like richness.
Contrary to Tuscany where they are relative newcomers, Cabernet Sauvignon and Merlot have been prominent in Umbria for more than a century, which means that much is already known about clonal selection and specific vineyard sites for these varietals.