The Islands
The most significant of the Italian Islands are Sardenia and Sicily. Both produce idiosyncratic wine styles that are gradually improving in quality and consistency as viticultural techniques improve and new technology is embraced. The latter is Italy's second largest wine producer and home to the famous dessert wine, Marsala.

Sardinia (Sardegna)
Primary grape varieties:
White Grapes: Vermentino, Torbato, Nuragus, Moscato, Malvasia
Red Grapes: Cannonau (Grenache), Carignano, Monica

Being typically full flavoured and alcoholic, Sardinian wines were long prized for beefing up lighter wines produced in cooler climates to the north, yet Sardinia produces some very good DOC wines in its own right. Located between Italy, Spain, and Tunisia, Sardinia is considered Italy's most ancient land and the second-largest island in the Mediterranean (after Sicily).
Historically, linguistically, and culturally, as well as physically, the island is detached from the mainstream of Italian civilization. It only became an integral part of Italy only in 1726, when it was ceded to the House of Savoy. Geographically, Sardinia is an island of contrasts, with smooth beaches and steep rocky coasts, luxurious exclusive hotels and simple dwellings. Approximately 85% of Sardinia consists of mountainous plateaus where granite and volcanic rock have been covered by pasture and woods. Although these areas are well suited to viticulture, they are rarely utilized. Instead, most vineyards are planted in the rolling hills and flat lands at lower levels. Low training of vines is necessary for protection from damaging winds. Irrigation is a recent modernization necessitated by the island's low rainfall (violent and short lived when it rains at all). Despite foreign influence (especially Spanish), the native Sardinians (who are the oldest and purest of Italy's races), remain primarily shepherds, farmers and woodsmen living on an extensive coastline. Vines have existed here since time immemorial, but play a relatively small part in a total agricultural economy.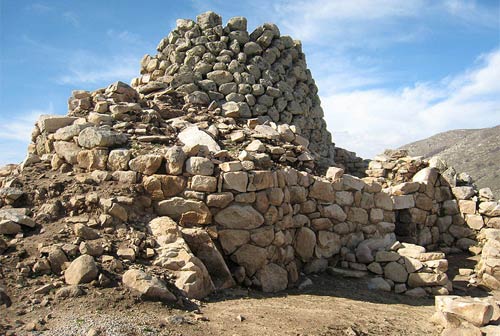 Above:

Another attraction to Sardinia, ancient stone dwellings known as 'nuraghi',
also a title adopted by one of the local wines.
Sardinia is also the island of the 'nuraghi' - mysterious megalithic edifices and fortress-like dwellings of the bronze and iron ages that still stand (more than 8000 exist). The typical nuraghe is found in a panoramic position and is of a truncated conical shape resembling a beehive. The have no foundations and stand only by virtue of the weight of their stones, which may weigh as much as several tonnes each. Inevitably a local wine has been named after them, 'Nuragas di Cagliari'. This is a dry, balanced, pale straw yellow wine, with a most pleasant bouquet, made in the south.
The wooded slopes of the northern Gallura peninsula and the northwestern coastal area around Sassari and Alghero are noted for premium whites. Vermentino, a variety also planted in Liguria and parts of Tuscany, makes Vermentino di Gallura, a white of winning style from the Gallura hills, though it can be produced throughout the region. One of the only four Italian DOCG white wines, it's a wine to be drunk young - straw yellow in colour, with a delicate bouquet, dry and slightly bitter. The perfect complement to all kinds of seafood recipes, from shrimp salads to elaborate seafood platters with vegetables and smoked cernia or swordfish. In Gallura, the Moscato and Nebbiolo grapes also thrive. In fact, the spumante-dolce version of the 'Moscato di Tempio DOC' is among the most delicate and appreciated dessert wines produced on the island.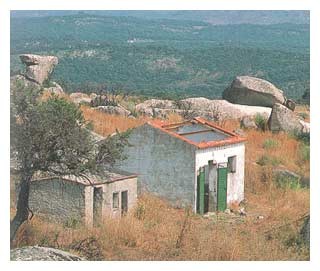 In the northwestern part of the island, the Torbato vines grow on seafront fields near Alghero. Of ancient Spanish origin, the Torbato grape produces a dry white wine that in the last twenty years has received international recognition. It is produced with specially selected grapes and in a special version known as Terre Bianche or 'White Lands' in addition to a spumante brut version. In addition to The vineyards around Alghero include Cannonau (a relative of Grenache) from which Cannonau di Sardegna is produced. Another typical Sardinian wine, this ruby-red, dry sometimes semi-sweet style is aged for a minimum period of one year, and after three is known as 'riserva'. There is a rose as well as a 'fortified' version. Cannonau remains the most famous red wine produced in Sardinia and the variety which represents the islands most lingering viticultural influence: that of Spain. (Other important varietals such as Monica, Vermentino are also Spanish). French influence has also been significant as witnessed by extensive planting of Carignane. Still other varietals are unique to Sardinia such as Giro, Nuragus, Torbato and Vernaccia d'Oristano.
Moving south, one finds the red and rose Mandrolisai DOC production area around the center of Sorgono. In the valley of Tirso and the Oristano plains, located at the same latitude of of the Mandrolisai growing area, but on different habitat, another famous Sardinian wine, the Vernaccia di Oristano DOC is produced. This is a sherry-like aperitif or dessert wine made from grapes of the same name, amber golden yellow, warm, with a slightly bitter after-taste of almonds. A wine for special occasions, no Sardinian appears to go without it.
In the extreme south, Giro di Cagliari is produced: a brilliant ruby-red wine, warm and velvety, dry or sweet that is also 'fortified'. Other red wines are Monica di Cagliari and di Sardegna, both light ruby in colour with a fragrant, velvety dry or sweet taste. Like Giro, Monica di Cagliari is available in a 'Liquoroso' version that can be called 'Riserva after two years of age. The Malvasia di Bosa and di Cagliari, are two other white wines of particular character, straw to golden yellow in colour, with a taste that can vary from bone dry to sweet.