Piedmont (Piemonte)
NORTH WEST ITALY



Primary grape varieties:

White Grapes:Moscato, Cortese, Arneis, Erbaluce, Favorita, Chardonnay.
Red Grapes: Barbera, Dolcetto, Freisa, Braccheto, Bonarda, Cabernet Sauvignon, Nebbiolo, Grignolino, Merlot, Pinot Nero.

Previously enjoyed only by the local market, new and improving viticultural techniques and the success of Italian wine exports has meant that the reputation of Piedmont as a world class producer has been further entrenched. An export mind-set has also seen Piedmont's wine labels become a little easier to understand, with many being labeled using a combination of grape variety and region, though, some labels still seem to fly in the face of any convention at all.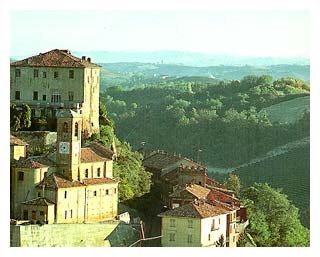 The name 'Piedmont' literally means'the land at the foot of the mountain'which goes some way towards describing the region's geography. It is Italy's western most wine region, bordering Switzerland and France on the other side of the Alps. Not surprisingly, its sub-alpine vineyards are situated in a spectacularly beautiful setting that is only matched by the huge number of fine and increasingly prestigious wines produced there. Winters are cold with plenty of snowfall, while summers are warm and dry with average temperature and rainfall being similar to that experienced in Bordeaux. Vineyards are planted on hills rather than plains, at altitudes which can vary from about 150m to over 350m above sea level, with the best south facing sites (typically dedicated to Nebbiolo) and harvested at some of the lowest yields in Italy.

Piedmont is divided into eight provinces (Alessandria, Asti, Biella, Cuneo, Novara, Turin, Verbano-Cusio-Ossola and Vercelli), however wine production is concentrated in three areas: Monferrato (the area surrounding Asti), Alessandria (near Alba) and Le "Langhe" (which includes Canelli). These areas are divided into two parts: the Alpine foothills to the north and the Monferrato and Langhe hills to the south. As in Burgundy, these zones are fragmented into an average of 2.5 acres per owner.

"Wine is the poetry breathed from the land", said Mario Soldati, an eminent film director and writer who was born in Piedmont's capital, Turin. And it is here, on the hills and moors to the south and north-east of Turin, that the greatest number of internationally distinguished wines are produced. Many of the best examples are made from the Nebbiolo grape(also known as 'Spanna' or 'Picutener' by locals, depending on where it's grown).Although there are twelve Nebbiolo based DOC's or DOCG's, only the famous Barolo and Barbaresco produce in significant quantity. Big, full-bodied Barolo's (known as the 'king of wines & wine of kings') and the gentler, more feminine Barbaresco's from the fog-entrenched hills of Alba are both garnet red wines with a deep bouquet, very high tannin often revealing notes of violets, wild berries, mushrooms, tar, tobacco, vanilla, chocolate, mint, licorice, spice and truffles. Both wines improve greatly with age. Gattinara, another red DOCG, has been known to rival Barolo in excellence in good vintages.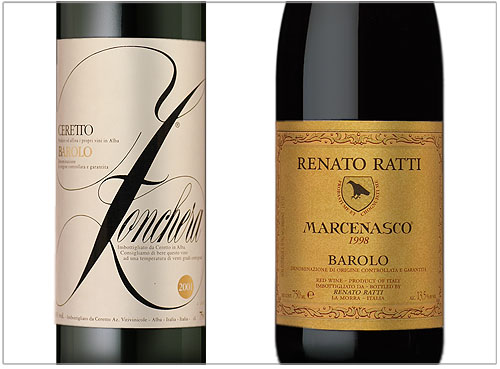 Two premium Barolo wines: Big reds with price tags to match.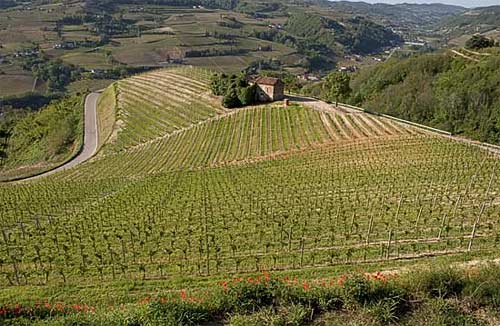 Besides the noble varieties of Nebbiolo, Barbaresco, Gattinara and Ghemme, (all of which are DOCG), the region's two most popular varieties are Barbera (Piedmonte's 'workhorse' grape) followed by Dolcetto. The former can produce delightfully youthful and fruity reds and sometimes wines worthy of comparison to fine Nebbiolo. Known to age well in French barriques, a new generation of winemakers are transforming Barbera from a wine that is "drunk while waiting for the Barolo to be ready", into a serious wine of international standing.
Dolcetto (meaning "little sweet one" referring to the ease with which it grows rather than its flavour) is responsible for ruby-red, soft, fragrant reds bearing the name of the grape before the place of origin (e.g.Dolcetto d'Alba, Dolcetto d'Asti). Given its simplicity, low acidity, consistent ripening ability (it ripens weeks before Nebbiolo) and easy-going character of intense grapey aromas and fleshly fruit flavours, Dolcetto is regarded as the "Beaujolais of Italy". However, as we'll see reoccurring throughout this survey, new attitudes towards the variety are giving it a reputation as full, dark and powerful - though Dolcetto d'Asti typically displays a brighter style, while it is Dolcetto di Dogliani which is becoming known as a heavyweight.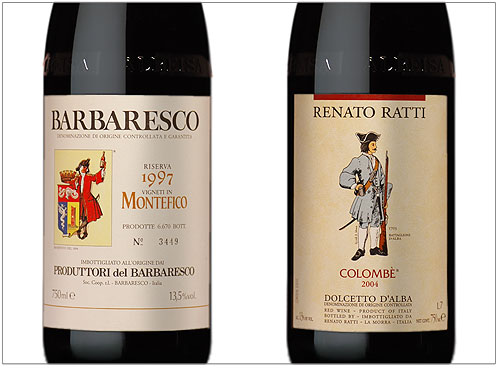 Barbaresco and Dolcetto d'Alba labels.

750 metres above sea level, at Piedmont's border with Val d'Aosta, another red is produced: 'Carema', known since the 16th century, made with Picutener grapes (Nebbiolo) that are left to macerate before pressing. These wines typically exhibit lean acid, tight fruit and dry, earthy overtones.

One of the better known of Piedmont's few white wines is 'Cortese de Gabi', a straw yellow, delicate, fragrant wine with mineral notes. Once considered Italy's finest white, it's sometimes referred to as Gavi and is also made as a sparkling. White wines from the Colli Tortonesi and Alto Monferrato have also become popular, with one of the most surprising developments being the acceptance of Chardonnay which is now an increasingly planted varietal.

The region is world famous for Asti Spumante, the world's second favourite sparkling wine after Champagne. This semi-sweet sparkler is made from the Moscato grape using the tank process method (as opposed to 'method champenoise' which involves secondary bottle fermentation). It's more highly regarded sister wine, Moscato d'Asti, is similar except that it has 1-2 degrees less alcohol and lower CO2pressure (i.e. fewer bubbles.) These wines can offer delicious grapey, mint and muscat notes.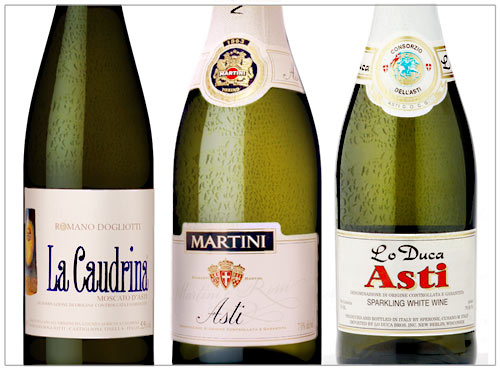 Above:

Romano Dogliotti make a delightful DOCG Moscato d'Asti called 'La Caudrina' [left].
Martini's Asti Spumante [centre] is one of the better known examples of the Spumante style from Torino.
Other notable wine styles from this remarkably diverse region include:
Moscato, a viscous dessert wine made with the same grape.
Nebbiolo d'Alba
, a less tannic and less complex version of Barolo and Barbaresco, made for early drinking. Arneis - a recently revived white variety. Arneis typically produces a low acid wine with almond and exotic fruit notes, a slight spritzig and an unusual, 'waxy' texture. A delightful taste experience and a great aperitif to accompany antipasto.