SOUTHERN ITALY
In the south, the most interesting wines are the reds. Some examples rival the wines of Australia or the South of France for their quality / price ratio. Apulia in particular is producing some exciting wines with Primitivo (Zinfandel). In Campania, Aglianico produces a full bodied red that has become known as "The Barolo of the South" and now ranks as one of Italy's most respected red wines.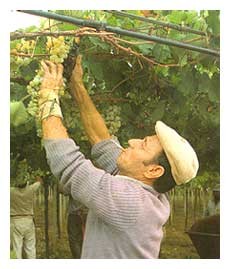 Apulia (Puglia)
Primary grape varieties:
White Grapes: Verdeca, Bianco d'Alessano, Bombino Bianco, Trebbiano Toscano
Red Grapes: Negroamaro, Primitivo, Malvasia Nera, Uva di Troia
Most commonly known as the heel of Italy's fashionable boot. Apulia is Italy's flattest region with 53% of its area covered in plains, the mountainous Gargano Peninsula only breaking through the low coast to the north. Although industry has expanded rapidly in the 20th century, the region remains largely agricultural, dominated by olives, cereal crops and of course, both wine and table grapes in staggering quantities. In fact, if Apulia were a country, its wine production would consistently rank within the top ten in the world. (Annual output in the 1980's occasionally reached almost 13 million hl/343 million gal, more than three times as much as the entire production of Chile, for example). As its nickname "the wine cellar of Europe" suggests, Apulia remains Italy's most voluminous wine producer, rivaled only by Sicily. It also boasts the largest array of varietals in the south.

The region has been well known for wine since the 7th century B.C. Under the Romans, its wines were exported around the civilised world. During the Renaissance, Lorenzo il Magnifico found them most acceptable.
Today Apulia is roughly divided into two viticultural sectors. The northern terrain is rolling to hilly with a temperate climate. The south consists of a flat peninsula quite hot yet mediated by breezes that blow in from the Adriatic and Ionian seas. This mediterranean climate and a predominance of soils well suited to grape-growing (a calcareous base from the Cretaceous era overlain by topsoils rich in iron oxide from the Tertiary and Quaternary eras) have created an ideal environment for bulk viticulture of the grandest scale. The bulk industry was long supported in the north with fruit been shipped to Turin were it was distilled, used to make Vermouth, or shipped to France and used to give structure to French wines when the local harvest was either poor or insufficient. Even today, production of DOC wines in Apulia rarely exceeds two per cent of the regional total, and less than a quarter of the regional production is ever sold in bottle.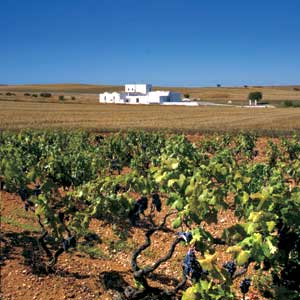 Co-operatives are responsible for 60 per cent of Apulia's production. Some of them have experienced serious financial difficulties, but others have benefited from the input of flying winemakers. Some of the region's vintners have changed their views with an emphasis towards premium wine production. Apulia is today forging a reputation for bottlings of quality reds, whites and roses rather than just extraordinary quantities of bulk juice.
One of the better known DOC's here is Castel del Monte, the area makes white, red and rose which exemplify new techniques. Here, carefully selected grapes are harvested from vines on high hillsides (up to 500m), minimising the over-ripening of the berries to produce three dry, fresh wines. Locorotondo is Apulia's premier white, made primarily with the Verdeca grape, has subtle fruit and almond notes. From nearby comes Martina Franca, very similar in style and, like Locorotondo, available in a sparkling version. Interesting also is Ostuni Bianco, a balanced, white straw coloured wine with a dry, clean taste. San Severo white, red and rose from Foggia, are rapidly gaining recognition for their quality; particularly so the white, with its dry, fresh character.
There are two notable reds that dominate Apulian wine, both of which are produced in 'the heel' of the boot. One of these is Salice Salentino, made from a blend of Negroamaro and Malvasia Nera. This is a full, dry, velvety wine made near Lecce which some have compared to its northern counterparts for richness and complexity. It's gained an enthusiastic following abroad due to its excellent price/quality ratio. When the 'gobelet' trained vines are limited in yield, the resulting wines are not unlike a savoury Chateauneuf-du-Pape. A rose version is also produced.
The second outstanding Apulian red is Primitivo di Manduria, made in an area between Taranto and Brindisi. This is an early-ripening, and potentially high-alcohol variety (14% Alc./Vol. plus) which has been proved to have the same DNA as the highly regarded California grape, Zinfandel. These wines possesses power and colour, and the graceless examples of just a few years ago are giving way to some slick New World styles with those from the A-Mano vineyard being a perfect example. A semi-sweet version is also available, as well as a fortified type known as'Liquoroso'. The Accademia dei Racemi, an association that brings together vintners, agronomists and oenologists is dedicated to promoting and enhancing the quality of wine production here. Under the leadership of Mr. Gregory Polucci, it produces an excellent Primitivo and is experimenting with Zinfandel grapes imported from the USA.