How We Score the Wines & Spirits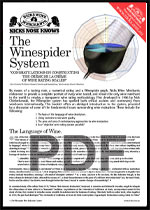 Click the image above to download a detailed explanation of Nicks Wine Merchant's wine evaluation system.
1. The Wines
Nicks Wine Merchants endeavour to taste every wine that comes onto the market in order to select only the best products at any given price point. With over 14,000 labels currently on the Australian Market as well as samples arriving from every corner of the globe this is a monumental task, and one that is often joked about by customers as being a 'dream job.' In reality, judging wines professionally, as opposed to simply tasting wines, requires discipline and concentration.
Nicks Wine Merchants do not have a preferred supplier or a 'mates system', nor do we accept kickbacks from wine companies to promote inferior wines. We must say this gets us into a lot of difficulty from time to time, as particular suppliers want a favour done to move a specific problem wine. However, we have always valued our independence and our strength has been built on one word - INTEGRITY. Consequently, tasting notes appear on our site, warts and all. We believe that the public are entitled to have an educated, informed critique of a product by a professional.
The evaluation system we use is the Winespider system - it is transparent and fully accountable. All wines are initially reviewed and rated by Simon Chlebnikowski and the same day the wines are sent to the buyers who then make a short list of the strongest samples, and finally the wines are circulated amongst the remaining members of staff.
The Winespider Evaluation System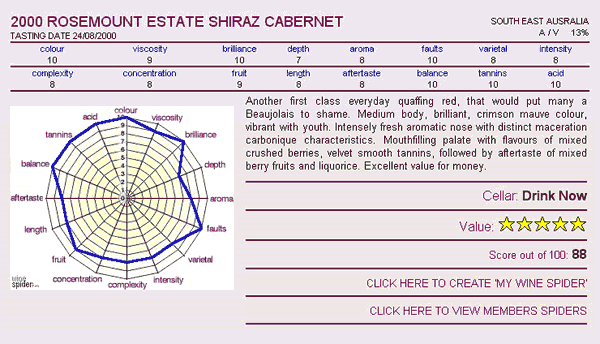 The Winespider evaluation system has created an enormous amount of interest from an international community of wine lovers who have visited the web site at www.winespider.com. The Winespider concept developed from a deep seated distrust of current wine evaluation systems and the need to create a simple, yet objective way of representing the qualities of a wine.
Winespider achieves this using a methodology that rates the four fundamental attributes of wine:
1. SIGHT consisting of four categories:
(a) colour (b) viscosity (c) brilliance (d) depth
2. NOSE consisting of four categories:
(a) aroma (b) faults (c) variety (d) intensity

3. PALATE consisting of four categories:
(a) complexity (b) concentration (c) fruit (d) length

4. FINISH consisting of four categories:
(a) aftertaste (b) balance (c) tannin / phenolics (d) acid
These categories vary slightly in order to accommodate the peculiarities of each of the major wine groups - Red, White, Sparkling and Fortified. In tasting line-ups the Winespider system evaluates like with like, so that wines are rated according to their varietal nature or 'genre', rather than by broad terms such as 'Dry White table wines' or 'Light-bodied Reds'. For example, a Shiraz from anywhere in the world will be assessed on the desirable qualities of the varietal and on how it has been developed and expressed as a result of terroir and winemaking - not by an arbitrary 'Group' classification.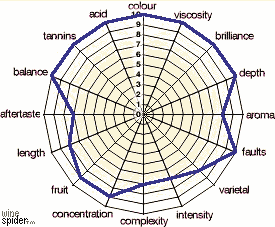 In the actual evaluation process, each of the above sixteen categories are marked out of a total score of ten giving a wine a total potential score of 160. For ease of comprehension, the computer automatically re-calculates scores to a figure out of 100 and generates a Winespider graph. The graph reflects a wines profile at a point in time, so retasting at a later date will produce a different profile. This system allows the history of a wines development to be graphically recorded.
The full spectrum of a wines subtleties are best expressed in this graph. A round profile following the outer limits of the web is indicative of a great wine - a 95 to 99/100 - complete and balanced in every way.
A wine with a similarly shaped graph, but with only average concentration, intensity and length for example, while rating 'highly' at 89/100, is nonetheless seriously lacking in some important aspects - namely the palate. Thus, following the Winespider system, the final score of a wine is always dependent on the sum of its parts - the qualities of which, however, may vary greatly. Consequently, minor discrepencies in scores between similar wines can mean significant differences in quality.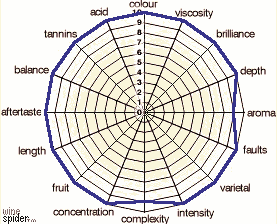 This is especially the case with wines once they attain scores of 90 and above in which the combination of qualities that are achieved is beyond the ordinary, and reflect a rare culmination of viticultural skills, vintage conditions & winemaking flair. An analogy may be formed with Olympic race times in which competitors are often seperated by mere milliseconds- yet it is this same hairs breadth difference that distinguishes a world record from a silver medal.
A value for money rating is allocated after the tasting is complete and is based on "professional intuition". That is to say, a wines value for money is rated by comparing the wines retail price with other wines of its type currently available on the market. These ratings are as follows:





Exceptional value for money.




Excellent value for money.



Good value for money.


Fair value for money.

Best avoided.
The wines featured in the What's Hot section of the website are selected as the most complete & individual expressions of a given wine style, & the best value for money at their respective price points.
"Congratulations on constructing the creme de la creme
of wine rating scales!"
So concluded the authors of a recent study published in the International Journal of Wine Research 2009. Titled "Wine rating scales: Assessing their utility for producers, consumers, and oenologic researchers", the authors studied seven wine rating scales judged to be useful for the wine producer, consumer, or oenologic researcher: (1) My Wine Rating scale; (2) the Amerine and Roessler (1983) wine rating system; (3) the redwinebuzz.com rating system; (4) Robert Parker's wine rating scale; (5) the Wine Spectator scale; (6) the Stephen Tanzer scale; and (7) the Chlebnikowski Winespider evaluation system. The authors commented "...The Winespider evaluation system is more comprehensive than any of the aforementioned scales... [and] is unique among wine rating scales in that it can also be used to track whatever changes may occur in any of the 16 wine characteristics, as the wine, a living organism, changes over time". Download the full article at www.winespider.com and access thousands of Winespider reviews free of charge.
To read more about the Winespider system & for a visual demonstration click here.
The Cellaring Times
In our experience all wines tend to converge (i.e.- become similar) in old age. The primary fruit flavours disappear and the tertiary, developed flavours move in. Regional variations are often lost and what remain are mere skeletons of their former selves. Old reds are not all great - age is not by itself a mender of winemaking mistakes nor a means of correcting a poor vintage or bad viticultural practises.
Our recommendations as to cellaring potential are invariably on the cautious side. We prefer to drink wine whilst the fruit flavours are still evident. We have also taken into consideration the fact that most people do not keep their wines in ideal cellars, and that in a warmer environment (warmer than say 14°C - 15°C), will mature faster than one kept at an ideal temperature.
The cellaring times are a guide as to when the wines will be drinking at their peak, however, this does not mean the wines are not approachable now. Because most Australian wines are so fruit driven they are very drinkable early on. Personal drinking preferences should also be taken into account - if you prefer to drink your wines whilst they still have plenty of fruit then drink them early alternatively, if you prefer the more developed tertiary characters you may choose to cellar the wines for periods longer than the recommended drinking times.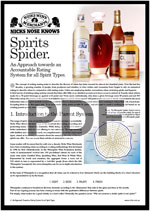 Click the image above to download a detailed accounts of how we rate spirits.
2. The Spirits & Liqueurs

Part of our ongoing journey has been coming to terms with the qualitative differences between spirits. Put simply, what makes for a great whisky or a bad vodka? Naturally, the question arose: "Why not construct a similar spider to rate spirits?"
In 2009 we began developing an accountable working model for the evaluation of all spirit types based on the existing parent system, www.winespider.com.
The principles for 'Spiritspider' are similar to those of Winespider, however, understanding how the production of spirits differs from wines, we realised it was necessary to develop evaluation criteria specific to spirits.
You can read more about the way we rate spirits by clicking here.
You'll notice many of the spirits listed on this site have not been rated as yet. This is usually because samples have not yet been provided by suppliers, however this situation is rapidly changing. When we have not tasted the products ourselves, we endeavour to source reviews from reputable spirit critics and specialists from around the world. These are acknowledged within the tasting note.