Campania
SOUTHERN ITALY
Campania
Primary grape varieties:
White Grapes: Fiano, Greco di Tufo, Falanghina, Falerno
Red Grapes:Aglianico, Piedirosso

Today Campania's capital, Naples, is Italy's third largest city and a mecca of street food. Pizza Napoletana reigns but the range of fried, grilled, sauteed, baked and frozen delights available at shops, carts and kiosks in the city is endless. Neapolitans are devoted to pasta yet fruits and vegetables also dominate the diet. Campania holds many other delightful attractions for visitors, as the region is a showcase of history, art, music, beautiful coastlines, seaside resorts and the ever-prevalent viniculture both historical and modern.
'Campania Felix', as the Romans called this part of Italy, was a favourite retreat for those who could afford it: the rich patricians who erected their sumptuous villas in this fascinating region with picturesque bays and enchanting islands. Through a natural disaster, both Herculaneum and Pompeii have been preserved so that we can learn of life in the days when the region's wines were been enjoyed by Horace and Martial. Both men particularly favoured the vineyards along the coast north of Naples where Falernian, the most treasured wine of the empire, was grown, and also praised the wines of volcanic Vesuvius and the wooded hills of Avellino, Ischia and Capri. (Pope Paul III's court also enjoyed these wines establishing a reputation that persisted into the 19th century). Yet, even earlier than the Romans, the Greeks had recognized the privileged nature, introducing vines which still stand out today: Aglianico, Greco and Falanghina.
Traditionally, wines from Campania were intended for immediate pleasure and consumption. This led many to consider the local wines as second-class products, a thought strongly expressed by Burton Anderson in his 1990 "Wine Atlas of Italy", where he bluntly states that the noteworthy winemakers in the region could be "counted on one's fingers". The last decades of the last century though, have seen a dynamic resurgence in Campania and distinctive wines have popped up in many provinces, bringing the DOC denominations from nine in 1975 to 19 by the end of 2000.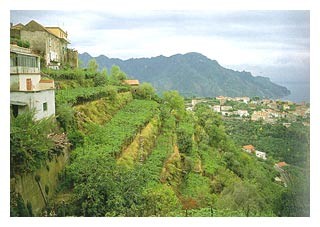 Arguably the best-known Campania wine is the Lacrima Christi ("Tears of Christ"). A local legend has it that Christ looked down upon the licentious people of Naples and shed tears for the pleasure-loving sybarites there. From the slopes of mount Vesuvius where the tears fell, vines grew and the wine derived from them was then so named. Overproduced, its reputation was almost ruined. Serious efforts have been made by local winemakers to restore this wine to its former status and have so far met with some success.
White and red Falerno are reputed to be among the oldest wines in Italy, descended from the vine and wines of classical times, mentioned frequently in the ancient chronicles. The white is dry and full of flavour, the red is deeply-coloured, dry, full-bodied and balanced. Taurasi, from the hills north east of Avellino, recently upgraded to DOCG status, is a full-bodied red known for its boldness, rusticity and spiciness that takes several years to mature. Made with the Aglianico grape, now considered the "Barolo of the south," recent success has had its producers claiming that Barolo is the "Aglianico of the North". Regardless, it now ranks as one of Italy's most respected red wines, primarily due to the work of the Mastroberardino family.
From near here comes Solopaca, named after a town in the province of Benevento. It is available in two styles: white, as a dry, velvety, straw-yellow wine with a pleasantly vinous bouquet, and red, balanced and soft with a light ruby colour. Greco di Tufo hails from Avellino and stands out as a classic, delicate white, ideal to accompany fish dishes. It is also available in a sparkling version. From Capri and Ischia, the two enchanting islands off the main coast, come miniscule amounts of red and white wines by the same name. We finish with an ice cold glass of original 'Limoncino', a delicious, native lemon-based liqueur and another local speciality that's well worth seeking out.