An Introduction to Italian Wine Label Terminology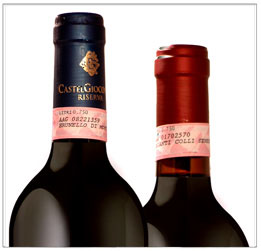 Above:

DOC designations on 'collar' labels.

Irrespective of one's opinions regarding the real success of the Italian appellation system, the last two decades of creative ferment, experimentation and serious commitment to quality have changed Italian viniculture for the better. Experts increasingly rate Italy's premier wines among the world's finest. It cannot be denied that in a wine industry composed of hundreds of thousands of independent vineyards, most of Italy's noblest wines originate in the more than 300 zones officially classified as 'DOC' or 'DOCG'. These wines are labeled as such and follow guidelines outlined as follows:

DOCG- DENOMINAZIONE DI ORIGINE CONTROLLATA E GARANTITA
(Denomination of Controlled and Guaranteed Origin)
This category is reserved for elite wines whose quality is "guaranteed" by the Italian Government. These wines can be sold only in bottles not exceeding a certain size and each bottle bears a seal of guarantee. The first DOCG wine to go on sale was Vino Nobile di Montepulciano, from Tuscany, and was followed by Brunello di Montalcino, also from Tuscany, and Barolo and Barberesco from Piedmont. Chianti became DOCG with the 1984 vintage and Albana de Romagna in 1987. More recently other wines were upgraded: Gattinari and Asti Spumante, from Piedmont, Vernaccia di San Gimignano and Carmignano from Tuscany, Torgiano Reserva and Montefalco Sagrantino from Umbria and Taurasi from Campania. Other wines of particular repute are regularly considered by the above Committee as possible candidates for this exclusive category. The number of DOCGs, though, will always be extremely limited.

DOC- DENOMINAZIONE DI ORIGINE CONTROLLATA
(Denomination of Controlled Origin)
DOC means that a wine with this mark on the label has been produced in a specified area and has been aged and bottled in accordance with existing regulations and under strict control by the Italian Authorities. To qualify for DOC status, the producer must prove that production of grapes from his vineyard is limited to a set maximum, that the quantity of must obtained from the grapes during processing does not exceed an agreed level and that the wine produced has a minimum natural alcoholic content. Furthermore, in many cases there are set periods of minimum aging so that the wine cannot be sold to the consumer until it has reached an acceptable level of maturation. Frequent checks are carried out by the authorities and samples are taken to be analysed at different stages of production. These checks start from the vine and go through to the finished product in the bottle. Infringements are rare now that many producers have found that it pays to make good wine and establish a standard of quality. Moreover, penalties are very severe, consisting of heavy fines or prison terms depending on the quantity of wine involved. Currently there are some 300 DOCs, a number that is likely to increase during the next few years, reflecting the continually improving standards of Italy's wine production.

IGT - INDICAZIONE GEOGRAFICA TIPICA
(Typical Geographic Indication)
As already mentioned, this category was created in 1992 in order to upgrade about 40 percent of Italy's table wine production by placing these products on a par with the French 'Vin du Pays' or German 'Landwein' systems. It was also designed to include Italy's myriad esteemed, and often extremely expensive, wines selling as a Vin da Tavola outside the much criticised DOC system. From the 1995 vintage on, most of Italy's better known and better quality vini da tavola have been marketed as IGT. The wine's label must declare its specific region and may cite varietal type and vintage. Growers or regional governments are required to apply for IGT status just as they do for a DOC or DOCG appellation.

VDT - VINO DA TAVOLA
(Table Wine)
This is the official European Union category denoting the lowest quality wines, but should be considered much wider in scope in a country with such little regard for law as Italy. While the great majority of each Italian wine harvest qualifies as basic vino da tavola, typically red from Apulia and white from Sicily, sold at rock bottom prices, vino da tavola may also designate some of the finest, and most expensive, wines Italy produces, made outside the constraining rules of the DOC and DOCG quality wine system. Vino da tavola as an indication on labels for better quality wines is now gradually being phased out in favour of the recently developed IGT system and the designation is almost completely absent from the export market.


More Italian Wine Label Terminology...

Unless you speak the language, Italian wine labels can appear even more esoteric than Burgundy's best efforts. In fact, sometimes the winery name is not even prominently displayed. Apart from the designations relevant to the Italian appellation system (described above), here are some common Italian labeling terms which may be helpful:
Tenuta
- a large estate or property
Fattoria
- a medium to large wine growing property
Podere/Poderi
- a small wine farm or property, sometimes part of a fattoria
Vigna/Vigneto
- a single demarcated vineyard with a particular name (like "Smith Vineyard")
Feudo/Feudi
- a fief or estate held on feudal tenure
Azienda Agricola
- a crop producing farm, not necessarily limited to wine production, that grows all its own grapes
Azienda (Casa) Vinicola
- same as azienda agricola but also buys grapes grown elsewhere for their wines

There are other words that refer to various geologies or terrains that are sometimes included in wine producers' names:
Ronchi
- terrace
Ronco
- hillside vineyard
Bricco/Bric
- high, steep ridge vineyard (usually assumed to be of high quality)
Colli
- hills
Poggio
- mound or knoll
Sori
- vineyard site of the highest quality, usually facing south
Valle
- valley, dale
Lastly, there are words that refer to wine property buildings or the producers themselves:
Cantina
- a cellar, winery or wine shop
Villa
- town house
Castello
- castle
Cascina
- the house on a farm property where not only wine is produced
Produttore/Produttori
- producer, grower
Viticoltore/Vignaiolo
- vine grower
Three examples

Below we have briefly outlined how to interpret common Italian wine labels using three examples.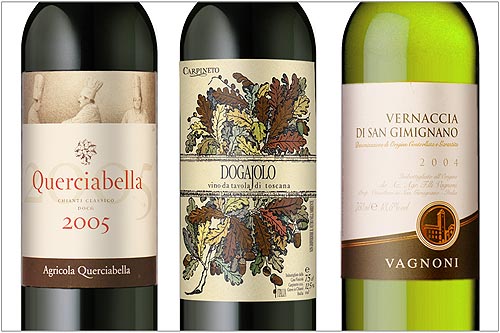 1. With the label pictured left, we first identify the name of the individual producer "Querciabella" and then the appellation or demoninazione "Chianti Classico". The Italian equivalent of the French Appellation Controlee statement is, in this case, DOCG - Italy's highest level. (This statement usually appears as a second label wrapped around the bottle neck). Beneath the vintage, the words "Agricola Querciabella" indicate that the estate is not necessarily limited to wine production (it is a farm of types), but that it grows all of its own grapes. In other examples from Chianti, the word 'Riserva' often appears, which denotes that the wine has been aged for at least three years before release.

2. In the centre example, we have a label from a 'Super Tuscan' wine. The word 'Carpineto' in the top left denotes the producer, which is actually a partnership between winemakers Giovanni C. Sacchet and Antonio M. Zaccheo. In the center of the label, we have the name chosen for the wine, 'Dogajolo'. Immediately beneath, the words "vino da tavola" indicate that the wine is classified as a table wine. Finally, in the bottom right corner, we find the vintage, the winery and the growing region, however the grape from which the wine is made remains conspicuously absent.

3. By contrast, the label on the right foremost states it is a white wine made from 'Vernaccia di San Gimignano' grapes. Below this, the appellation status of the wine is spelt out as 'Denomination of Controlled and Guaranteed Origin' rather than simply referred to using the abbreviation 'DOCG'. Beneath the vintage statement, details regarding the proprietor read"Imbottigliato all'Origine da Az.Agr. Filli Vagnoni", meaning that the wine was bottled by the grape grower and proprietor at their 'Azienda Agricola' (see above). In this case the proprietor is the 'Vagnoni' family, also identified in a separate area at the bottom of the label. Unfortunately, if it weren't for the information kindly supplied by the importers on the back label, a novice would not be able to determine from where in Italy this wine actually comes from (in this case, Tuscany).

Not all Italian wine labels are as friendly to interpret as these three examples (thankfully some are redressing this issue by producing labels to accommodate specific export markets). Competency in this respect remains largely a matter of spending time familiarising oneself with what grape varieties are grown where, and then tasting as many wines as possible. To this end, in the introductions to Italy's wine regions compiled below, we've included the primary red and white grape varieties as grown in their respective regions and for quick reference, we've also incorporated this information into a map which can be printed out for future use. We trust you will find this concise introduction stimulates your interest in what is one of the most diverse and exciting wine regions in the world.