Italian Wines for Sale in Australia - Italian Wine Regions
Nicks Wine Merchants offer a selection of Italian wines which you can buy online and have shipped anywhere in Australia through our site. We trust this brief guide will enhance your appreciation and help you in your choice.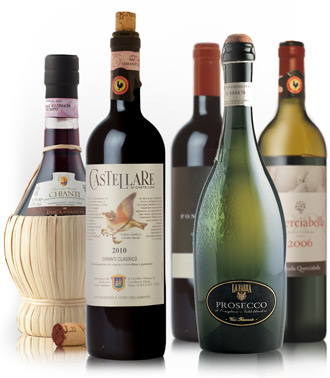 Introduction to Italian Wine

A couple of decades ago, Australia was slowly becoming acquainted with Lambrusco, Spumante and basket Chianti. The range of Italian wines in Australia has since expanded exponentially, yet even today, most remain ignorant of the vast and diverse Italian vineyards that produce roughly twenty percent of the world's total yearly wine output. Why is this situation only just beginning to change?

Without documenting Italy's turbulent early history and relentless internal disputes in detail, it's clear that these factors have contributed to the prolonged disorganisation of the Italian wine industry. This same disorganisation has hindered the advance and development of viticulture and wine making, and delayed the building of a cohesive international market profile, so that, despite the fact that Italy is a country whose wine history dates from the classical period, up until about thirty years ago, it was still known almost solely for the quantity of wine it produced, rather than its quality, and so largely neglected. *

By the 19th century Italy had already commenced mass production of wines which were becoming well-known around the world as inexpensive but lower-quality alternatives to French wines. The arrival of the vine disease 'phylloxera' at the end of the 19th century had disastrous effects, but the newly unified Italy (1861) responded with a national management program: Thousands of grape varieties previously grown were carefully narrowed down to the hundreds we know today, chosen for their ability to adapt to different climates and the new grafting techniques that phylloxera required.

However, many Italian producers continued to take advantage of the country's hot southern climate to push for high yields, generating large quantities of inferior-quality wine. The country's reputation on the world stage seemed destined to remain as a producer of low-cost "pizza wines". Decimation of the country's economy in both World Wars and the Great Depression did nothing to encourage producers to target the fine-wine market.

It was the economic boom that followed the Second World War that significantly reversed the decline of Italian wine. Markets changed radically as consumers in many countries,though most importantly in Italy itself, began to insist on better quality. A class of consumers emerged with both an interest in wine and the means to purchase it. This in turn increased the confidence of winemakers in their capacities as producers of a valued product. Production techniques also became modernised, in line with technological developments in other countries, and Italian wine became less prone to spoilage during shipping.


The Development of the Four Tiers of the Italian Wine System

Despite Italy's extraordinary viticultural heritage, there was no real organisation of thought regarding the wine industry until late in the region's development. An isolated attempt is recorded in 1595 when Andrea Bacci penned his opus"De Natural Vinorum Historia."This was a treatise of seven books on the role of wine in Italian culture and its economic relevance on a national basis. A remarkable effort for this time, firstly because Italy was far from been a nation in any modern sense, and secondly because wine was viewed more as a tradition and source of income, rather than a product for scrutiny.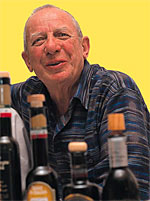 Luigi Veronelli (1926-2004)
A contemporary catalyst for change came from Luigi Veronelli (1926-2004), a journalist, intellectual and passionate wine and food lover, remembered as one of the central figures in the appreciation and promotion of Italy's gastronomic heritage. In 1957, he published a series of articles that focused on the concept of quality in Italian wines and their importance in the world of gastronomy. His contributions made a huge impact on the modern Italian wine scene.

Soon after, in the 1960's, a national effort to raise the country's profile brought about the first controlled-appellation laws, although only a relatively small percentage of Italian wines were certified. The Italian government created two designations, 'Denominazione di Origine Controllata e Garantita', or DOCG for the highest quality of wine; and 'Denominazione di Origine Controllata', or DOC for quality wines. A third also existed for table wines which was called 'Vino da Tavola'. The system dictated guidelines to ensure that wines were made according to certain rules that regulated the type of grape(s), the area of production, the maximum amount of tonnage in the vineyard, the minimum alcohol content, total acidity, the aging of the wine in wood (if applicable) as well as in bottle, and so on.
Clearly, the Italians were attempting to model their system after the French Appellation Controlee model, but it failed miserably. There were several reasons for this. Foremost, perhaps, was that the new regulations still permitted extremely generous yields and were often insensitive to the peculiarrequirements of different grape varieties and terroirs. More generally, Italy was too large and too diverse a region for its wines to be separated into two or three simplistic categories, and as in France, many of the wine producers refused to abide by the new regulations. For better or worse, they continued to make their traditional wines, labeling them 'Vino da Tavola'. (Others took the wines ofBordeaux as a better model and started producing wines using Cabernet Sauvignon and Merlot, a trend which is ongoing today).

Another 'feral' breed of Vino da Tavola was born in the early 1970's with the creation of two wines;Tignanello and Sassicaia.In an attempt to give more body, intensity and longevity to Tuscan red wines, non traditional, non Italian grape varieties were introduced into traditional blends, and small oak barrels principally of French origin, were employed for their maturation (a radical break with the local practice of using large casks of East European oak). Apart from marking a movement towards a more 'international' wine style, these innovations were also the grower's and winemaker's way of subverting the system while proving that high quality wines could be made using different varietals and techniques not 'officially ordained' in their region. Both Tignanello and Sassicaia also had price tags that superseded most DOCG wines. This created confusion and controversy in the market place. The production of 'revolutionary' wine styles outside of the DOC system continued until 1992 when the government finally created the 'Indicazione Geografica Tipica', or IGT. This designation is equivalent to the 'Vins de Pays' system in France whereby winemakers who want to make their own style can do so while retaining an internationally recognised stamp of quality. The IGT classification is largely irrelevant when one considers that the many wines that have won a loyal following on their own as 'Vin da Tavola' (Super Tuscans, for example), and have no difficulty in being sold at extraordinarily high prices, have no real motivation to change their classification. They're quality guarantee now resides in their 'brand' or label, and a dedication to excellence, rather than in a somewhat misguided system which continues to bare the brunt of considerable criticism.
Purchase Italian wines online in Australia through this site. Alternatively, explore the vast range of Australian Shiraz, rare Scotch whisky or Tasmanian whisky that we offer online. Whatever you're after, remember, we ship Australia wide!

* As one commentator summed up the situation:

"The coexistence of a superficially formal attempt at rigour with a laissez-faire approach to actual practice was a product of a national political culture whose improvisatory style to a certain extent reflected centuries of foreign domination".

- Daniel Thomases, American wine writer based in Florence as quoted in "The Oxford Companion to Wine. OUP, 1994.