Marches


Primary grape varieties:
White Grapes:Verdicchio, Trebbiano, Malvasia
Red Grapes:Sangiovese, Montepuliciano


Marches lies along Italy's Adriatic coast, south of Emilia-Romagna, east of Umbria and just touches Tuscany on its northwestern shoulder. Divided into four provinces, Ancona, Ascoli Piceno, Fermo, Macerata & Pesaro e Urbino, this hilly and mountainous region of eastern central Italy, boasts a predominantly agricultural economy based upon livestock, cereals, olives, grapes and vegetables. Producers and growers are helped along by the nature of the soil and a favourable climate moderated by breezes coming off the Adriatic or down from the Apennine mountains.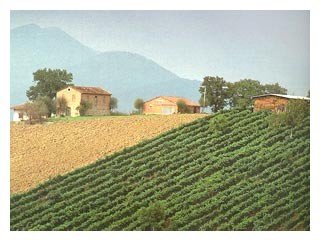 In this obscure region, the amount of red and white wine produced is almost equal, though its best known wine is undoubtedly Verdicchio, a brilliant, pale, crisp, delicate white, made from at least 85% of the grape with the same name that has been described as Italy's premier fish wine. Its aroma is unmistakable and is a sheer delight when paired with seafood in general. Both the Verdicchio di Jesi and the Verdicchio di Matelica DOC wines perfectly complement many local dishes such as the Lumache alle Nove Erbe, snails cooked with nine aromatic herbs, and the Brodetto di Pesce, a bouillabaisse-like rich seafood stew that, though found all over the Adriatic coast, finds its best expression here. Producers have worked hard to revitalize Verdicchio's image by steadily raising production standards, so proving it can be a wine deserving of serious attention. These new attitudes herald an overdue revival for a white produced at the rate of more than 20 million bottles a year.

From the Metauro River estuary on the north coast of Pesaro comes another white of repute: Bianchello del Metauro, a delicate, fresh, dry wine, made from Bianchello, a grape variety that allegedly has been thriving here since 500 B.C. as well as the Bianco dei Colli Maceratesi or, "White from the Macerata Hills", produced near Macerata, south of Ancona.

In recent years, the Marches has been discovered for its red wines too. Also near Ancona, just inland, is Mount Conero, a name of Greek origin. On its slopes are grown Montepulciano and Sangiovese grapes that produce Rosso Conero, a ruby red, dry wine rich in body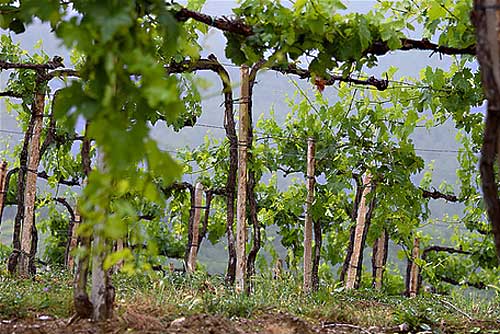 and an excellent accompaniment to casseroles, roasts, grilled meats and poultry. Another red of distinction is Rosso Piceno, a well-balanced wine made predominantly from Sangiovese. Somewhat of a curiosity is Vernaccia di Serrapetrona, a sparkling red wine, semi-sweet or sweet with a characteristic bitter aftertaste.

Without a large metropolis, and being located off Italy's main commercial axis of Milan-Bologna-Florence-Rome-Naples, Marche has being one of the slowest to realise its potential for higher quality wines. (Even today, its mountainous nature allows little inland communication north and south, except by rough roads over passes.) Nevertheless, some excitement has been recently generated about the area's potential, particularly with regard to the Sangiovese and Montepulciano d'Abruzzo varieties, convincing some that Marche can produce wines more comparable to the famous 'Super Tuscans'(see the entry on Tuscany)from the Maremma on Italy's opposite coast.