Timboon Railway Shed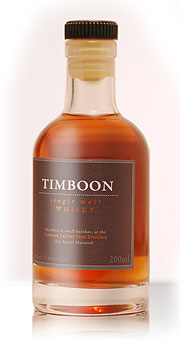 Timboon, South West Victoria.
Est. 2007. Still: 600L. Oak: Australian Port & Tokay (50-90 litres.) Status: Operating.

The South West Coast of Victoria has a colourful history of illicit distilling. We mentioned one of the most notorious distillers in the Timboon district in our introduction. When the Government decided to stamp out the practice, the man chosen to round up the 'Nirranda Distillers' was Detective Inspector Christie, champion boxer, champion sculler of Victoria, and one time personal bodyguard of H.R.H. Prince Alfred. Christie was also a master of disguise. Posing as a travelling tinker, he set out to catch Delaney and his associate, Jim Love.

Shots were fired, the distillers escaped, but not for long and soon enough, whisky distilling in the area came to an end. Until now. Sixteen kilometres inland from the famous Twelve Apostles, a small micro-operation has sprung up: Timboon distillery. Proprietor, Tim Marwood has reluctantly submitted to the excise man and set himself the challenge of making a spirit in the tradition of the locals in days gone by."The scale of our production is relative to the niche market for our spirit"comments Marwood."Our aim is to produce quality not quantity".

The grain employed to produce Timboon is Joe White Pilsner malted Barley. The actual still was produced by Knap Lure Engineering in Moonah, Hobart and is essentially a scaled down version of the kind of still used at the world famous Macallan distillery in Scotland. Barrels are sourced from both Rutherglen, Victoria and Tasmania. We asked Marwood what makes Timboon's whiskies distinctive?"So many factors contribute to the development of complex flavour congeners and esters"
"Malt, yeast, fermentation, still, distillation, time, the previous tenant in the maturing barrel, and more time. We use ex port/tokay barrels to age our spirit and generally use 50 and 90 litre barrels to expaediate the ageing process. This way more wood is exposed to less spirit. We also use a wide vat fermentation process (greater surface area for vigorous oxygenation of wash)."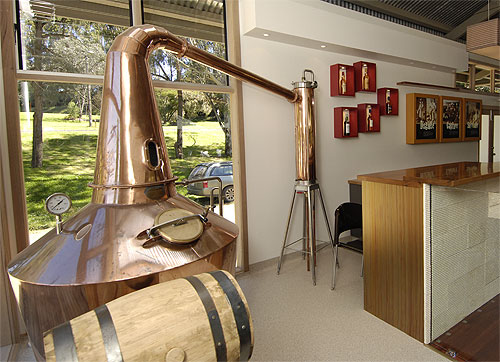 Marwood's experience in the art of distillation has not being without a degree of trial and error, with the odd disaster too. His biggest mistake ended up down the drain. On another occassion he set the still timer to auto to start at midnight. He arrived to do a spirit run early in the morning to find the still dry! His most important lesson?"Don't trust still timers!"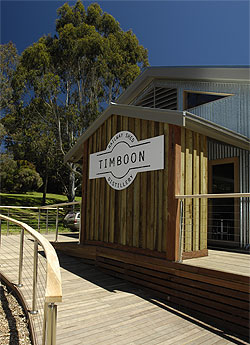 Despite competing in a market place saturated with imported whiskies and having to deal with the lack of quality local barrel stock for differing maturation styles, Marwood has high hopes for his little venture and looks forward to enjoying his first ten year old release with good friends. He acknowledges there's a need to further educate the consumer on the benefits of Australian Malts."Australian whiskies are developing a greater international appreciation due to the commitment and passion of people like Bill Lark. The Australian Whisky market is developing and has great potential to grow and sustain this emerging micro industry. Our high evaporation rates contribute to a uniquely Australian style of malt". While the whisky is maturing, Marwood maintains cash flow by selling other exotic delights including a Coffee Cream liqueur, Strawberry 'Schnapps' and a premium Vanilla Vodka - all well worth a taste.
A visit to the "Railway Shed' also offers a complimentary set of food experiences.





Timboon Distillery Single Malt Whisky Pre Release Sample.
25L port barrel Sept 09
Tasting note: Deep gold colour with pale gold hue. Lifted notes of marzipan, pepper, spice and talc on the nose. The palate is rich, bold and flavoursome. Even at natural strength this whisky is remarkably well balanced. The addition of water to around 45-50% alc/vol reveals chocolate and honeycomb, exotic spice, a touch of mint, cedar marzipan and raisin. The palate is rich and robust, delivering huge chocolate and raisin toast, marzipan, manuka honey and spice flavours with a gentle prickle. Very long raisin and spice aftertaste. The influence of the 25 litre barrel is really felt, despite the whisky being very young, small cask port maturation happens quickly. This whisky is rapidly reaching it's peak. An outstanding debut. Watch this space!69.9% Alc./Vol.