The Lark Distillery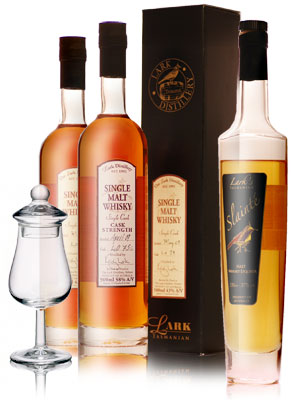 Hobart, Tasmania.

Est. 1992. Stills: 1600L Wash & 1200L Spirit. Oak: Australian Port & Sherry. Status: Operating.

Recently we were visited by Lark's founder, Bill Lark, often referred to as 'The Godfather' of the modern Australian Whisky Industry.It was an epiphany of sorts that led to the birth of Lark's distillery. Bill Lark[pictured below], a keen fly fisherman and Scotch whisky enthusiast, was drinking Cardhu with friends whilst cooking the day's catch. The conversation naturally turned to Scotch, when Bill suddenly recognised Tasmania's untapped potential to produce whisky: Ample clean air and water, some of the world's best barley, as well as peat bogs scattered across the Tasmanian Highlands"ticked all of the boxes."

Lark's distillery was founded in 1992, and has produced whisky continuously since Bill and Lyn Lark succeeded in having Tasmania's century-and-a-half-long ban on distilling overturned. They filled their first barrel with spirit from a hobby-sized 75-litre still."When we started the idea was simply to see if we could make good malt whisky in Tasmania, not necessarily with the idea to establish an industry"says Lark."The fact is that the whisky soon proved to be of such good character that the business quickly grew up around us."

Bill Lark has always been adamant that Australia, though Tasmania in particular is a fantastic place to make whisky."We are lucky in Tasmania that Cascade Brewery still operates its own malting and will sell to other industries"he says."The quality of their malting is evidenced by the success of Cascade beer around the world. We also use particular dried yeasts (the combination of which is a trade secret), the direct result of research undertaken in the UK on flavour profiling and depth of character achieved through different yeast regimes".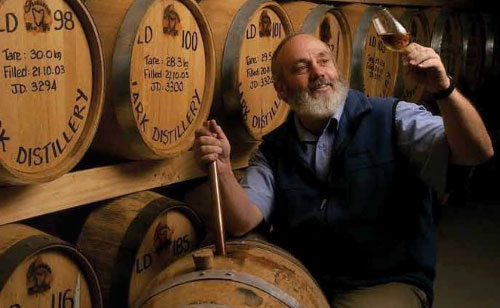 Bill Lark.

So what makes Lark's whisky different to any other?
"Whilst the laws governing production of malt whisky in Australia are based on the UK legislative requirements to be made only from malted barley, yeast & water, it's natural that there will be some similarities between Australian and Scottish malts" concedes Lark.
"However, our distillery is fortunate to own its own peat bog in the central highlands of Tasmania. The peating of our malt imparts a sweetness and smoky character influenced by the decaying forest matter of the Tasmanian native vegetation surrounding the peat bog. The Tasmanian peat character is subtly different from Scottish peat. At lark distillery we've also developed a process of post malt peat smoking in which the Scotch Whisky Industry have shown particular interest. No other distillery in Australia peat smokes their malt using Tasmanian peat in the manner we do". As for barrel maturation, "When Lark Distillery commenced making whisky we made a philosophical decision to mature our whisky in small 'quarter' casks as we had heard stories from Scotland where this had been tried in years past that the small casks deliver a richness of character which is obviously different to the larger cask maturation. We certainly believe this is the case following many, many such favourable comments about our whisky together with the belief that small cask aging contributes to the whisky giving such a big finish to our whiskies. Also at present all releases of Lark whiskies are single cask releases, this makes them special and different as well".Typically, 200-300 litre barrels previously filled with Australian Sherry or Australian Port are used.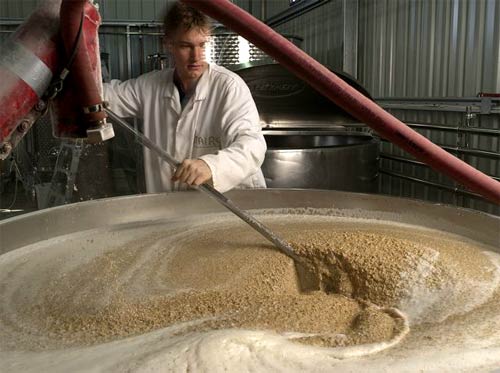 Lark's can boast another first being home to the world's youngest female distiller, Kristy Lark, who has followed on under Bill's careful supervision. Impressed by her results, the International Institute of Brewers and Distillers awarded Kristy a scholarship to visit Scotland, where she had the opportunity to be influenced by the greats of the whisky industry.

"We've come from nothing 15 years ago to where we are today"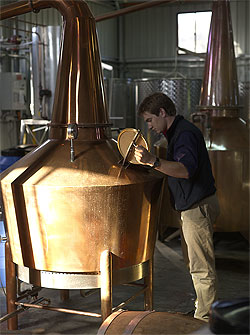 says Bill."We're now employing some seven full time staff and the same number of casuals in cellar door retailing, production, marketing, exporting and our new venture of whisky tourism. The interest in Australian/Tasmanian malt whisky is growing by the day internationally and whilst the Australian industry will for a long time yet be limited in availability we will be able to secure a place for our whiskies in all the established malt whisky markets around the world. I know the whisky market has been dominated by the large international whisky companies, but I believe the market for hand crafted whiskies will have the strongest growth into the foreseeable future. In ten years time I see my daughter and General Manager, Kristy, taking the world by storm".

Given Larks commitment to quality, there's going to be a lot to look forward to.
"Our method of production is very hands on and traditional in practice, it is time consuming and laborious but we would not change it for quids and never will. If there is a need to increase the level of production that much that we would need to change our production methods then would simply build another distillery and leave Lark Distillery the way it is".For Lark's, the main difficulty of making malt whisky in Australia remains the current taxation and excise regime."We look forward to the day we the whisky industry can receive a similar tax relief currently offered to Australian wineries."


What a difference time makes in the world of whisky!
Six years ago we were first introduced to the whiskies from a small Tasmanian venture called Larks. Back then, good Aussie whisky seemed well beyond the horizon. We commented"The Larks tell us that the Scots have been very supportive of this project and given the similar environments Tasmania and Scotland share, one could reasonably anticipate a whisky of some merit. This is a nice whisky in the lighter style, but it is not one of the great examples of the spirit. Time may change this however, and credit must be extended to the Larks for their efforts. Perhaps the Scots are yet to yield all of their whisky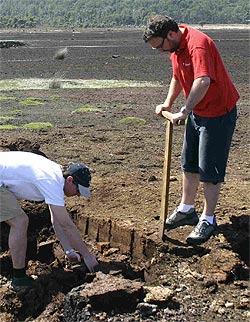 Digging peat, Tasmania.
making secrets?"Larks latest offerings confirmed what we'd anticipated in 2003. These are sensational whiskies that are now winning awards and praise world wide with exports to Japan, Singapore, Scandinavia, New Zealand, England and even Scotland!

The Lark Distillery Cask Strength
Single Cask Single Malt Whisky LD75 (500ml)
Tasting note:Not only unique - an absolute belter of a whisky! Gold colour with pale straw hue. An intense sniff! Assertive notes of salty nuts, plum jam, vanilla, liquorice, manuka honey, orange and grapefruit, above fenugreek, tumeric, pepper and anise. The palate is enormous with a rich, almost oily texture, this time contrasted by tannin from barrel, providing an interesting sideshow to the astonishing array of exotic spices that roar through the palate. The fruits and nuts promised by the nose fight for recognition, and for brief moments, succeed, only to again succumb to the tidal wave of spice. An essay in balance, thrillseekers can safely imbibe without the addition of water. Exceptionally long aftertaste, which again features fruits and nuts early, before being bowled over by the spice. Sherry Cask LD75 Tasted. 58.0% Alc./Vol.

The Lark Distillery Single Cask
Single Malt Whisky LD 39P
Tasting note:Golden colour with pale straw hue. A delightful, exotic nose, that requires some gentle coaxing to really blossom. Gentle agitation in the glass, warm it up in your hands, or, add a drop of water, whatever your preference. Some may like to do all three, regardless, the effort well and truly justifies the rewards. Top notes of heavily malted hot chocolate, mandarine, then faint hints of liquorice and spicy plum pudding hover above a distinct spicy layer of anise, fenugreek, turmeric and pepper. The palate delivers a big, richly textured, almost oily mouthfeel. Intense, yet balanced. Flavours take time to wake up, then build into a rich, deep, heavily fruited 'malt bomb', delivering strong port cask influenced flavours of spicy plum pudding, raisins and mixed peel, before giving way to the liquorice and spice lurking underneath. Long spicy plum aftertaste.43.0% Alc./Vol.

Lark's Slainte Tasmanian Malt Whisky Liqueur (350ml)
Tasting note:A glorious liqueur produced by Mrs Lark (wife of Bill, mother of Kristy) in her 'why should you have all of the fun' 80 litre pot still. The recipe is a closely guarded secret. With results as spectacular of this, who can blame her?! To be frank, this liqueur is not cheap, and was the subject of considerable discussion amongst the buyers at Nicks Wine Merchants. The fundamental issue - will staff be able to resist temptation?... Unfortunately, the price puts it out of reach as an 'everyday' tipple, however, its charms simply cannot be resisted. This is a glorious, indulgent liqueur, which deserves a quiet moment of your time once in a while. Bright gold colour with pale straw hue. A superb nose, offering aromas of Haigh's Chocolate Ginger (a Melbourne delight!), fresh liquorice and a touch of citrus above mountain pepperberry (as seen in Lark's Vodka & Gin). The palate is thick and luscious, showing strong, honeycomb flavours above pepperberry, liquorice and ginger, with hints of milk chocolate emerging. Very spicy back palate. The finish is long and warming, dominated by sweet, spicy, pepperberry flavours. Warm spicy chocolate, orange and honey aftertaste. Wonderful stuff! 37.0% Alc./Vol.