Sullivan's Cove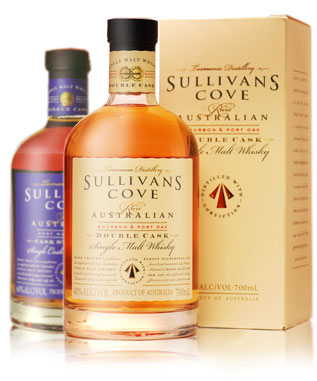 Cambridge, Tasmania

Est. 1994. Still: 2500L Oak Regime: x Bourbon, Australian Port & Sherry.

Also known as 'The Tasmanian Distillery', Sullivan's Cove has had a short but eventful history. It was established in 1994 at Sullivans Cove, the site of the first British settlement of Hobart. The location became the brand name for the whisky. The first distillations began in 1995 and within a few years 163 casks of spirit were produced. Late in 1999 the distillery was purchased by two businessmen from Canberra who went on to distill a further 629 casks of high quality spirit. In November 2003, after a two year halt in production, the barrelled whisky, still and equipment was bought by a third group and moved to Cambridge, on the outskirts of the city. The Tasmania Distillery name was re-registered and the 1860's design Alembic Charentais Copper Pot still put back in production, yielding up to 120 casks of whisky per year. Some of the early efforts left a little to be desired as the inexperienced distillers began their foray into the world of whisky production. However, as experience and knowledge advanced, their results have significantly improved. In fact, some of the seven year-old whisky recently won gold and silver medals at a blind tasting held by the Malt Whisky Society of Australia. A four-year-old won a bronze medal at the same event.
Chief distiller, Patrick Maguire is a fourth generation son of Tasmanians, whose forefathers came to the colony as convicts. Under his guidance using locally grown barley, the pure soft water from the Mt Wellington area combined with the expertise of the Cascade Brewery who brew the wash, Sullivans Cove Single Malt has come of age. The production process has also evolved as Maguire has combined two cask types (French oak port and American oak bourbon casks) creating a deeper more complex whisky than achieved in only one wood type. The Sullivans Cove single malt bottled today is selected from only the best barrels and each bottle is filled, capped and labelled by hand. No chill filtering, colours or flavours are used. Being a small business with only two full time employees the emphasis is on quality rather than volume. To further impress the turning point of this brand, the Sullivan's Cove packaging has been recreated with a new bottle and presentation box.
Since It's opening, Sullivans Cove has received the following accolades:
'Best Other" in 2007 World Whiskies Awards.
Whisky Range is consistently scoring in the 90's (up to 95 points) in Jim Murray's Whisky Bible.
-Sullivans Cove Bourbon Cask was reffered to as "Dramtipodean Genius" in the 2010 edition.
Whisky critic Gregoire Sarafian, awarded Sullivans Cove a string of awards. These include:
-Best Single Malt Matured in bourbon casks.
-Bottling of the Year 2007,
-Best Double- Matured or Finish single-malt.
-Distillery of the Year 2007

Sullivans Cove Double Cask Single Malt Whisky (700ml):
Tasting Notes: Brilliant gold colour with pale gold hue. Vanilla, cocoa, toffee and spice top note, with a subtle hint of liquorice and pepper. Supple palate entry, delivering plush chocolate and honeycomb flavours over a delicate background of spicy plum pudding - the Port matured component contributing the latter, along with a firmish mouthfeel. Very nicely structured. Gently warming. Perfect balance. Soft vanilla driven finish. Persistent aftertaste of vanilla, cocoa and honey. 40%Alc/Vol.
Sullivans Cove Bourbon Maturation Cask Strength Barrel HH0281 Single Malt Whisky (700ml):
Tasting Notes:Very pale dull gold colour with water like hue. Delightful, sweet, spicy pastry and vanilla nose with subtle hints of pear. There's surprisingly little prickle at natural strength. Soft palate entry with intense flavours of vanilla, spice, treacle and stewed fruits. Creamy mouthfeel. Excellent balance. Immensely appealing. The addition of water exposes the fruity undertones that were lurking in the nose. Banana chips, baked apple and toffee, above spice and vanilla. The palate retains it's 'oomph' even when diluted to around 40%. Rich malty finish. Very long malty, vanilla, spice and dry biscuit aftertaste. 60% Alc./Vol.
Sullivans Cove Port Maturation Cask Strength Barrel HH0554 Single Malt Whisky (700ml)
Tasting note: Deep gold colour with pale straw hue. Dusty hessian bag at first on the nose. The rich malt is wrapped in fruit and nut chocolate with some spicy stewed plum and cinnamon notes too, however, there's a rubbery note creeping in between which gets more apparent as the whisky sits in the glass. The palate entry is at first thick, soft and sweet then supernovas into a stupendous dark fruit, honey and nut-chocolate power wave. Prickly and somewhat hot, a burnt rubber note re emerges on the back palate. Drying tannins kick into balance, followed by a liquorice, spice fade. The dry rubberiness lingers long after the finish reminding you of what could have been almost a classic. Nevertheless, some may find this appealing. 60% Alc./Vol.
NB - The latest releases from this distillery mark a welcome departure from many previous expressions that were frequently sabotaged by hessian bag, burnt rubber and/or sulphur-like notes. All three bottlings (Double Wood, American Oak Single Cask and French Oak Single Cask) are clean, complex and come highly recommended.
The Double Wood now offers a wonderfully fruity whisky experience, particularly on the nose which finds comparison with Nant's Unpeated or Aberfeldy's 12 year old.