Bakery Hill


Bayswater, Dandenong Foothills, Victoria

Est. 1999. Still: 1000L Oak: ex-Bourbon & French. Status: Operating.

With a selection of Scotch whiskies that far outnumbers whiskies produced elsewhere in the world, Nicks Wine Merchants has occasionally been accused of being parochial. However, for some time now we've been extolling the virtues of other world whiskies as well as Australian whisky, in particular those from Bakery Hill Distillery. For those who are completely oblivious to this tiny upstart, some background information: David Baker, a former food scientist, began distilling whisky in 1999."I was constantly confronted with coffee table book after coffee table book telling me that the only place in the world that could make single malt whisky was Scotland because of the...and the...etc."complains Baker.
"I thought, if you understand the process at the molecular level then it should be possible to transfer it from location to location. What a challenge!"

At Bakery Hill, he's acheived just that, employing generally the same process used by single malt distilleries everywhere."We mill our malted barley, produce a mash in a mash tun, ferment the wort with our own strains of yeast then double distil in a copper pot still."For Baker, the most important element of the distillery is the design of the still.

"When we decided to set up in Melbourne a great deal of thought went in to the still design. To assist us in this, we went to a number of engineering firms in the UK. It was our opinion that many of these firms have been making stills successfully for a number of generations and their knowledge would provide us with a good starting point. Having selected a reputable company their first question to us was 'what style of spirit would you like to produce?' Every dimension in the still has an effect on the flavour, aroma and body of the final whisky. Having constructed the still, the engineering company even sent out its managing director to supervise assembly and oversee its first batch!"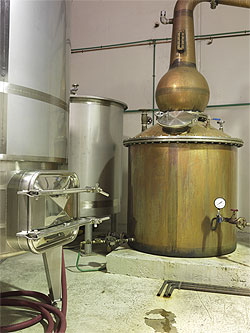 David Baker's new spirit is put aside for maturation in American Oak casks previously filled with Jack Daniels, which have been re-coopered at Heritage Coopers in Melbourne's Diamond Valley. At the cooperage, the fresh 225 litre barrels from Jack Daniel's are dismantled, then the staves are re-bent and shaped into 100 litre barrels which Baker believes are the ideal size for maturation in Melbourne's diverse climate. Warmer weather causes casks to expand, cooler weather causing contraction - essentially a breathing effect which increases the rate of the whisky's oxidation and oak exposure, leading to accelarated maturation. Mindful of these variables, David Baker is only too aware that consistency is key to success.

"Like any reputable company, it's not good enough to be able to make a great batch of product from time to time. It must be done each and every time you start off another batch. There are some things that are out of our control like the daily and seasonal temperature and humidity and the variation that is found from cask to cask but overall the products must remain true to type and I think we have achieved just that. In short, the most important lesson is care and attention and scrupulous record taking for the entire process."

Clearly, Baker's diligence has paid off, and he's even managed to avoid the pitfalls common to most start-up distilleries during their early years of production. Given the abundance of high quality natural resources, the landscape for Australian whisky is set to change enormously, both in terms of quality and quantity. However,"The real 'ace in the hole' is our wonderful climate"declares Baker."Higher ambient temperatures, large daily temperature fluctuations and relatively low humidity enhance the natural speed of maturation".This is another competitive edge that Australia's northern hemisphere counterparts will have to come to terms with in the near future.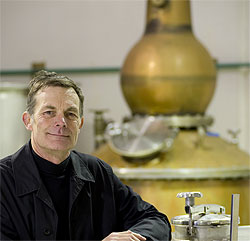 Back in February 2005 when we first tasted David Baker's range we commented, 'Bakery Hill's Single Malts, despite their youth are very promising initial efforts, and as the spirits spend longer in barrel one can anticipate some very interesting results'. The Bakery Hill whiskies are now well passed the stage of been local curios and offer world class Single Malt experiences.

Bakery Hill Cask Strength Peated Malt Single Malt Whisky (500ml)
Tasting Note:This peated expression is made using imported, peated barley (Victorian environmental laws forbid the burning of peat). Golden straw colour with very pale straw hue. At cask strength the nose shows strong, spicy, baked apple and pear top notes with hints of fudge and very delicate peat smoke underneath, with a gentle prickle. The addition of water tones down the spice, to expose soft silky aromas of stewed apple and pear, hints of malty vanilla and cocoa. At natural strength the palate is a thriller! A very bright, fresh, fruity assault before the malt grips and the smoke wakes up. On the back palate, the barley takes the reins and drives the exceptionally long spicy, gently smoky finish. The whisky gives a slight tingle and prickle, but it's in harmony with the massive array of flavours delivered. Dilution to around 40% alc. causes the whisky to become very rich, silky and creamy.
Cask 2208 tasted. 59.9% Alc./Vol.