Great Southern Distilling Company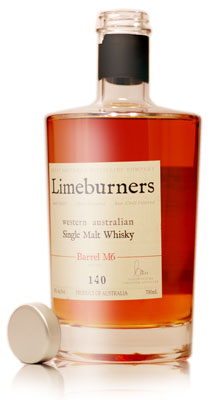 Albany, Western Australia

Est. 2004. Stills: 1800L Wash, 580L Spirit. Oak: ex-Bourbon, ex-Wine, Port, Sherry & Brandy. Status: Operating.

Great Southern Distillery is presently Western Australia's only Single Malt Whisky producer. Their product, labelled 'Limeburners' is named after an area close to the distillery, 'Limeburners Creek'. (Not surprisingly, lime burning took place there during convict times).

When Cameron Syme established the Great Southern Distilling Company in 2004, he'd done his homework - in fact, fourteen years of it, motivated by an ambition that's seems to be common to all Australian distillers."Australia makes fine wine and beer and exports all over the world. Australia should do the same for whisky".
Syme's inspiration was drawn from his cultural roots,"...my grandfather came out from Scotland when he was eight, and there are family storys of illicit distilling back in Scotland. I thought there was an opportunity for Australia to make the greatest spirit in the world - whisky, not just rum... we're not trying to make a 'scotch' or a 'bourbon', but rather Australian whisky".

"Our unique points are (1) pristine environment, (2) access to world class malting barley, pristine water, and a cool marine climate for the slow maturation of our whisky"says Symes."Our first released single malt whisky won a medal at the London Wine and Spirit show in 2008. We believe this is testament to our product".

Bavarian born, Juergen Schludi is the Master Distiller at Great Southern, with more than sixteen years experience in the distillation of spirits, flavours and essences. But Syme also insists on getting involved with the distilling. The production process is unusual in that it employs a 7 to 10 day fermentation period, much longer than most, but at Great Southern, they believe it allows for the development of more fruity characteristics. Small batch distillation takes place in traditional copper pot stills and as with most micro-distilleries, only individual barrel expressions are released.

Wood selection is unusual. For example, this years Limeburners release (M6) has been matured in a small Brandy cask, then finished in a French oak ex- Pinot Noir barrel. Bourbon, Australian Port, Sherry, and ex-table wine barrels from Margaret River and Great Southern region are also used. In ten years time Syme sees his company as being a leading Australian distiller.

The chief obstacles at present are an unreasonable degree of excise, and secondly, Australian's perception of their own product."Let's make sure we appreciate the fact that we have world beating whiskies here, and it doesn't all go overseas to export markets who know that we've got a good thing."

He adds with confidence,"The fact that we're all friends in the industry means we work to make sure that new entrants produce a quality product...I've only tasted one Australian whisky I didn't like.
I wish I could say the same of other countries!"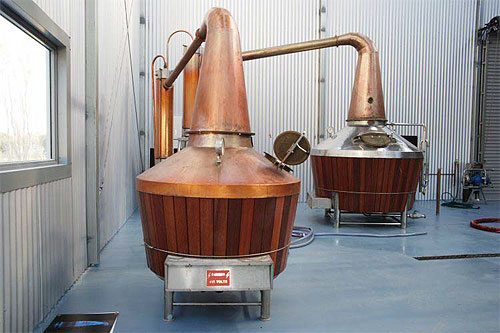 Great Southern Distilling Company Limeburner's
Single Malt Whisky Barrel M15 (700ml)
Tasting note:Dull gold colour with water like hue. The nose is expressive with fresh florals, mixed peel, and toffee above characteristics above a distinctive exotic spicy background. The palate reflects the nose to perfection. Almost voluptuous in texture, delivering, vibrant, fresh citrus and apricot backed by pepperberry, treacle, and cinnamon. Gentle prickle. Very well balanced. Terrific oak & fruit integration. Ripe fruits continue into the long aftertaste.43.0% Alc./Vol. Past bottling.

Great Southern Distilling Company Limeburner's
Single Malt Whisky Barrel M6 (700ml)
Tasting note:Straw colour with very pale straw hue. At room temperature, the nose is very disappointing, particularly considering the quality of previous releases. It offers simple floral and spice characteristics. The palate is very straightforward, slightly sweet and spicy. Otherwise uninspiring. Particularly disappointing given the recent price rise. Whisky can appear to be muted and dull, infrequently, but often enough to recognise it and attempt to find a remedy. This sometimes happens through the addition of water, covering the glass and letting the whisky sit, or through warmth. Warmth can be applied a number of ways. The most obvious method is to use body warmth, hold the bowl of the glass and the whisky more often than not will gently unfold. The less obvious, but more extreme method is to run the outside of the glass under some hot water, while the whisky is inside. M6, after such treatment, the nose offers an astonishing, perfumed array of fresh spices, which charge through the palate, offering a booming finish and dominating the exceptionally long aftertaste. Once the whisky cools back down to room temperature, the show is over. Much more astute cask selection is required to justify this price point and to capture the market's attention. We know this distillery is capable of much better outcomes and look forward to future releases.43.0% Alc./Vol.