Australian Whisky Distillery Locations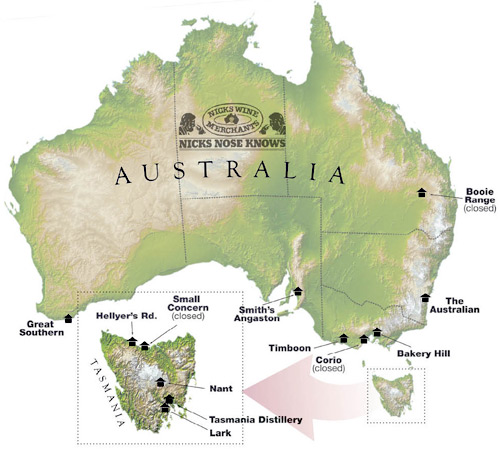 Great Outback Distillery
Australia's Most Mysterious Whisky?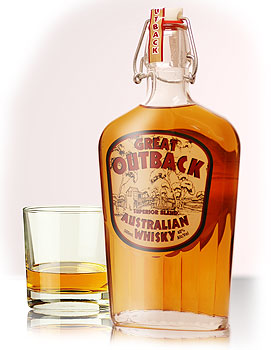 Whilst researching our Australian Whisky Guide it was impossible to ignore Jim Murray's gushing review of 'Great Outback Rare Old Australian Single Malt' purportedly produced by 'Tasman Distillery' which we have since discovered, no longer exists (if indeed it ever did). Jim Murray also wrote'....you can't find it outside of Australia....'

Having been bitten by the curiosity bug, we set off in pursuit of this mysterious malt. Naturally, we first consulted those in the know: Industry figureheads, wholesalers, distributors and whisky collectors of nation-wide renown. While most of them had heard of this elusive whisky, no one had worked out where it was actually from. After hearing dozens of rumours and considering every reasonable speculation, the only thing that became certain was the degree of contradiction. We were all the more intrigued but at a loss.

Combining every story, one could conclude that this whisky was distilled inbetween 1960 and 2000; that it was distilled somewhere in between Perth, Western Australia and Ulverstone, Tasmania; that a portion of it is 'leftovers' from the now closed Corio distillery, and that it was apparently barrelled and shipped to Darwin for maturation. Another source is convinced it was never distilled in Australia at all! (Crikey!)

Hours of 'off the clock' research went into tracking the source, covering countless false leads before a decisive clue was stumbled upon. We were delighted. Immediately a phone call was placed to the source, who was reluctant to sell any material or confirm any of the previous stories, instead offering another unlikely story (Bugger!) After a week, the wholesaler decided to offer us a six pack of their 'Superior Blend Australian Whisky' as apparently all stock of 'Great Outback Rare Old Single Malt' is sold out, as are the next four years' allocations. Strewth! It would seem that the chances of this 'supposedly' fantastic single malt whisky ever being available to the Australian market are similar to that of finding Bunyips and Yowies dancing with the Nullabor Nymph underneath the Min Min Lights en route to Speewah. Well, what's it taste like?

Tasting Notes: Dull gold colour with pale straw hue. A peculiar nose, offering subtle mountain pepperberry top note, above mint and grass clippings, a hint of toffee. The palate is again unusual, very peppery, but clean spirit, somewhere in between a Rye whiskey, Agave Tequila and soft Bourbon. Pepper and toffee again feature in the short aftertaste. An inoffensive though intriguing flavour profile. 43.0% Alc./Vol.



Don't forget...Aussie Whiskies on Tasting at Nicks Wine Merchants Doncaster Store...
A selection of great Australian Whiskies (and much more), including whiskies from Sullivan's Cove, Bakery Hill, Larks, Smith's, Limeburners, Hellyer's Rd & Great Outback

. (Subject to availability)
. Come in anytime!