Smith's Angaston
Angaston, Barossa Valley, South Australia

Est. 1997. Still: 9000L Oak: 300L American & French oak Hogsheads. Status: Mothballed.

For a brief period of time, from the early 1950's to early 70's, Samuel Smith & Son sold a product called 'Smith's Imperial Vat Whisky'. In 1997, the old 1931 pot still was fired up again to produce an Angaston single malt whisky.

The idea came about while Robert Hill Smith, the company's Managing Director, was taking a well earned sabbatical, and the then Production Director, Peter Wall, was standing in as titular head. In his early days with the company, Peter had experienced first hand the activities that took place during Yalumba's period of brandy distillation. As a bit of a nostalgic throw back, Peter thought it a good idea to put a few charges through the ageing pot still, before it was de-commissioned.

At the time of Peter coming up with the idea (December 1996), Samuel Smith & Son were distributing a Single Malt Scotch Whisky from Scotland as well as Coopers ales & stouts. It was a nice combination that would see them sourcing information about the finer points of whisky distillation from friends in Scotland and some brewer's wort from Coopers.

Eventually Smith & Son obtained 18,000 litres of double strength malt extract from Coopers, made from Tasmanian Franklin barley and seeded with yeast from wash ale & stout. The brew was fermented in their Angaston cellars then distilled through the original 1931 pot still. A combination of primary and double distillation techniques were used by stillman, David Zimmermann, to distill the spirit into heads, hearts and tails fractions. The fractions were meticulously tasted to identify the best for the assembly of a full flavoured whisky, with a generous proportion of aromatic esters. The first distillation yielded enough spirit to fill barrels ninebarrels, being a combination of French & American oak hogsheads which had previously held red or white wine, as well as old Sherry casks. The spirit was matured for a minimum of 7 years. Similar 'charges' were put through the still in 1998 and 2000, before the distillery was de-commissioned in 2001.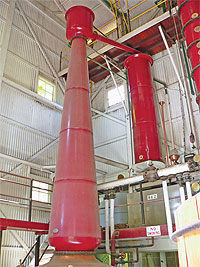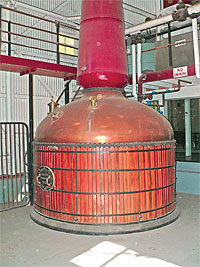 To date, Smith & Son have released all but one hogshead of the 1997 as a 7 year old, all but one hogshead of the 1998 as an 8 year old, with the current release being a 1997 Single Cask as a 12 year old cask strength.
Specifics on stocks of future quantities remain cloudy, however there is good news for fans. A distillation has been confirmed to have taken place in 2011, once again securing the path for subsequent Smith's releases. A highly anticipated 15yo is also rumoured for release in 2013 - a first for Australian whisky. Stay tuned.


'Lovely malt from a distillery
I'm going to have to
keep my eyes on.'
- Jim Murray's Whisky Bible 2008
1998 Smith's Single Malt Whisky
Aged 8 Years
Tasting note: Matured in a combination of French, American and Sherry oak casks. Very pale straw colour with water like hue. The sweet, delicate nose reveals aromas of passionfruit, citrus fruits and subtle spice above a malty background. Medium bodied malty palate. Pristinely clean and soft, delivering ripe fruit above a layer of dry biscuit/bread. Excellent balance. Very clean, soft finish. Long passionfruit and grapefruit aftertaste. A terrific interpretation of a clean 'Highland' style and outstanding value for money. 40.0% Alc./Vol.
1997 Smith's Cask Strength Single Malt Whisky Aged 12 Years
Tasting note: Straw colour with water like hue. At natural strength, the nose reveals a restrained malty top note above a of hint mandarin and grapefruit with an exotic spice end note. The palate is assertive, with a pleasant prickle and a lovely warm oily texture. Generous, mouth filling, spicy, dried fruit flavours appear before the whisky grips and takes on a much drier savoury tone. Firm dry finish, long bready aftertaste. With the addition of water, the nose yields restrained aromas of banana bread, dried fruits and spice with a hint of pumpernickel. Luscious ripe fruits flow freely from front to back, the spice providing an interesting sideshow. Warm spicy finish. Dryish ripe fruit aftertaste. While this is a very appealing whisky that certainly improves with water, the oak and fruit characteristics seem to be at odds with each other. 325 bottles produced. 53.6% Alc./Vol.