The Legacy of Corio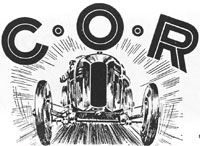 An image from a COR Petrol advertisement. Commonwealth Oil Refineries (1920).

Many older Australians will remember Corio Whisky, a brand with a questionable reputation as the affordable Australian spirit that demanded heavy mixing. It was joked about as been 'COR-10' in reference to a petrol brand of the time, and was so rough and ready that many thought that long maturation normally associated with whisky didn't apply to Corio - it simply took place on board the truck from Geelong to Melbourne!

Corio a suburb of Geelong, Victoria, gave name to a distillery and a whisky, during a time when there was a worldwide shortage of Scotch whisky. The distillery was built with a harbor frontage and good access to rail, essential for the efficient national distribution of the new product.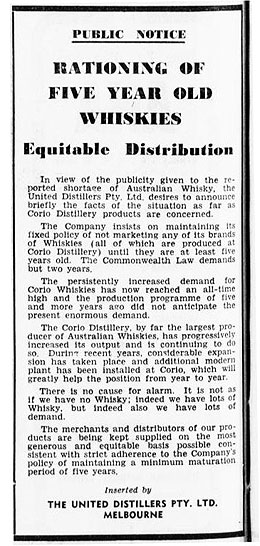 A rather amusing public notice issued by the Corio Distillery, c.1960.
To handle the barley, 60ft high hoppers were built, with 120,000 bushels of holding capacity. These hoppers were connected by conveyor belt to a rail siding, allowing the barley to be easily transported into the distillery. Another building constructed of terracotta walls with a fibro cement roof around a steel frame, housed grist, mash and stills. It was designed to minimise heat absorption and dust influence. On the other side of the railway, a large four story warehouse was built using thick, hollow brick walls aimed at minimising temperature fluctuation as the whisky matured in barrel for a minimum of five years.
Storage capacity was a staggering 1,300,000 gallons (almost 5,000,000 litres of spirit). For some perspective, Australia's present largest operating distillery has the capacity to produce 200,000 litres per annum.

Corio seems to have had a period of success in the late 1940's through to the 1960's, with a series of advertisements proudly proclaiming their status as Australia's Champion Whisky, following several trophy wins at various agricultural shows around the country. We are unable to establish what, if anything, was competing against Corio in these competitions. Based on remarks from people who remember the product, chances are, there wasn't any competition of note.

Vic Chlebnikowski from Nicks Wine Merchants, a liquor retailer for over 30 years recalls Corio being "rough as guts" and encouraged people to spend the extra couple of dollars to buy the 'genuine article' from Scotland. Tony Evans of Mayerling Cellars, retailer since the early 1970s, also recalls Corio, echoing Vic's sentiment. David Baker of Bakery Hill Distillery cringes with the very mention of Corio. Despite being off the market for many decades, it would seem Corio's legacy continues to dog the industry. Since establishing his distillery in 1999, Baker has frequently faced scepticism when presenting his product from people that have less than fond memories of Geelong's once notorious whisky.
Corio suffered a fate similar to many of Scotland's distilleries in the early 1980s, closing following massive financial losses. The stock is rumoured to have been re-distilled into Vodka. Bottles of Corio's whisky are nowadays very rare and virtually unprocurable. Yet speculation continues that someday, a cask or two may appear to threaten us again. The brand marks a watershed in Australian whisky history. It was a grand investment, that ultimately failed to capture the public's imagination, but left behind a twofold legacy: The first was proof positive that whisky could be made in Australia, and on a large scale; the second was that if it was ever to be done again, the focus would have to be on quality rather than quantity. Thankfully, that's exactly what those in the present day industry have realised.Tasting the fruits of their labours will instantly dispel the myth that great whisky can only come from Scotland.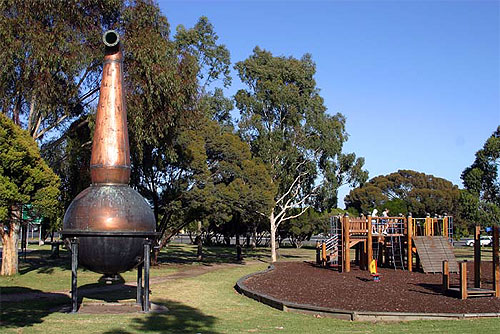 Above: The Geelong visitor's centre is located next to a park - which contains an old still from the old Corio distillery mounted next to the play equipment. This 2000 gallon steam jacket copper pot still was one of the original units imported from Scotland in 1928 by the Distillers Company of Edinburgh, when it established the Distillers Corporation at Corio. It was used to make Corio Whisky until 1949 when it was replaced. The installation commemorates the link between the shire of Corio and the Scottish Disillery Company over a period of 52 years.