Tasmanian Postscript
Reviews & News from the Tasmanian Whisky
Appreciation Society Tasting 2009
Our inaugural Australian Whisky Guide, released in October 2009 has been enormously successful, giving our readers the opportunity to learn about some outstanding whiskies being produced in our own backyard and also to learn more about an industry which should become a top export earner in the near future.
The guide gained the attention of the Tasmanian Whisky Appreciation Society, a group that holds meetings throughout the year at The Lark Distillery in Hobart to taste and discuss whisky.
TWAS
(as they call themselves) are not a conventional 'Scotch' tasting club. They've have held tastings featuring whiskies from all corners of the globe, whisky and food nights, and are currently planning a whisky and tea night (yes you read correctly, TEA.) Fortunately, the TWAS meeting that immediately followed the release of the Australian Whisky Guide was one featuring the whiskies of Southern Tasmania (Lark's, Sullivan's Cove, The Nant, Mackey's, Old Hobart and some independently owned casks slated for future release.) We sent
Ryan Marshman
to attend the tasting and to 'pick the brains' of the people behind the whiskies being presented. These included new or future releases from Lark's, Mackey's, Nant, Old Hobart, Sullivan's Cove and Tim Duckett's Choice.

Lark's Distillery
This whisky is the indirect outcome of one of Lark's experiments, rum! This cask which previously held Lark's rum was filled with near-mature Lark's whisky to see what flavours the ex-Rum cask would impart. This process of transferring whisky from one barrel to another is called 'finishing' and has been employed to great success by the Glenmorangie Distillery.
Lark's Rum Finished Single Malt Whisky (Trial Batch)
Tasting note:
Dull gold colour with pale gold hue. A cumbersome nose fails to climb out of the glass, possibly too heavy for its own good. Serious searching finds notes of manuka honey, sweet malt, distinctive vanilla cream, and spices reminiscent of Angostura bitters. The palate is difficult to describe. Full bodied and firm, delivering generous flavours of sweet Manuka honey, savoury biscuit, strong spices, a touch of 'bitters' a hint of smallgoods and a touch of damp soil on the back palate. I suspect the spirit has been more heavily peated than Lark's regular whiskies. Clean finish, the flavours lack definition, a touch of confectionary emerges. A rum finish that's full of personality, but not entirely comfortable in its own skin. Check back later.
Mackey's Distillery
Damien Mackey, full time town planner, part time distiller is of Irish origin and pays tribute to his roots by triple distilling his spirit in his Knapp Lewer still. Aiming for total control over his product, Damien has gone to the trouble of establishing a "mini distillery" including his own grist mill, and mash tun. Mackey's whisky is yet to be bottled, or named, and is slated for release hopefully sometime in 2010.
A small, cask strength sample was smuggled over Bass Strait for tasting at Nicks Wine Merchants, and was met with riotous applause, followed by the inevitable questions
"How much is it?" "How many do you have?"
Unfortunately it's not yet ready for sale

Mackey's Triple Distilled Single Malt 63.5% 100% Malted - ex Cascade, Ale yeast, Port wood, 300L still.
Tasting note:
Deep straw colour with pale straw hue. A mouthwatering nose. Classy and clean polished malt, followed by notes of honey, eucalypt and spice, Christmas cake with a dash of brandy, a touch of marzipan and faintest hint of aniseed. The palate is rich and generous but not overblown. (A warning to tasters; use the spittoon only if a second glass is on offer.) Distinctive spices charge through the palate, aided at times by anise, cedar, creamy vanilla, tobacco leaf, pepper, prune and toffee. Mackey has found the illusive balance between spice, sweets and savouries, whilst keeping the alcohol and wood under control. The balance is spot on, the finish clean, with spicy dried fruit and vanilla aftertaste lingering. The only minor blemish, the lack of length in the aftertaste, those that see the glass as being half full will may this as a positive - it makes room for the next sip!
The Nant Distillery
Samples from The Nant never arrived for the first edition of our Australian Whisky Guide, so the opportunity to taste whisky from what is potentially Australia's flagship distillery was certainly a very exciting one. For those unfamiliar, The Nant distillery is located on a spectacular property in Bothwell, north of Hobart and features a convict-built, water powered flour mill which has been restored by a team headed by renowned handyman, sand sculptor and farmer Peter Bignell and his team. Incidentally, Peter Bignell is presently building a small distillery with the eventual aim of making a whisk(e)y from grain crops grown on his farm, predominantly Rye.
Chris Condon introduced the whiskies and explained that the aim of the distillery is to produce whisky from estate grown barley, though there are some teething problems at present. Wash from Cascade is currently employed.
Nant Distillery New Make Spirit Dist. Sat 7th Nov - Ex Cascade Wash.
Tasting note:
Crystal clear with water like hue. The aroma shows spicy and sweet top notes, with hints of green pepper and agricole rum, quite hot. The palate is supple and caressing, a pleasant surprise given the heat on the nose. Plump in body and almost oily in texture this spirit is spotlessly clean and delivers flavours of cotton candy, marshmallow, white pepper and spice. The finish gives a very gentle prickle, the generous body conceals the very high alcohol.
63.4%
When comparing this to other new-make spirits previously tasted this one is quite soft. The Nant's wood selection will require more serious consideration than distilleries that produce a more robust and flavoursome new-make.
Nant Distillery Unpeated Double Malt
Tasting note:
Pale gold with straw hue. Honeycomb, spice, dried fruit and treacle on the nose. The medium bodied, firm palate offers flavours of chocolate biscuit, honeycomb and creamy vanilla. A touch of spice emerges on the back palate. Good balance with a clean, slightly warming finish, delivering lengthy flavours of vanilla and chocolate. A very appealing whisky produced by vatting two casks of Tasmanian malt whisky in an attempt to demonstrate the style that this distillery intending to produce.
43% Alc./Vol.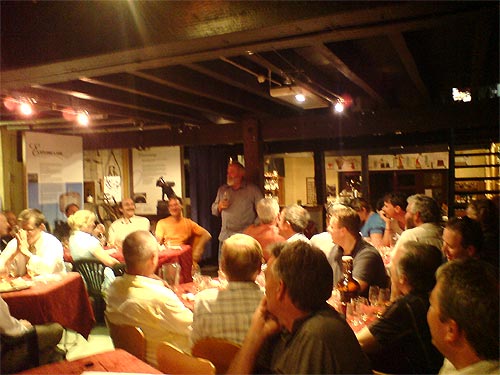 Bill Lark opening the night's proceedings.
Old Hobart Distillery
Owned and operated by Casey Overeem, a long time friend of Bill Lark who may or may not have participated in some trial batch 'garage' whiskies some twenty years ago. Casey is a wonderfully jolly and friendly character (like just about everyone else in Tasmania). That is, until you pester him about wanting to sell his whisky now instead of when his business plan has slated. Suddenly a staunch and serious man emerges and it becomes clear, Casey is not mucking around, nor is he in a hurry. He's out to produce the best whisky possible, and he believes that won't happen until the spirit is of at least four years old. A change of subjects is enough to revert his character for the better.
Old Hobart whisky is produced using stills built by Hobart's Knapp Lewer engineering, a company that have built stills for several distilleries around Australia. Eventually, this whisky will be matured in a unique oak cask, made from the staves of de-constructed barrels which previously held port or sherry, arranged in an alternating pattern.
The whisky tasted will not be released under any circumstances for at least another 18 months.
Casey Overeem's Old Hobart Single Malt 55% 100l Port barrel.
Tasting note:
Pale straw colour with water like hue. Lifted aromatics; Spearmint top note then butterscotch and strong spices with a hint of apple. Plum pudding and custard end notes. The palate is light to medium bodied, creamy in texture delivering flavours of spice, liquorice, sweet malt and plum pudding .The finish is pristinely clean, very long aftertaste of nutri-grain cereal, spice, and vanilla. An outstanding artisanal whisky. It's a touch lighter in body than other port wooded Tasmanian malts, and the spices toned down a touch, but dangerously drinkable. Neck and neck with Mackey for whisky of the night. A smuggled sample was met with considerable enthusiasm in-store.
Sullivan's Cove
Along with Lark's and Bakery Hill, Sullivan's Cove is one of Australia's most recognisable whisky brands. Patrick Maguire produces his whisky in peaceful Cambridge, just outside of Hobart, a town most famous for being home to 'Reggie' Bird, winner of Big Brother in 2003. Sullivan's Cove whiskies are produced using wash from the Cascade Brewery and are matured in full size Bourbon and Port casks. Bourbon casks have been sourced from Jim Beam, Heaven Hill & Jack Daniels' distilleries.
Sullivan's Cove Port Wood 60% Ex-McWilliam's.
Tasting note:
Deep straw colour with water like hue. A disappointing nose, offering dull notes of elastic band, tar, burnt rubber and caramel. Lurking underneath all the junk are some positive bright ripe fruits. The palate is prickly and quite warm, offering flavours of rubber band, oyster sauce and salt. Salty, rubbery oyster sauce flavours on the finish and aftertaste. The malts and fruits just don't get a look in.
Sullivan's Cove Bourbon Wood 60% 200L barrel ex Jim Beam.
Tasting note:
Very pale straw colour with water like hue. A delightful nose, vanilla, cinnamon sugar, fresh pancakes drizzled with maple syrup, a hint of apple and some spice. A sweet, ripe and plush greeting on the palate before it firms up, the vanilla and pancake theme continues until fresh ripe fruits emerge on the back palate. The finish is grippy and spicy. Pepper and preserved fruits persist with a slight feinty touch evident. A dash of water as suggested by the distiller lifts the aromatics considerably and exposes previously unseen fresh mint, and more of the ripe fresh fruits suggested previously, smoothing out the very slight feinty bump. Possibly a rough diamond to some, we see it as a real Aussie 'rip snorter' of a whisky.
Tim Duckett's Whisky
If there's a better personification of the term "Whisky Enthusiast" than Tim Duckett in Australia we'd be keen to meet them. Duckett has hosted tonight's proceedings in a most entertaining fashion. He is a very relaxed character yet can turn up the intensity at the drop of a hat, particularly if the topic of conversation is one close to his heart. Tim delivers his words with an admirable conviction, engaging his audience very well. He is a member of several whisky clubs, has invested in several distilleries, and is owns a number of casks of Australian whisky, some of which are the oldest Australian whiskies still in oak. He, like just about everyone else in Tasmania is a good friend of Bill Lark's. The plan at this stage is to release his whisky as Australia's first 15 Year old, though Tim's wife cheekily points out
'if it is too good it won't be released.
'
Tim Duckett's Single Malt - Yet to be named. Cask strength.
Dull gold colour with straw hue. Lark's distinctive spices on the nose, unique dried florals, fresh mint, almond, prune and marzipan. Manuka honey and liquorice end notes. The palate delivers an explosion of fresh citrus and dried fruits, oily & sweet malt, spices and treacle, a few moments of bliss before the whisky fades into relative insignificance through the finish. A touch of mint emerges in the aftertaste, the balance very good. The back palate, however, just doesn't do this whisky justice. Perhaps it's soaked up the wood, and is settling into maturity, whilst the front palate is still flexing its muscle; or vice-versa, the front palate has grown into its frame, whilst waiting for the back to catch up; regardless - time should remedy this. Wether we end up with a well behaved and distinguished whisky, or an adolescent prodigy remains to be seen.
The day following the tasting was spent with the affable Bill Lark, touring Lark's Mount Pleasant Distillery and Patrick Maguire's Sullivan's Cove Distillery in Cambridge.
Bill and his wife Lynne are remarkable characters. They worked tirelessly operating a pub near Ben Lomond, Tasmania's only ski-field, then moving on to his own surveying practise before deciding to pursue their vision for an Australian whisky. Despite being extremely busy people, the Larks are humble, generous and approachable. They exude a sense of calm and integrity. Their daughter Kristy is now general manager of the business and is a distilling success in her own right, having completed an 'apprenticeship' in Scotland. Despite being extremely busy people, the Larks are humble, generous and approachable. They exude a sense of calm and integrity. It's easy to see why Bill has become the figurehead for Australian whisky.
Any visitor to Hobart is encouraged to visit their 'Cellar Door' facility located by the spectacular waterfront on Davey Street, which offers tastings, a selection of Tasmanian beers, terrific whiskies and wonderful coffee.
The Larks quickly outgrew the original distillery in the Davey street building, so they built a distillery at Mount Pleasant which is a short trip out of Hobart. The distillery lies in the heart of the Coal River Valley wine region and overlooks Pittwater, a large body of water best known for producing distinctive and delicious oysters. Eventually a complete tourist facility will be built here.
Not outdone by the scenery, the distillery shed is a sight to behold; not a dissimilar image to the one conjured when one imagines a mad professor's laboratory. There are unique contraptions, vials, oak barrels of all shapes and sizes, plastic drums, pipes going every which-way, recipes scribbled on scraps of paper - it resembles a chaotic scene, but importantly - it functions - and functions very well!
Unique to this distillery are Lark's inventions; the revolutionary, post-malting peat smoker, resembling a humble steel cabinet, with a large hood above and two shelves inside - one for the peat, another for the barley. Once the barley and peat are loaded inside, the peat is burned below the malt, infusing its distinctive aromas into the grain which in turn imparts distinctive flavours to the finished whisky.
Also of interest is Lark's cooling system; which runs the hot spirit from the still through a network of copper pipes that weave their way through the thick concrete slab which makes up the floor. After a few hot days the slab can heat up, which can be catastrophic for the spirit - but that's ok, Lark has this remedied by passing the liquid through a cooling system either side of his pipes in the slab. Bill's ingenuity is one of his many assets. His work and innovations are held in such high regard that he's now consulting to a distillery being built in Scotland. We think that's a pretty good outcome for a humble former publican and surveyor.
Just down the road from the Mount Pleasant distillery, Bill's mate Patrick Maguire owns and operates a distillery called Sullivan's Cove, tucked away in a secluded industrial park in an almost covert fashion. Where Lark seems to relish any media exposure or tourist opportunities, Maguire tends to shy away from it. His priority is the whisky. There are no prominent liqueurs, rums, gins, vodkas or anything else here in this spotlessly clean - almost clinical distillery. Sullivan's Cove whiskies are enjoying a period of success, particularly on the back of several top awards at international shows, and is presently Australia's largest exporter of whisky. One can't help but wonder how long it'll take for the Australian market to understand what gems are being made in our own backyard!
The spirit at Sullivan's Cove is twice distilled from Cascade wash in the same still, which sports a unique onion shaped neck, before becoming whisky in full size ex-Port & ex-Bourbon casks. The full-size cask policy at Sullivan's Cove is shared by its big cousin from Burnie, Hellyer's Road distillery.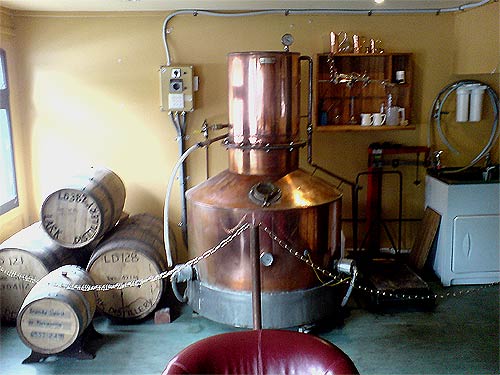 Serious business indeed: the impressive Hellyer's Road facility.
Hellyer's Road distillery
, operated by Whisky Tasmania, a subsidiary of Tasmanian dairy company, Betta Milk is Australia's largest distillery, offering whisky lovers the complete package. An enormous investment has resulted in a world class complex featuring, a visitor centre, café, bonded barrel hall and distillery.
Guided tours of the distillery are available, and are recommended. The scale of the operation needs to be seen to be believed. The tour includes an opportunity to see some of the equipment employed in the production which is quite unlike any other distillery in the world, also on the tour is the chance to taste and bottle your own single cask, cask strength from a selection of two "Distiller's Choice" casks, presently the only way to buy Hellyer's Road whisky in it's natural form.
In response to the awe shown by the author, Chief distiller, Mark Littler explained that in Dairy industry terms, the facility is 'just a baby' and the distillery would be dwarfed by most of Tasmania's dairy facilities. Interestingly, when the distillery was being designed and built, many techniques and theories were borrowed from the Dairy industry, which serves to explain the unusual design of much of the distillery's equipment.
Mark Littler, the third distiller at Hellyer's Road has undertaken several changes to the distillery which have rapidly improved the quality of whisky produced at the facility. These changes include; an increase the amount of copper in the still, which has cleaned up the whisky. The brewing and distilling practises are now regimented and consistent, allowing much more control over the spirit's quality and alcohol yield. Locally sourced ex-Pinot Noir casks are now being employed to 'finish' selected whiskies to great success. The wine cask process at Hellyer's Road is an unusual one. Where most distilleries have the staves of their casks shaved and re-charred, the casks for Hellyer's Road Pinot Noir are filled with whisky just hours after the winery empties them, this increases the uptake of any wine influences the cask can offer.
Many of these changes have been implemented as a result of recommendations from Scotch Whisky Industry icons, Gordon Mitchell from Isle of Arran, Alan Reid of the Edrington Group (The Macallan, Highland Park, Tamdhu and Famous Grouse) and Lorne Mackillop M.W. (Angus Dundee Distillers.) Consultation with these industry figureheads is to be an ongoing process.
These trips to Tasmania confirm to us that our initial enthusiasm was justified. The Australian distilling scene is set for big things in the very near future. We are thrilled to be right at the centre of the action.
Nicks Nose Knows Australian Whisky!