The Singapore Sling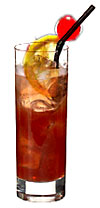 The Singapore Sling was created at Raffles Hotel at the turn-of-the-century by Hainanese-Chinese bartender, Mr. Ngiam Tong Boon. In the Hotel's museum, visitors may view the safe in which Mr. Ngiam locked away his precious recipe books, as well as the Sling recipe hastily jotted on a bar-chit in 1936 by a visitor to the Hotel who asked the waiter for it. Originally, the Singapore Sling was meant as a woman's drink, hence the attractive pink colour. Today, it is very definately a drink enjoyed by all, without which any visit to Raffles Hotel is incomplete. The recipe varies from book to book. Robin Kelly O'Connor, the Bordeaux expert, faxed Dale DeGroff of Craft of the Cocktail while he was staying there in 1990 and reports he's never tasted a better version.
35 ml Plain Gin
1 shot(s) HEERING - Cherry Liqueur
8 ml Cointreau
8 ml Benedictine - D.O.M.
75 ml Pineapple Juice
1 dash(es) ANGOSTURA - Aromatic Bitters
2 dash(es) Grenadine Syrup
10 ml Lime Juice
Club Soda
slice(s) Orange
1 Cherry
Method: Shake all the ingredients except the soda with ice and strain onto a highball glass. Top with soda. Garnish with the orange slice and cherry.
Darkwood Sling recipe:
1 part cherry heering
1 part soda water
1 part orange juice
ice cubes
Add one share of the liqueur then Soda. For a sour sling use Tonic (most people prefer the drink without Tonic). Afterwards, fill the glass with Orange Juice and ice cubes. Serve in cocktail glass.