The Grasshopper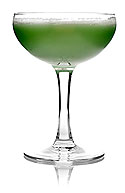 30ml Creme de Menthe, mint liqueur
30ml Creme de Cacao White
30ml light cream


Method: Shake the liqueurs and the cream with lots of ice in a cocktail shaker. Strain into a cocktail glass. Decorate with a little grated chocolate. You can also substitute a scoop vanilla ice cream for the ice.