Tequila Sunrise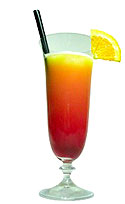 The Tequila Sunrise is a cocktail so named for the way it looks when it is poured into a glass. The drink's name was popularized in the 1973 Eagles single "Tequila Sunrise" and in the 1988 Mel Gibson/Michelle Pfeiffer film of the same name.
60 ml tequila
120ml orange juice
1 dash of grenadine syrup
Method: Stir or shake tequila and orange juice with ice until chilled. Strain into glass half full of ice cubes. Pour in the grenadine and allow it to settle at the bottom of the glass, creating the 'sunrise'. Stir before drinking. Note: For a "Tequila Sunset," substitute Grenadine with blackberry brandy.