Classic Cocktails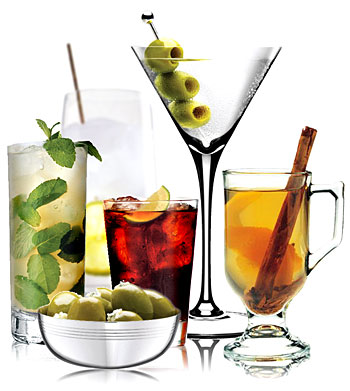 There is an understandable fascination that many people have for cocktails: That so many drinks can be made from so relatively few ingredients. But with literally thousands of recipes on offer it is difficult to know where to begin. It is almost certain that too many cocktails get into books or lists, more because of their "cute" names, rather than for their raison d'etre. Unfortunately, calling a drink a "Widow's Kiss" or a "Horny Toad" can not compensate for an inferior blend. This collection differs from others in that it excludes the thousands of "never-once-ordered" recipes. Instead, we present a concise selection of Cocktail Classics - drinks which have been enjoyed for decades, often inspiring the creation of new recipes, and sometimes becoming a part of popular culture.
Until the 1970s, cocktails were made predominantly with gin, whisky or rum, and less commonly vodka. By the 1980's vodka dominated most mixed drinks. In the present day, a myriad of other spirits and exotic liqueurs have entered the market, each accompanied by a wave of 'new' cocktail creations tailored to each product. The incredible increase in the range of vodkas, gins, whiskeys, liqueurs and other spirits adds to the confusion and raises the question:
What is essentially required to make great cocktails?
Frank Meier, the head bartender at the Cambon bar, at the Paris Ritz during the 1920's and '30's, could make about 300 sophisticated cocktails from only 13 different bottles. These primary ingredients included: Anis, White Rum, Brandy, Champagne, White Curacao, Gin, Dry Vermouth, Sweet Vermouth, Port Wine, Bourbon or Rye Whiskey, Scotch Whisky, Bitters and Sherry. Added to this list was a range of fruits and other household condiments.
What You'll Need to Get Started
Despite changes in fashion, Meier's list requires only slight modifications for the aspiring home bartender. However, as with successful cooking, the quality of the ingredients cannot be over-emphasised. Don't try to make cocktails out of cheap liquors. As one enthusiast correctly observed: "We can no more build a fine cocktail on dollar gin than Whistler could paint his mother's portrait with barn paint". While the quality of a spirit or liqueur is most obviously detectable in simple drinks where only 2-3 ingredients are called for, most base spirits will still be discernable through even heavily blended cocktails. Therefore, buy the best you can afford. The following spirits, liqueurs and flavourings are enough to produce a good number of the common Cocktail Classics well. (If you are working to a strict budget, you can start out by choosing cocktails that use few ingredients).
Spirits & Liqueurs
Jim Beam Rye Whiskey
St. Agnes Vsop Brandy


Bombay Sapphire Gin




Havana Club White Rum




Appleton Estate V/X Jamiaca Rum


Teachers Highland Cream Blended Scotch Whisky
El Capricho Maduro Elixir de Agave Tequila


Svensk Lake Vattern Vodka


Cointreau Triple Sec Orange Liqueur
Marie Brizard Crme de Cacao Liqueur


Noilly Prat Dry Vermouth




Cinzano Rosso Vermouth




Fresh Juices
Tomato Juice
Cranberry Juice
Lemon Juice
Lime Juice
Orange Juice
(In some cases, flavoured cordials can be used instead of fresh juices, but the result will be inferior).


Mixers
Soda Water
Cola
Ginger Ale
Tonic Water



| | |
| --- | --- |
| "Cocktail Hour": An Album Cover for the Norman Paris Trio. In the U.S., the fun of Cocktails became popular after the devastation of World War II was over. | |
Flavourings

Angostura Bitters
Orange Bitters
Pepper
Salt

Tabasco Sauce
Worcestershire Sauce
Sugar Syrup

(Note: Sugar Syrup is something that professional bartenders often buy ready made at specialist trade outlets. However, it is quite simple to make your own: Put 4 tablespoons of water and 4 tablespoons of caster sugar into a small saucepan and stir over a low heat until the sugar has dissolved. Bring to the boil, then continue to boil without stirring, for 1-2 minutes. Cool, then refrigerate in a covered container and keep for no longer than 2 weeks).