The Cosmopolitan
The Cosmopolitan was allegedly created in 1975 by Neal Murray at a steak house in Minneapolis called the Cork & Cleaver. As with the origins of most cocktails, this claim is disputed by a number of sources. Informally referred to as a "Cosmo", the Cosmopolitan first gained popularity in the 1990s, and was further popularized among young women by its frequent mention on the the television program "Sex and the City".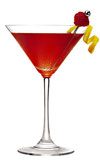 2 parts Lemon/Citrus Flavoured vodka
1 part Cointreau
2-3 parts cranberry juice
(squeezed lemon or lime)

Method: Stir or shake with ice and strain into a chilled martini glass. Garnish with a slice of lemon. Unflavoured vodka may also be used.