The Alexander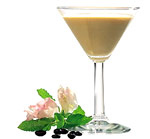 This is the original Alexander, and is figured to be the father to the White Russian. It is sometimes garnished with grated nutmeg or cinnamon.
30ml London Dry Gin
15ml White Creme de Cacao
30-50ml light cream


Method: Shake with ice in a cocktail shaker. Strain into a cocktail glass. Decorate with a cherry if you are feeling a bit swanky...