Negroni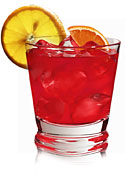 The word Negroni does not appear in English cocktail guides before 1947. According to the most popular account, it was first created in Florence, Italy in 1919, at Caffe Casoni. It was named after Count Camillo Negroni, the man who 'invented' it by asking a bartender (Fosco Scarselli) to add gin to the Americano, his favourite drink. It's generally served as an aperitif, or a pre-dinner cocktail intended to stimulate the appetite.
30ml Bombay Saphirre Gin
30ml Campari
30ml Sweet Red Vermouth
Garnish: Orange slice.
Method: Stir briefly in a mixing glass filled with ice then strain into an ice-filled rocks glass or tumbler. Twist an orange zest over the surface of the drink to release fresh aromatic oils then drop into the glass.