Vintage School 2.3
Aromas
Each grape variety has a primary group of aromas which will depend on the level of ripeness of the grapes at the time of picking.

1. Primary Aromas:The Primary fruit aromas are listed through a variety of ripeness in levels.

2. Secondary Aromas: These aromas are due to the wine maker's influence and can include the use of various types of oak, yeasts, fermentation techniques and a number of other variables (refer to the section on Principles of Matching Wine and Food for further discussion.)

3. Tertiary Aromas: Tertiary aromas develop with time and are the result of bottle maturation.
Illustrations of Grape Descriptors
Throughout the profiles, descriptors are used for each grape variety. These roughly fall into the following correspondences:
1. Grape Bunches
| | | | | |
| --- | --- | --- | --- | --- |
| | | | | |
| Loose Filled | Well Filled | Compact | Conical | Cylindrical |
2. Berry Size & Shape. (Shown actual size though sizes will vary according to screen settings).
Large

Medium

Small

Round or
Spherical



2.3 cm




1.5 cm




1.3 cm

Short Oval


(Short oval berries
are nearly round).



2.3 cm x 2 cm




1.8 cm x 1.5 cm




1.3 x 1cm

Oval




2.5 cm x 2 cm




1.9 cm x 1.5 cm




1.5 cm x 1 cm
Source: Grape Varieties of South Australia. E.W. Boehm & H.W. Tulloch, Dept. Agriculture, South Aust. 1967
Chardonnay
(White Burgundy)
The grape variety that produces arguably the greatest of dry white wines. Chardonnay is the basis upon which the white wines of Chablis & Burgundy, France are produced. Chardonnay also forms the basis of Champagne, where by it's acidity gives the wine structure and finish. DNA fingerprinting research conducted at the University of California, Davis suggests that Chardonnay originated from a cross between Pinot Noir and the Croatian Gouais Blanc grape varieties. Whilst there are a growing number of consumers that have become disenchanted with Chardonnay, forming the loose group going by the name of "ABC' ('AnythingButChardonnay'), part of the ongoing attraction of Chardonnay worldwide remains its versatility. For wine makers, it is the variety with which all the rules can be broken for the sake of achieving added complexity. Consequently, there is another group of wine lovers who have discovered the joys of Chardonnay made in a more sophisticated style than is usually experienced with commercial wines. The simple primary fruit flavours of peach and tropical fruit have been pushed aside. Rather, secondary aromas and flavours dominate these Chardonnays, with butterscotch, honeysuckle, yeast lees, fig, cashew, cinnamon, citrus and biscuit characteristics frequently evident. The high point of Australian Chardonnay made in this manner would surely have to be the generous, full bodied wines made by Ken Eckersley at the Nicholson River Winery in Gippsland. These Chardonnays are 'worked hard' with every possible twist of wine making employed. Their incredible depth and complexity is in part due to making wine which has been allowed contact with air. The danger of this process is too much contact with air will spoil the wine- that is the skill, and often it comes down to the wine maker's experience and judgement. It's a little like painting a picture; you have to know when to stop. Wines such as Giaconda (Beechworth, Central Victoria), Bannockburn (Geelong) & Leeuwin Estate Art Series (Margaret River, Western Australia) are world class examples of Australian Chardonnay.

Depending on the clone, the variety is a moderate to vigorous grower and moderate producer. The clusters are small & cylindrical, loose to well filled. The berries are small, round, usually with one seed. Chardonnay buds early in the season, after Pinot Noir, and so in cool, frost prone regions is susceptible to frost damage of young shoots. There are many clones of Chardonnay. Some clones produce higher yields than others do, whilst other clones are specially selected for their ability to produce wine of exceptional quality.
CHARDONNAY - AROMA AND RIPENESS
RIPENESS

PRIMARY AROMA


(Ripeness of Grape)

SECONDARY AROMA


(Winemakers Influence)

TERTIARY AROMA


(Developed with time)
Unripe
Herbaceous
Grassy
Grapefruit
Lemon
Apple
Almond
Bacon
Biscuit
Bitter Almond
Bread Dough
Butterscotch
Buttery
Cashew
Cinnamon
Clove
Coconut
Creme Brulee
Honey
Marzipan
Milky
Oaky
Smokey
Spice
Tobacco
Vanillin
Yeasty
Yoghurt
Caramel
Dry Leaves
Fudge
Honeyed
Meaty
Nutty
Oak Chip
Smokey
Twist of Lemon Peal
Vanilla
Waxy/Nutty
Approaching
Ripe
Ripe
Melon
Fig
Stewed Fruit
Pear
Apricot
White Peach
Mango
Very Ripe
Tropical Fruit
Papaya
Mango
Guava

Click HERE to view Whats Hot in Chardonnay wines.


Click HERE to view available Chardonnay wines.

Champagne
While not a varietal in itself, grape varieties traditionally used include Chardonnay, Pinot Noir and Pinot Meunier.
CHAMPAGNE - AROMA AND RIPENESS
RIPENESS

PRIMARY AROMA


(Ripeness of Grape)

SECONDARY AROMA


(Winemakers Influence)

TERTIARY AROMA


(Developed with time)
Unripe
Strawberry
Peachy
Citrus
Grapefruit
Herbaceous
Fig
Toasty
Honey
Creamy
Yeasty
Nutty
Biscuit
Cashew
Smokey
Oaky
Rich
Creamy
Opulent
Ripe
Rich Bouquet
Scented
Nutty
Meaty
Old Straw
Smokey
Tangy
Damp Straw
Apples
Fresh Mushrooms
Cooking Apples
Fishy
Crème of Mushroom
Soup
Approaching
Ripe
Ripe
Very
Ripe

Click HERE to view Whats Hot in Champagne.


Click HERE to view available Champagne.
Chenin Blanc
Chenin Blanc is somewhat frowned upon in Australia, and is generally used to produce some satisfactory commercial wines, but not great wines. In the Loire Valley of France, it is one of the major grape varieties and produces the dessert wines of Moulin Touchais, the wonderfully dry and quincy Vouvrays and the sparkling methode champenoise, Bouvet Ladubay, which is consistently impressive. There, the variety is generally known as "Pineau de la Loire". New Zealand seems to have come to terms with the variety, yet in Australia it's a bit of a Cinderella.

Chenin Blanc is a vigorous producer , resistant to disease, yielding between 6 - 10 tonnes per acre.
The clusters are medium large, long conical, compact with a thick peduncle. The berries are medium, oval with tough skins. At three or four years old, the vines tend to over-produce and crops may be too large to fully ripen in the coolest areas. Chenin blanc grapes are susceptible to both bunch rot and sun burn.

CHENIN BLANC - AROMA AND RIPENESS
RIPENESS

PRIMARY AROMA


(Ripeness of Grape)

SECONDARY AROMA


(Winemakers Influence)

TERTIARY AROMA


(Developed with time)
Unripe
Herbaceous
Green Apple
Aromatic
Spicy
Approaching
Ripe
Ripe
Jonathon Apple
Musk
Quince
Ripe Apple
Toffee
Prune
Caramel
Honeyed
Very
Ripe
Baked Apple

Click HERE to view available Chenin Blanc wines.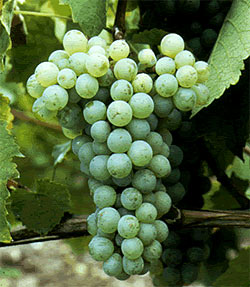 Colombard
Colombard is largely a grape used for distillation, especially in Cognac & Armagnac, although it has been planted in New World wine districts. Colombard is essentially a blending variety when used for white wines, although Primo Estate in the Adelaide Hills, Australia, manage to consistently produce a commendable aromatic wine of some intensity. Add some wood and mix with Chardonnay, and you have a stroke of quaffing magic - the natural acidity of Colombard enhances the ripe peachy flavours of warm area Chardonnay to produce a very marketable wine.

The clusters are of medium size, long conical, well filled. The clusters are medium well filled, long conical. The berries are medium ellipsoidal, yellowish green, sometimes with pink tinge, neutral in flavour and high in acid.
COLOMBARD - AROMA AND RIPENESS
RIPENESS

PRIMARY AROMA


(Ripeness of Grape)

SECONDARY AROMA


(Winemakers Influence)

TERTIARY AROMA


(Developed with time)
Unripe
Citrus
Herbaceous
Approaching
Ripe
Spice
Vanilla
Cinnamon
Confectionary
Spice
Oily
Ripe
Very
Ripe
Melon
Peach
Tropical Fruit

Click HERE to view available Colombard wines.
Gewurztraminer
Gewurztraminer is a powerful varietal producing aromatic wines with great depth of flavour. In fact, the combination of its strong, heady, perfumey scent, exotic lychee, spice flavours and heavy-oily texture can be overwhelming to some palates, but make it a perfect match with Asian foods. In spite of Australian's love of Asian food, Gewurztraminer has generally been 'lost' in bulk wines or taken off skins so quickly that it doesn't pick up enough varietal intensity. Because of the lack of interest in the variety the range of clones available is limited and hardly sought after by wine makers. It is not widely grown, and when it is, it is often poorly made, or worse still blended with Riesling to produce a semi sweet wine called Traminer Riesling. Alsace in France, has achieved the most success with Gewurztraminer.

The berries, with their thick and tough skins, can attain high sugar levels of amazing concentration. Alcohol levels, therefore, can get quite high in dry versions. Conversely, low acidity and high pH in Gewurztraminer are problematic. Close monitoring and precise harvest timing are critical. Early picking retains acid, but without long "hang time" distinctive varietal character fails to develop. Pleasant results are nearly impossible in warm climates.
GEWURZTRAMINER - AROMA AND RIPENESS
RIPENESS

PRIMARY AROMA


(Ripeness of Grape)

SECONDARY AROMA


(Winemakers Influence)

TERTIARY AROMA


(Developed with time)
Unripe
Herbaceous
Mineral
Spicy
Grapefruit
Geranium
Spicy
Oily
Cinnamon
Oily
Talc
Honeyed
Approaching
Ripe
Ripe
Quince
Lychee
Lychee Nut
Allspice
Honeyuckle
Papaya
Tropical Fruit
Very
Ripe

Click HERE to view available Gewurztraminer wines.

Marsanne
One of the world's rarest grape varieties with its origins in the Northern Rhone & Hermitage regions of France, Marsanne is grown in only three other countries - Australia, America & Switzerland. In the northern Rhone river valley, it is used to make white versions of Crozes-HermitageandSaint-Joseph. It is also a permitted blend for red Hermitage and is often blended with Roussanne.
In Australia ,Chateau Tahbilk, located in central Victoria currently have the largest, single holding of the variety in the world, producing a consistent, affordable dry white with excellent cellaring potential. When young, the nose and palate exhibit intense aroma's and flavours of lemon, honey and unripe pear, while cellaring bestows these wines with the classic aged Marsanne toast and honeysuckle profile, often accompanied by baked apple and spice.

The Marsanne vine is vigorous and spreading, producing medium sized bunches which are conical and well filled, with small, round, green berries turning brown/gold when ripe.
MARSANNE - AROMA AND RIPENESS
RIPENESS

PRIMARY AROMA


(Ripeness of Grape)

SECONDARY AROMA


(Winemakers Influence)

TERTIARY AROMA


(Developed with time)
Unripe
Nectarine
Vanilla
Oak
Spice
Honey
Perfumed
Approaching
Ripe
Ripe
Honeysuckle
Orange Blossom
Very
Ripe
Tropical Fruits
Peach

Click HERE to view available Marsanne wines.

Riesling
One of the worlds great grape varieties, grown extensively in the Rhine and Moselle Valleys of Germany. Riesling is thought to have been introduced to Australia in the 1830's by the Macarthur's (pioneers of the Australian wool industry) at Camden in New South Wales. German settlers brought the variety to the Barossa Valley in South Australia in the 1850's where the grape flourished. It has since found many new 'homes', such as Mt. Barker in Western Australia, the Clare Valley in South Australia, and Central and Southern Victoria. Like Semillon and Sauvignon Blanc, the variety goes through a number of ripening phases, thus making Riesling incredibly versatile. Picked early it makes an excellent base wine for Methode Champenoise, a little later a wonderful aromatic lemon lime filled dry white. A little riper the grapes produce an excellent 'Spatlese', slightly sweet white, later again an auslese, then beerenauslese and last the troken beerenauslese - and in freak years, Eiswein (ice wine). The variety has gone out of favour in recent years, and some vine pulls were carried out in South Australia to reduce the surplus supplies. The trendy varietal Chardonnay has replaced much of the demand for Riesling, although now a fight back has commenced and Riesling is being rediscovered.

The same large shift in diurnal temperature (warm days, very cool nights) that is required for Pinot Noir and Chardonnay also produces great Riesling. Generally speaking, the variety is suited to cooler climates and requires moderately fertile soils. The clusters are small, cylindrical & well filled. The berries are small medium, spherical; greenish yellow. The vines are vigorous and moderately productive, typically yielding around four tonnes per acre.

RIESLING - AROMA AND RIPENESS


RIPENESS

PRIMARY AROMA


(Ripeness of Grape)

SECONDARY AROMA


(Winemakers Influence)

TERTIARY AROMA


(Developed with time)
Unripe
Aromatic
Steely
Mineral
Lime
Citrus
Grapefruit
Floral
Tropical Fruit
Spice
Cinnamon
Old Sherry like/ Flor
Honeyed
Nutty
Raisin
Lemon
Pineapple
Grapey
Earthy
Almond Kernel
Fragrant
Fruity
Fruit Salad
Creamy
Flowery
Peachy
Raisin
Approaching
Ripe
Ripe
Rose Petals
Acacia Petals
Green Apple
Red Apple
Pear
Peach
Honeysuckle
Raisin
Toffee
Very
Ripe
Pineapple
Banana
Honeyed Apricot
Dried Apricot
Tropical Fruit
Lemon Butter
Toasted Honey
Kerosene
Prune
Caramel

Click HERE to view Whats Hot in Riesling.


Click HERE to view available Riesling wines.

Sauvignon Blanc
A trendy variety in Australia over the last two decades, and one of the main grape varieties of the Loire Valley, Sauternes, Graves (Bordeaux) and now New Zealand. Sauvignon Blanc was not much considered until Sancerre and Pouilly Fume were 'discovered' in Paris in the 1960s. In the 1990's, wines from New Zealand made the grape popular, with less expensive but varietally powerful examples to do with a highly concentrated chemical compound,methoxypyrazine. This chemical compound is extremely pungent, and can easily become overpowering to the point of being unpleasant. One taster of unripe Sauvignon Blanc described the character as tasting like"...green tomatoes that have been stewed with their leaves left on". Others have described the varietal as"cat's pee". Nevertheless, the variety has become one of Australia's most popular white wines and it It would seem impossible to organise a party without Sauvignon Blanc.

New Zealand is particularly well suited to Sauvignon Blanc, especially around the Marlborough area, where the synergy of climate, very cool temperatures and intense sunlight coupled with meager rainfall, produce the ideal terroir combination. Yet Adelaide Hills, Margaret River, Yarra Valley and Tasmania in Australia are also contenders in the Sauvignon Blanc quality stakes. The success of Sauvignon Blanc is largely due to its fresh intense aromatics. The flavours are enhanced by a crisp acid backbone making it an ideal aperitif wine.

Sauvignon Blanc can grow in many climates and will ripen in a variety of ways to produce very different wines. Picked early it possesses profound grassy, capsicum, asparagus characteristics. A little riper, gooseberry and passion fruit notes emerge; later again, riper tropical fruits; and lastly under the influence of 'botrytis', it reveals its rich, luscious, honeyed dimensions as Sauternes. With naturally high acidity, Sauvignon Blanc is always on the tart side and this character pervades even sweet and dessert versions, keeping them from being cloying and 'sticky'. Barrel-fermentation, although not commonly used for this variety when compared to Chardonnay, can also modify the Sauvignon Blanc aroma and add complexity. Blending Sauvignon Blanc with Semillon is a common practice in Australia and can add an extra element of figs to the aroma, softening the sometimes over-powering Sauvignon Blanc component.
Sauvignon Blanc vines are very vigorous. The clusters are small conical, loose. The berries are small spherical whitish yellow ripening early mid-season.

SAUVIGNON BLANC - AROMA AND RIPENESS


RIPENESS

PRIMARY AROMA


(Ripeness of Grape)

SECONDARY AROMA


(Winemakers Influence)

TERTIARY AROMA


(Developed with time)
Unripe
Grassy
Herbaceous
Flint Shale
Mineral
Capsicum
Green Apple
Asparagus
Green Olive
Dill
Green Bean
Citrus
Unripe Gooseberry
Unripe Passionfruit
Smokey
Spicy
Oaky
Toasty
Tropical Fruits

Vanilla
Approaching
Ripe
Ripe
Gooseberry
Passionfruit
Orange
Prune
Caramel
Honey
Raisin
Toffee
Very
Ripe
Tropical Fruit
Pear
Melon
Apricot
Honeyed
Peach

Click HERE to view Whats Hot in Sauvignon Blanc.


Click HERE to view available Sauvignon Blanc wines.


Semillon
This variety is one of the components which make up Sauternes wines (together with Sauvignon Blanc) It makes up approximately 80% of the blend in the most expensive and famous Sauterne wine in the world, Chateau d'Yquem. Traditionally, Semillon in Australia is synonymous with the Hunter Valley, although this is rapidly changing as exceptional examples are being produced in Margaret River, Western Australia and the Barossa Valley in South Australia. In the Hunter Valley, the variety is generally picked green, and consequently the acid levels of the young wine are exceptionally high contributing to the longevity of such wines. This is one of the reasons why some producers leave their wines in the bottle for up to five years prior to release. This allows the wine to develop secondary aroma and flavour of toasted honey.

Semillon responds well to botrytis cinera(Noble rot). The black fungus envelopes the grape, removing the water content and concentrating the sugar levels, to eventually produce a rich luscious sweet wine. (See the section on making sticky wines.) Semillon clusters are medium sized, short, conical and well filled. The berries are of medium size, spherical golden yellow when ripe with a soft pulp. The berries ripen early mid-season. The vines are vigorous and moderately productive.

SEMILLON - AROMA AND RIPENESS


RIPENESS

PRIMARY AROMA


(Ripeness of Grape)

SECONDARY AROMA


(Winemakers Influence)

TERTIARY AROMA


(Developed with time)
Unripe
Grassy
Herbaceous
Green
Green Tea
Fresh Tobacco Leaf
Oaky
Vanilla
Spice
Almond
Raw Almond
Toasted
Honeyed
Kerosene
Approaching
Ripe
Ripe
Lanolin
Tropical Fruits
Pineapple
Peaches
Peach Skins
Fig
Very
Ripe
Dates
Apricot
Honeyed
Oranges
Prune
Caramel
Toffee
Raisins

Click HERE to view Whats Hot in Semillon.


Click HERE to view available Semillion wines.


Verdelho
Originally from Portugal, Verdelho is grown on both the island of Madeira and in the Douro Valley, and is used for fortified wine production. In Australia, the main plantings are located in Western Australia, New South Wales and South Australia. There has been considerable renewed interest in this Portuguese varietal locally, particularly from wine lovers seeking an alternative to Chardonnay. The nose is typically lifted with distinctive ripe pear, tropical fruit and lemon characters, in many ways not dissimilar to Sauvignon Blanc. These characteristics follow onto the palate with freshness and vibrancy making for a delicious summer wine.

The variety in Australia responds well in warmer regions, producing a full bodied white. Verdelho is a moderately vigorous grower producing small, oval, loose bunches of thick skinned, green grapes. Fruit is usually high in acidity. It is an early-ripening variety which can be high yielding.
VERDELHO - AROMA AND RIPENESS
RIPENESS

PRIMARY AROMA


(Ripeness of Grape)

SECONDARY AROMA


(Winemakers Influence)

TERTIARY AROMA


(Developed with time)
Unripe
Grassy
Spice
Tropical Fruit
Toasted
Honey
Approaching
Ripe
Ripe
Tropical Fruits
Passionfruit
Mango
Very
Ripe
Plum
Coffee

Click HERE to view available Verdelho wines.
Viognier
Viognier has become one of the hottest grape varieties in the Australian wine industry today and as Pinot Noir is for reds, it is often considered the most seductive of all white grape varieties, renowned for its superb perfumed character. The origin of Viognier is said to be Dalmatia (now Croatia) and was introduced to France by the Emperor Probus in 281 A.D. Ampelographers regard Viognier, together with a number of other pink skinned white grapes as the primeval precursor of all red and white grapes. However, in spite of its ancient origins, Viognier almost disappeared off the viticultural map mainly because of its extremely low productivity, having established a reputation as capricious, finicky and degenerate. By 1968, thirty five acres of the cultivar remained globally. By 1970 young French wine makers made a timely rediscovery of the versatility of Viognier and plantings were slowly increased in the Condrieu and Cote Rotie Appellations of the Cote du Rhone.

In Australia, Viognier has caught the wine makers and the publics imagination as the "Consort to Shiraz." Yalumba was the Champion of the varietal in Australia, planting 1.2 hectares in the Barossa Valley in 1980. Viognier has a number of qualities that contribute to its exotic character. Yalumba wine maker, Louisa Rose states that"Viognier ripens quite differently to most white varieties, the flavour develops late in the season and quite quickly; it is generally a combination of patience, risk management and prayer that sees the flavour accumulate in the fruit."

The vines have medium vigour, yielding medium sized bunches, conical and compact. The berries are small, slightly oval with a thick skin and subtly musky flavour.

VOIGNIER - AROMA AND RIPENESS


RIPENESS

PRIMARY AROMA


(Ripeness of Grape)

SECONDARY AROMA


(Winemakers Influence)

TERTIARY AROMA


(Developed with time)
Unripe
Mineral
Nectarine
Lime
Violet
Orange peel
Toasted Nut
Tropical Fruits
Honey
Approaching
Ripe
Ripe
Lychee
Very
Ripe
Apricot
Tropical Fruits
Tropical Fruit on turn

Click HERE to view available Viognier wines.