2.4 Experimental Grape Varieties in Australia


Introduction

The motivation behind Australian vignerons planting unusual grape varieties is at first perplexing. After all,"If I want Sangiovese why buy Australian when I can go to Italy". To which winemakers might reply,"Then, why not go to France for Shiraz?"
It's easy to forget that varieties of French origin once had benchmarks solely in France to which the rest of the world aspired to. Today, Shiraz, Chardonnay, Sauvignon Blanc and Cabernet Sauvignon are accepted as 'international varieties', equally recognised for their unique expressions in New World countries.

Our diverse soil types and climatic zones give Australian winemakers a genuine foundation from which to consider the potential upsides of still other varieties. These present a dual challenge - one which is first technical, that of identifying the optimal combination of terroir, clonal selection, viticultural management and winemaking technique, and another which seems to be founded in a tradition of innovation - the challenge of pioneering a 'new' and exciting Australian wine experience. Corporate wine companies have also been seduced by the desire to emulate the dramatic success certain varietals have experienced in their native lands and in overseas markets. Sangiovese and Nebbiolo wines from Italy are just two examples which are now ranked amongst the world's greatest red wines, frequently commanding stratospheric prices.

Regardless of one's motivations, it does seem that some grape varieties have achieved an almost over night success in Australia. Pinot Gris, for example has been enthusiastically received. Yet the common path of every new varietal is inevitably one of extended trial, error and disappointment, moderated by a dogged perseverance, as the cautiously optimistic tone of several pioneering winemakers in this chapter indicates.

Apart from the varieties listed below, others such as Aglianico, Albarino, Arneis, Cinsaut, Tannat and Vermentino have been planted in Australia but remain as 'works in progress'. Nicks Wine Merchants continue to taste thousands of wine's each year and we'll endeavor to develop profiles and flavour charts of unusual grape varieties as successful examples begin to emerge from around the country.





Profiles of Experimental Varieties


Barbera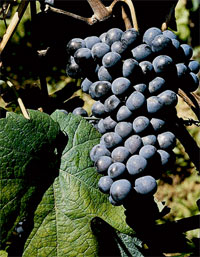 [bar-BEHR-uh]

Barbera is believed to have originated in the hills of Monferrato in central Piemonte, Italy and has been recognised since the thirteenth century. A number of clones have evolved, though the variety generally produces delightfully youthful, fruity reds and occasionally wines worthy of comparison to fine Italian Nebbiolos. The vine is a vigorous grower producing medium sized, conical, very compact bunches. Its medium, oval berries are thin skinned, heavily bloomed and deep blue coloured when ripe. In warmer regions the variety ripens at about the same time as Shiraz and Merlot, and a little earlier than Cabernet Sauvignon and Nebbiolo.

Barbera cuttings arrived in Australia via the University of California, Davis in the 1960's. It has been grown for around 25 years in the Mudgee region of New South Wales, with later plantings in a number of wine regions, including the King Valley in Victoria, and McLaren Vale and the Adelaide Hills in South Australia. It has since been trialed throughout Australia's major wine regions.

Typically, the wines offer raspberry / cherry-like flavours alongside varietal characteristics that many Australian wine lovers don't immediately warm to - a high level of acidity with low tannin. Zonte's Footstep, Vinea Marson, Primo Estate ,Michael Unwin Wines, Dal Zotto Estate, Chalk Hill Winery and others continue efforts with the variety. The latter, based in McLaren Vale, have produced some award winning examples through careful site selection and by restricting the vigor and bunch size of this usually heavy cropping vine.



Click here for reviews of Australian Barbera


Carmenere
[car-men-YEHR]

Carmenere can be as explosive as the best Australian Shiraz, delivering enormous colour and flavour. Once common in Bordeaux, particularly in the Medoc (where it was known as 'Grande Vidure'), Carmenere is now rarely found in France; firstly because most plantings were wiped out in 1867 due to the vine disease, 'phylloxera'; secondly, because it is the last of the red grapes to ripen, and in Bordeaux often does not fully ripen resulting in green flavours. This combined with its erratic tendency to develop a condition called 'coulure', (poor fruit set after flowering) and its resultant low yields have contributed to the demise of Carmenere throughout Europe.

Long thought to be Merlot vines, Chilean cuttings have thrived for 150 years. It was only in 1993 when the renowned viticulturist Professor Jean-Michel Boursiquit of Ensa de Montpellier carried out a detailed scientific survey that winegrowers realized the two similar vines had been growing together for more than a century.(1) When Chilean winemakers witnessed the colour and taste of the pure Carmenere, they realized they had been ignoring a huge asset and Carmenere now represents the country's signature variety.

In Australia, three cuttings of Carmenere were imported from Chile by viticultural expert Dr Richard Smart in the late 1990s. After two years in quarantine, only one cutting survived the heat treatment to eliminate viruses and was micro-propagated (i.e.- segments of individual buds were grown on nutrient gel) and field-grown by Narromine Vine Nursery. The first vines from the nursery were planted in 2002 by Amietta Vineyard and Winery in the Moorabool Valley (Geelong, Victoria) who use a large proportion of Carmenere in their Angels' Share blend.(2)Olssens of Watervale in the Clare Valley, Red Earth Estate and Macquarie Grove Vineyards in the Western Plains Zone of NSW, and Brown Brothers in the King Valley, Victoria are all presently experimenting with the variety.


Dolcetto [dole-CHET-to]

In Italy's Piedmont region, Dolcetto (meaning"little sweet one", possibly in reference to its relative sweetness to Nebbiolo) is responsible for ruby-red, soft, fragrant reds bearing the name of the grape before the place of origin (e.g. Dolcetto d'Alba, Dolcetto d'Asti). Given its simplicity, low acidity and easy-going character of intense grapey aromas, liquorice, almond, fleshy fruit and soft mouthfeel, Dolcetto has become the "Beaujolais of Italy". Like its French counterpart, Italian Dolcettos are best drunk within three years of vintage.

Though easy to cultivate, Dolcetto is a less vigorous grower on average. Its precocious ripening ability (it ripens up to four weeks before Nebbiolo) means the variety is often planted in situations where other varieties would fail to ripen at all. Vines produce conical, long, fairly straggly clusters of medium sized, round but not always uniform berries. Its thin, bloom-covered, dark purple skin contains high amounts of anthocyanin which require only a short maceration time with the skins to produce a dark coloured wine. The amount of skin contact also affects the resulting tannin levels in the wine so most winemakers prefer to keep maceration periods as short as possible.

One of the early plantings of Dolcetto in Australia was at Best's Great Western "Concongella" vineyard in the late 1860's. These vines still exist today. Named "Malbeck" by Henry Best in his journal, the grape variety was considered by Henry and the early Great Western district vignerons to produce superior quality wines. Today Australia is the only country outside Italy that has significant plantings of the variety, with the exception of Argentina.

Nevertheless, there are some attractive Australian Dolcettos being made, particularly in the cooler areas of Victoria. Viv Thomson, present winemaker at Best's comments of his Dolcetto,"It's a charming, dry, fresh wine which displays many of the characteristics of its Italian heritage - a delightful marriage of the Old World and the new. It's best enjoyed young as a bright, fresh wine, preferably within six years of bottling. Dolcetto needs very subtle oak otherwise it overpowers the wine, which is why we mature this wine in large (mature) French oak casks."

Elsewhere in Victoria, Brown Brothers at Milawa are blending Dolcetto with Shiraz to make a sweetish red that has helped popularise the variety but at the same time, perpetuated a myth that Dolcetto wines are generally sweet. In South Australia, Ben Glaetzer of Heartland Wines blends 30% of Dolcetto with another Italian varietal, 'Lagrein', to produce an attractive dry red with cherry-ripe fruit characteristics. Other notable producers include the Barossa Valley's Turkey Flat who make a delightfully dry Rose style with a Dolcetto component, Zonte's Footstep in McLaren Vale, Dromana Estate & Mt. Franklin Estate in Victoria.



Click here for reviews of Australian Dolcetto


Nebbiolo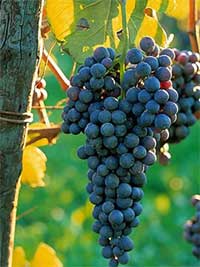 [NEH-bee-oh-low]

Nebbiolo is often considered the "queen of black grapes" and ranked amongst the world's great wines. References go back to Columella, a Roman writer in the first century A.D., author of the most complete ancient treatise on agriculture, the"De re rustica", which describes the Nebbiolo grape variety as"...bunches of black grapes which give wine for cold locations".It is thought to be the oldest red grape variety in Italy. The name Nebbiolo has two probable origins:"Nebbia", Italian for "fog", a frequent occurrence in Piedmont when the grape is harvested, or it might refer to the prominent "bloom" that gives ripe Nebbiolo grapes a "foggy" or "frosted" look. Alternatively the derivation may simply be"nobile", Italian for "noble". To confuse matters, in Italy, it's also known as 'Spanna', 'Chiavennasca,' or 'Picutener' by locals, depending on where it's grown.

In its native Italian home in North West Italy, it remains almost exclusively confined to Piedmont. Even here the variety constitutes barely 3% of all the wines produced in the region. Very few cuttings or clones have been exported.(It's conspicuously absent from the CSIRO's 1996 publication of "Wine varieties of Australia")(3)All of this is not so surprising. After all, the variety is responsible for two of Italy's national treasures: the highly regarded Barolo and Barbaresco wines. Big, full-bodied Barolo's and the gentler, more feminine Barbaresco's from the hills of Alba are both garnet red with a deep bouquet and massively tannic (Nebbiolo grapes are almost inedible as fresh fruit). Few other grape varieties produce a wine that will more reward patient cellaring than do great Italian Nebbiolos, but only after decades in the bottle. Both wines typically reveal notes of violets, wild berries, mushrooms, 'tar and roses', tobacco, vanilla, chocolate, mint, licorice, spice and truffles.

Nebbiolo vines possess considerable vigor and produce elongated, winged, conical, semi compact bunches with medium round berries. The grapes' dark purple skin which can appear so bloomy as to be grey is thin but strong. In wet ripening conditions berries are susceptible to grey rot (botrytis).

The variety is a notoriously late ripener and is site sensitive. It needs to be carefully matched to an appropriate terroir: calcareous (chalky) soils rather than sandy soils; cooler areas with warm-to-hot daytime temperatures and a high degree of luminosity are preferred. Winemakers have compared its difficult nature to Pinot Noir. Like Pinot, Nebbiolo is rarely blended with other varieties, but generally requires inter-planting of multiple clones in order to impart complexity. And also like Pinot, it can be moody and unpredictable while undergoing typical cellaring and aging procedures.

Australia is very much at the beginning of its journey in producing wines of equal stature to Barolos and Barbarescos and the best sites may yet to be discovered. Some of the first Australian trials with the variety commenced in the late 1980's when Brown Brothers sourced Nebbiolo grapes from the King Valley and embarked on a decade of experimentation with long-term barrel aging using American and French oak. The resulting wine was released after a decade of maturation. In 1994, West Australian vigneron, Erl Happ, planted several hundred Nebbiolo vines at his Three Hills vineyard. He offers this account of the challenges the variety posed which is illustrative of experiments with new varietals in general:


"in Karridale at the southern end of Margaret River, the conventional wisdom at the time was that one might have trouble ripening even mid season varieties, let alone Nebbiolo...Why did I plant late varieties in this rather doubtful situation? I had a theory that if I could escape the heat of late summer and ripen fruit in the cool of Autumn the fruit flavours would be superior. In my experience excessive heat in the ripening cycle tends to speed sugar accumulation, in advance of flavour ripeness. In particular, flavours that are typical of unripe fruit are still present when sugar accumulation is ample. The most appealing flavours typical of ripe fruit are still latent. The result is firm wines, short in the palate with limited appeal....The [Nebbiolo] clone we planted is FVX6V1/CX/UCD. Nebbiolo leafs out early and is susceptible to early spring damage from wind...Bunches are small; the berries thin skinned, and difficult to pluck intact, as is Pinot Noir. Colour is lighter that other red varieties with orange brown tinges but quite deep. The fruit is acidic with high levels of malic and it is aggressively tannic. Until the 1999 vintage when we saw Raspberry flavours emerge as it passed through 25 brix my assistant winemaker had me convinced, on the basis of his experience in California, that Nebbiolo was 'the kiss of death'. At that stage I held that at a minimum it might prove a useful addition to Shiraz but I have no hesitation today in asserting that we can produce a wine that will stand-alone. The wine character is consistent with the notion that a bramble bush, a wild thing, is responsible. Nebbiolo is no wimp... Others who have tried the variety have not persisted and are uncomplimentary. I am cautiously optimistic....Given the strength of flavour that Nebbiolo can give us I believe that future wines will benefit from incorporation of new wood into the recipe."
(4)

Amongst those who have persisted with a degree of success is Heathcote pioneer, Ron Laughton from Jasper Hill Vineyards. His 2000 vintage "debuted" at Vinitaly in Verona, with much acclaim. Other exponents include Pizzini, Coriole and Vinea Marson.



Click here for reviews of Australian Nebbiolo


Pinot Gris / Pinot Grigio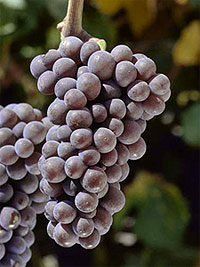 [PEE-no GREE / GREE-zho]

Believed to be a mutation of Pinot Noir, Pinot Gris is grown in many countries, and like Riesling, it can successfully take on a variety of forms. As 'Pinot Gris', it used to be grown in Burgundy and the Loire, where it has since been supplanted. It comes into its own in Alsace-where it's known as Tokay d'Alsace*, producing mouthfilling wines with some residual sugar. Conversely, in North East Italy, where it is commonly known as 'Pinot Grigio', it produces undistinguished, light, dry, unwooded white wines with little colour or aroma. The difference in style is largely attributable to a tendency of Italians to overcrop and pick before the fruit is fully ripened. Some better Italian examples can be found in Friuli-Venezia and Alto Adige where wines are imbued with subtle smoky and/or salty characteristics.

The Pinot Gris vine is delicate, low-yielding and normally produces small, winged, cylindrical loosely shaped bunches. Berries are small, grayish-blue in colour, accounting for the varietals title ("gris" meaning "gray" in French), however grapes can have a brownish pink to black and even white appearance. Ripe Pinot Gris grapes can have colours from bluish grey to light pinkish brown. Clusters with a variety of colours are not unusual.

Introduced into Australia in the James Busby collection of 1832, Pinot Gris has only recently been developed as a varietal. Locally, the label 'Pinot Gris' almost always indicates a wine made in the full-bodied style of Alsace in France and Germany, whilst 'Pinot Grigio' will usually indicate that the wine is made in the drier, lighter, Italian-influenced style. What the French and Italian wines have in common, according to Australian winemaker, T'Gallant's Kathleen Quealy, are the classic characteristics of honey and hay. She and her husband Kevin McCarthy are the modern day pioneers of the variety. While working as winemakers on the Mornington Peninsula in the 1980's, it struck them that Pinot Gris/Grigio might be the right variety for the area, having seen it fail in warmer Australian climates. Their decision paid off."People loved it,"Quealy says."There wasn't enough of it. We just sold straight into the Melbourne restaurant scene."(5)

Spectacular Alsatian inspired wines are now being consistently produced offering superb lifted aromas of ripe pear, spice and tropical fruit, and mouthfilling, creamy palates, with flavours of ripe pear, confectionary and musk. Regions such as the Mornington Peninsula, Geelong, the Adelaide Hills and Tasmania are home to some of Australia's finer producers including Henschke, T'Gallant, Winchelsea Estate, Scorpo Vineyards and Brown Magpie Estate.



Click here for reviews of Australian Nebbiolo


Sangiovese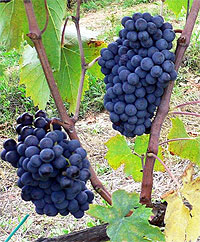 [san-geeo-VEHS-eh]

The word 'Sangiovese' is derived from 'Sanguis Jovis', meaning 'blood of jove'. The grape variety has probably been cultivated in Italy since Etruscans populated Tuscany. They are believed to have domesticated and bred the forbears of Sangiovese from early feral vines. Recently research has identified two parents -the Tuscan grape Ciliegiolo and the ancient Calabrese Montenuovo. There are at least 14 separate and distinct clones of Sangiovese and in Italy it is referred to under various clonal variations and names - Montalcino, Brunello, Sangiovese Grosso, Montepulciano, Prugnolo Gentile, Chianti Classico, Sangioveto, Scansano and Morellino - depending upon where it is grown. (See the entry on Italian Wine Regions for more information.)

It is Italy's star variety where it is most famous as the backbone of Chianti wines from Tuscany**, as well as many of the so-called 'Super-Tuscan' blends. In the prestigious Brunello di Montalcinos, which are regarded among Italy's finest reds, Sangiovese is the only variety permitted, though these wines are made from a strain of Sangiovese Grosso called Brunello ("little dark one"), so named for the brown hue of its skin.

The Sangiovese vine is vigorous and typically produces small to medium, well filled bunches of medium, short, oval berries with a heavy bloom. Fruit is slow to mature and late ripening. With relatively thin skins, berries have a tendency to rot in damp conditions. Sangiovese adapts well to a wide variety of soils, although the presence of limestone seems to result in wines with more force and elegance. Vines thrives in the hot, dry conditions that Tuscany provides, but because these climatic criteria alone generally enhance quantity, rather than quality, it takes careful viticultural management and winemaking skills to produce outstanding wines as the widely fluctuating quality of Chianti demonstrates.

Typically, the aroma of Sangiovese is not as assertive and easily identifiable as Cabernet Sauvignon, for example. It can have strawberry, blueberry, faintly floral, violet or plummy characteristics. Wines are usually medium-to full-bodied delivering spice, raspberry, cherry and anise flavours with moderate to high natural acidity and a finish that can lean towards bitterness. Natural acidity, structure and tart fruit, set Sangiovese apart and have insured it a position on tables as one of the world's great food wines.

It was introduced to Australia by the CSIRO in the late 1960's and first commercially championed by Coriole Vineyards in McLaren Vale where it was planted in 1985 with the aim of being a contrasting style to the region's signature variety, Shiraz. As a mid to late season ripener it has proved to be ideally suited to the warm maritime climate of the McLaren Vale Peninsula. Mark Lloyd of Coriole vineyards explains his pioneering experiences with the variety:


"There was no knowledge of Sangiovese in Australia at that time. The revolution in Italian wine quality had only just begun and certainly had not reached Australia. Gino di Santo, at Enoteca Sileno, in Melbourne, had imported a few wines of quality and Negociants imported at least Antinori's Tignanello in the mid 1980s.
We had not visited Italy at that time so had no first-hand knowledge of the developing revolution in wine quality. In fact, the reputation of Italian wines and varieties was actually quite bad. It seems that the traditional Italian restaurants of the time always purchased the cheapest wines available. Hence, when we first presented Sangiovese to the market not only did consumers puzzle over the name they would quite often call 'pass' as a reflection on past experiences. This attitude of the Australian consumer was reinforced on a trade trip and consumer tastings in New Zealand some years later. At the mention of an Italian variety the public reacted with interested curiosity compared with the Australian equivalent. An observer pointed out that the New Zealand customer reacted without prejudice as there was very little tradition of Italian restaurants in the country...It took a little time to work out that the market was not in traditional Italian restaurants but contemporary bistro styles where there was a wine-interested public.
Coriole sourced Sangiovese from the Kalimna vineyard in the Barossa. The clone was H6V9, which was brought from California by the CSIRO in the late 1960s or early 1970s. The CSIRO took some responsibility for that sort of long-term planning in those days. Clones were very controversial with the Sangiovese variety. This was true in Italy as well. On my first visit to Italy in 1988 we spent a short time with Giacomo Tachis, a senior winemaker with Antinori. He explained to us that there was a large project under way to improve the clonal base of Sangiovese in Tuscany. Since that time there have been rapid improvements in the genetic base and cultural practices with the variety. The next clones to become available were imported by Yalumba in the early 1990s. These clones, from the Montalcino region of Tuscany, were at first planted experimentally at Coriole and then subsequently increased. The clones Brunello and Grosso have both looked appealing with smaller and more even bunches. We think they have a good future although the best wines are still made from the older H6V9 vines".
(6)

In 2007, there were about 200 wineries using the variety. It is now planted in other South Australian regions besides McLaren Vale, most notably in the Adelaide Hills, however it has an increasing presence in several Victorian districts, particularly in Mudgee, the King Valley and more recently, Heathcote. Better examples include those from Vinea Marson (Heathcote), Coriole(McLaren Vale) and Pizzini(King Valley). 2006 was the first year that an Australian wine maker made a dessert style Sangiovese made by Hamiltons Bluff in Canowindra NSW. Other wineries have successfully employed Sangiovese to make dry rose styles.



Click here for reviews of Australian Sangiovese


Tempranillo
[temp-rah-NEE-yo]

Tempranillo is Spain's indigenous "Noble Grape" which some have described as the country's answer to Cabernet Sauvignon. The variety is responsible for many of Spain's best red wines and hit the international spotlight in the 1990s when Alejandro Fernandez, a producer from Ribera del Duero, was awarded 100 points from American wine guru, Robert Parker. It remains the dominant grape in the red wines from Rioja (where it's often blended with Carignan) and the Ribera del Duero, two of Spain's most important wine districts. 'Joven' style Spanish Tempranillo's are intended to be consumed young, while the term 'crianza' refers to aged wines. In outstanding vintages wineries make a 'reserva' intended for extended aging. In extreme cases, such as Vega Sicilia's icon Tempranillo 'Unico', the wine is only released when it is ready which can be as much as 25 years after vintage.

Throughout Spain Tempranillo is known variously as Cencibel, Tinto del Pais, Tinto Fino, Ull de Llebre and Ojo. It's also one of the few Spanish grape varieties to have been adopted by Portugal where its grown along the Douro River under the monikers Tinta Roriz (used in the making of Port) and Tinta Aragonez.

Research indicates a possible common ancestor with Pinot Noir, though recent genetic studies tend to discount this possibility. The vines have low resistance to many vine diseases and pests. They produce large, well filled to compact bunches with berries of variable size. These tend to be low in overall acidity and sugar, but relatively high in tannin due to the grape's thick skins. The variety needs only a short growing season. Its tendency to ripen early is almost certainly the source of its name which translates to "little early one" ('temprano' meaning 'early' in Spanish). The vines tolerate heat well, but the fruit can develop undesirable characteristics in overly warm climes. U.K. wine writer, Oz Clarke observes that"To get elegance and acidity out of Tempranillo, you need a cool climate. But to get high sugar levels and the thick skins that give deep color you need heat. In Spain these two opposites are best reconciled in the continental climate but high altitude of the Ribera del Duero".(7)

Here, the average July temperature is around 21.4° C though temperatures in the middle of the day in the lower valley can jump as high as 40°C. At night the region experiences a dramatic diurnal temperature variation with temperatures dropping by as much as 16°C from the daytime high. Tties between day and night temperatures are one of the keys to mastering the variety. Not surprisingly, McLaren Vale in South Australia with its similar Mediterranean climate is producing some of the better examples in Australia such as those from Mr.Riggs and Ingham's Skilly Ridge wineries.

As to when and where the first Tempranillo plantings took place in Australia is uncertain, but it is likely that they were in the Hunter Valley after the introduction of new selections from California's Davis University in ths.

Brown Brothers in northeast Victoria have been at the forefront of Tempranillo in Australia. In 1989 John Graham of Brown Brothers opened the new "Kindergarten Winery", a mini winery focused on trialling small batches of new varieties and different wine making techniques. Australian winemaker, Mark Walpole comments on his personal interest in the variety which came about while working for Brown Brothers during this time.


"Brown Brothers had been growing Graciano, another variety indigenous to northern Spain, since the early 1920s which was also introduced by François De Castella. It seemed logical to me that we should make a blended wine with Graciano as the minor partner, as in Rioja Alta. Sourcing of planting material at that time was difficult. The 1987 Australian and New Zealand Wine Industry Directory only listed Denman Estate in the Hunter Valley as having the variety. My enquiry could not have come at a better time, as the variety was being top-worked due to its poor performance in the region. A limited amount of vines were propagated in 1988 and planted in the field in 1989. The first small crop was harvested in 1991, but unfortunately the variety was spotted by the Brown Brothers fortified winemaker at the time (as its Portuguese synonym, Tinta Roriz, is one of the five preferred Portuguese 'port sorts') and it was duly fortified until the 1996 vintage. As a 'new' variety, it was made as a limited release wine sold only at cellar door. Its immediate acceptance prompted our family to increase plantings, while Brown Brothers developed a large planting at its newly established vineyard in the Heathcote region of central Victoria."
(8)

Though plantings remain on an experimental scale in Australia, there are now over one hundred wineries using Tempranillo, and it is found throughout all of Australia's major wine regions. Blends with a proportion of Shiraz or Grenache are not uncommon.



Click here for reviews of Australian Tempranillo




Footnotes & Bibliography
* of no relation to Hungarian Tokay. Other synonyms include for Pinot Gris are Pinot Beurot, Gris Cordelier, Auvernat Gris, Malvoisie and Fromentot. Southern Germany plants it as Ruländer.
** which at the time of writing require a minimum of 90% Sangiovese. The Italian DOC laws are constantly in flux.
1. Carmenere - lost grape of Bordeaux. Wines and Vines. Kevin Sinclair, May, 2000.
2. Amietta Vineyard & Winery, Bannockburn, Geelong. www.amietta.com.au
3. Wine Grape Varieties of Australia. George Kerridge & Allan Antcliff. CSIRO, Australia 1996.
4. The Nebbiolo Report. Erland Happ - March 2001. www.happs.com.au
5. As reported in The Age Newspaper, Rising star. By Felicity Carter. January 4, 2005
6. Mark Lloyd on Sangiovese. www.winebiz.com.au
7. Encyclopedia of Grapes. Oz Clarke. Harcourt Books 2001.
8. The Journey of Tempranillo to Australia, By Mark Walpole, www.winebiz.com.au
Some statistics and general information regarding grape varieties and Australian vineyards adapted from www.vinodiverstiy.com.au, www.winepros.org and the The Oxford Companion to Wine edited by Jancis Robinson.