2.2 Profiles of the Major Grape Varieties in Australia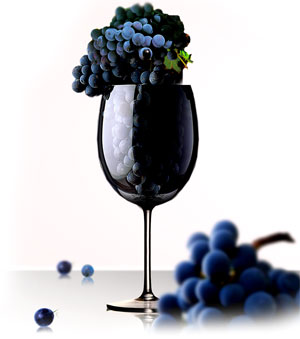 Given the number of grape varieties, it is not practical to provide profiles for them all. Instead, we will consider the most common grape varieties used for wine making in Australia. Each variety is examined on the basis of its potential level of ripeness and the resultant change in the wine's aroma profile. Wine makers may choose to make wines from grapes picked at different ripeness levels. For example, Riesling could be picked early, mid and late season, resulting in quite different styles. The aroma profiles that are outlined are the most common. Depending on a particular terroir, these profiles could differ. Wine makers have a huge range of options in creating wine styles and depending upon any number of possible variables, the aroma and flavour profiles will be altered accordingly.

The sheer range of aromas and flavours which grape varieties bring forth offers endless excitement for the wine enthusiast, and at the same time, confounds and bewilders the neophyte. All people who discover wine can probably recall at one time or another, their astonishment at the incredible diversity of smells and flavours it yields: From primary fruits as disparate as gooseberry and banana, to fields of wild black currants, mulberries and raspberries, to capsicum and freshly mown grass; then, a plethora of unexpected substances like coffee, cashews, salt, earth, leather, liquorice, tobacco, tar, vanilla, cedar - even pencil shavings and kerosene.

Aromas
Each grape variety has a primary group of aromas which will depend on the level of ripeness of the grapes at the time of picking.

1. Primary Aromas:The Primary fruit aromas are listed through a variety of ripeness in levels.

2. Secondary Aromas: These aromas are due to the wine maker's influence and can include the use of various types of oak, yeasts, fermentation techniques and a number of other variables (refer to the section on Matching Wine and Food for further discussion.)

3. Tertiary Aromas:Tertiary aromas develop with time and are the result of bottle maturation.





Illustrations of Grape Descriptors
Throughout the profiles, descriptors are used for each grape variety. These roughly fall into the following correspondences:
1. Grape Bunches
| | | | | |
| --- | --- | --- | --- | --- |
| | | | | |
| Loose Filled | Well Filled | Compact | Conical | Cylindrical |

2. Berry Size & Shape. (Shown actual size though sizes will vary according to screen settings).


Large

Medium

Small

Round or
Spherical


2.3 cm




1.5 cm




1.3 cm

Short Oval


(Short oval berries
are nearly round).



2.3 cm x 2 cm




1.8 cm x 1.5 cm




1.3 x 1cm

Oval



2.5 cm x 2 cm




1.9 cm x 1.5 cm




1.5 cm x 1 cm
Source: Grape Varieties of South Australia. E.W. Boehm & H.W. Tulloch, Dept. Agriculture, South Aust. 1967

Profiles of the Major Red Grape Varieties

Cabernet Sauvignon


To many in the wine world, Cabernet Sauvignon is king. In Bordeaux it forms the backbone of all great "Claret" wine and is the foundation of the vineyards of Medoc. Viticulturally, it is considered the aristocrat of the Cabernet Family. Its tannin, alcohol and acid balance make it capable of developing in the bottle over several decades. In Bordeaux, Cabernet Sauvignon represents between 50% and 90% of the plantings in the Grand Cru vineyards, such as Chateau Margaux and Mouton Rothschild. Latour and Lafite allow other varieties but only in a minor quantity. Cabernet's adaptability to a wide variety of environments has seen the grape planted extensively in Australia, USA, Chile, South Africa, Russia & Argentina. The vine came early to Australia, around 1831, forming part of James Busby's collection. Canes were imported from Chateau Lafite itself by Paul de Castella for his Lilydale vineyard in the nineteen forties. Today, the great examples of Cabernet in Australia have frequently challenged the supremacy of their French counterparts with wines such asMoss Wood,Cullen (Margaret River) & Mount Mary(Yarra Valley) now international wine icons. However, few vineyards have emulated their success with the variety. Low yielding, balanced, fully ripened fruit is vital if one wishes to capture Cabernet Sauvignon's classic blackcurrant fruit flavour and avoid green, vegetal characteristics that come from over-cropped, under-ripe fruit. Cabernet tends to reach optimum maturity just after mid season, usually into autumn, which enhances the flavour profile.

The Cabernet vine grows with extraordinary vigour in the right conditions, yet its yields are restrained until the vigneron learns to match wits against this natural tendency. The vine is relatively shy bearing and has small berries and lots of pips which in turn gives it a high ratio of skin to juice (1:12, as compared with Semillon, 1:25). While the colour comes from the grapes' skins and not the juice, the high ratio of pips in Cabernet also make a contribution to colour. The clusters of Cabernet Sauvignon berries are small to medium sized, irregular in shape, but usually long conical, loose to well filled. The small nearly spherical grapes are black / blue with a grey bloom.


CABERNET SAUVIGNON - AROMA AND RIPENESS
RIPENESS
PRIMARY AROMA
(Ripeness of Grape)
SECONDARY AROMA
(Winemakers Influence)
TERTIARY AROMA
(Developed with time)
Unripe
Herbaceous
Tea Leaf
Green Bean
Green Olive
Capsicum
Cedar
Cigar
Cinnamon
Ginger
Pencil Shavings
Smokey
Spice
Toasted
Vanilla
Woody
Burnt
Fragrant
Mature
Mushroomy
Old Flavour
Resin
Rich
Stewed Fruit
Sweetish
Tar
Toasted
Wholemeal Biscuit
Approaching
Ripe
Leafy
Mint
Eucalyptus
Spearmint
Menthol
Dill
Earthy
Truffle
Mushroom
Tobacco
Peppery
Ripe
Mulberry
Blackcurrant
Confectionery
Violets
Cherry
Plummy
Very Ripe
Fruity
Licorice
Anise
Aniseed
Caraway
Coffee
Jammy
Porty
Tar

Click HERE to view Whats Hot in Cabernet Sauvignon wines.


Click HERE to view available Cabernet Sauvignon wines.



Cabernet Franc

Genetic research has indicated that Cabernet Franc is probably the parent of Cabernet Sauvignon. As a straight varietal, it is of great significance in the Loire Valley, France making the red wines of Bourgueil, Chinon and Saumur-Champigny. By itself, the variety is appealing in youth producing a lighter, softer red, but lacking the structure to move into middle age. Elsewhere, it is valued for its ability to integrate with the other members of the Cabernet family, indeed some consider it to form the backbone of the worlds finest red wines, particularly from St. Emilion where it is well suited to the climatic conditions. Goonawarra Vineyard in Sunbury, Victoria have been particularly enthusiastic about this variety.

Cabernet Franc prefers cooler, damper conditions to Cabernet Sauvignon. It's more productive than Cabernet Sauvignon and buds and matures about one week earlier. It is easier than Cabernet Sauvignon to ripen, has less tannin structure and a characteristic primary aroma of raspberry.



CABERNET FRANC - AROMA AND RIPENESS
RIPENESS
PRIMARY AROMA
(Ripeness of Grape)
SECONDARY AROMA
(Winemakers Influence)
TERTIARY AROMA
(Developed with time)
Unripe
Herbaceous
Tea Leaf
Green Leaf
Olive
Approaching
Ripe
Raspberry
Cedar
Spice
Earth
Truffle
Leather
Cedar
Ripe
Blackcurrent
Raspberry
Toasted
Vanilla
Very
Ripe
Raspberry Jam
Licquorice
Stewed Fruits
Tar

ClickHEREto view available Cabernet Franc wines.


Durif (Petite Syrah)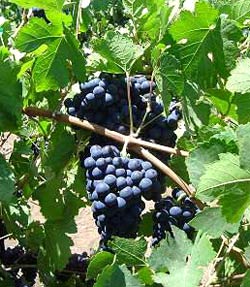 The Durif grape was reputedly developed by Dr. Durif, a French nurseryman living in the south of France in 1880's. He created the variety by crossing the Syrah grape with the Peloursin variety - the resulting variety was more resistant to Powdery Mildew ( a fungal infection which can result in reduced vine growth, yield and fruit quality.) Durif is planted in California under the name of "Petite Sirah" , although there has been some confusion. Many vineyards have proved to have mixtures of Durif and Pelourisin. In Australia the CSIRO used DNA fingerprinting to clear up confusion about similar varieties, finding that the clones imported to Australia were indeed Durif and not Peloursin. Rutherglen in the northeast of Victoria produces Australia's best Durifs with classic morello cherry, dark chocolate and spice characteristics, however some examples can be highly tannic when young and require many years to blossom.
Durif vines are vigorous, bearing medium, compact bunches of small round berries, sensitive to sunburn. The vines have a propensity to produce high yields, which need to be carefully managed with crop thinning. Durif wines offer extraordinary colour, but also present unripe tannins which can play havoc with the wines balance.

DURIF - AROMA AND RIPENESS
RIPENESS
PRIMARY AROMA
(Ripeness of Grape)
SECONDARY AROMA
(Winemakers Influence)
TERTIARY AROMA
(Developed with time)
Unripe
Approaching
Ripe
Ripe
Morello Cherry
Very
Ripe
Coffee
Porty
Dark Chocolate
Tar

ClickHEREto view available Durif wines.


Gamay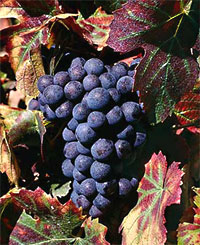 Deriving its name from a hamlet near Puligny-Montrachet, France, Gamay is the basis of Beaujolais, where the variety distinctly prefers the acid soil of Haut Beaujolais near the villages and crus. There, a special vinification process using whole grapes produces wines with rich flower and fruit aromas including violet, iris, peony and soft fruit such as raspberries and strawberries.

Gamay is a vigorous grower and generally produces fresh, aromatic wines in either red or rose styles. In Australia, more full bodied examples of the style are occasionally tasted which can easily be mistaken for Pinot Noir. Gamay grape clusters are large to medium, conical and well filled. The berries are large, round with thick tough skins. Ripening occurs late mid season.





GAMAY - AROMA AND RIPENESS
RIPENESS
PRIMARY AROMA
(Ripeness of Grape)
SECONDARY AROMA
(Winemakers Influence)
TERTIARY AROMA
(Developed with time)
Unripe
Herbaceous
Tea Leaf
Green Bean
Approaching
Ripe
Ripe
Raspberry
Strawberry
Spice
Spice
Aromatic
Lifted Berry
Mixed Berry
Leather
Strawberry Jam
Spice
Very
Ripe
Plum
Jammy

ClickHEREto view available Gamay wines.


Grenache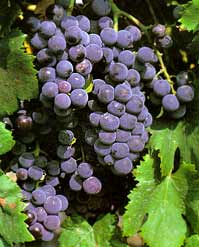 The best known and probably the oldest rose in the world is that made at Tavel in southern France from a blend of several sorts of grapes in which Grenache predominates, while the Spaniards, who know it as "garnacho", employ it as part of their Rioja wine.
In Australia, Grenache has been one of the most widely planted grape varieties, largely due to an early heritage of fortified wine production. It has been the foundation vine of Australian wine regions such as the Barossa Valley, where it has gradually lost favour to Shiraz. Only recently has the variety being revived as the wave of interest in French Cotes du Rhone style wines grows, with outstanding quality Grenache based wines being blended with Shiraz & Mourvedre in particular.

The vines are very vigorous and erect in growth habit, making them suitable for bush vines. The clusters are large to medium, short conical, loose to compact. The berries are small to medium sized, short oval to nearly spherical, reddish purple to black in colour. One of the differences with Grenache is that it ripens fairly quickly, unlike Cabernet for example, so picking speed is critical if optimum fruit quality is to be achieved.

GRENACHE - AROMA AND RIPENESS
RIPENESS
PRIMARY AROMA
(Ripeness of Grape)
SECONDARY AROMA
(Winemakers Influence)
TERTIARY AROMA
(Developed with time)
Unripe
Herbaceous
Tea Leaf
Green
Approaching
Ripe
Cinammon
Ripe
Raspberry
Blackberry
Earthy
Spice
Vanilla
Toasted
Leather
Earth
Very
Ripe
Plum
Licquorice
Tar
Tar

ClickHEREto view available Grenache wines.


Malbec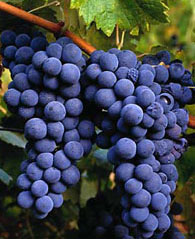 The jury's verdict on Malbec seems to be "forget about it". It has been declining in popularity in Bordeaux for many years, partly due to its susceptibility to virtually every vineyard disease. Its bunches can be poorly set and very shy bearing, although in some vineyards it seems to thrive.

The fruit quality has been difficult to define, although it seems to make a contribution to colour and tannins. By itself Malbec is considered rather coarse. However experience in South America has been different. Successful Argentine Malbec growers claim that, in order to develop full maturity and distinction, Malbec needs "hang time" even after sugar levels indicate ripeness. Otherwise, immature Malbec can be very "green" tasting, without its characteristic notes of mixed berries.




MALBEC - AROMA AND RIPENESS
RIPENESS
PRIMARY AROMA
(Ripeness of Grape)
SECONDARY AROMA
(Winemakers Influence)
TERTIARY AROMA
(Developed with time)
Unripe
Spice
Incence
Approaching
Ripe
Toasted
Cinamon
Vanilla
Earth
Leather
Earthy
Truffles
Tar
Ripe
Violets
Ripe Mixed Berries
Dark Cherries
Very
Ripe
Blackberry
Liquorice
Tar

ClickHEREto view available Malbec wines.


Mataro (Mourvedre)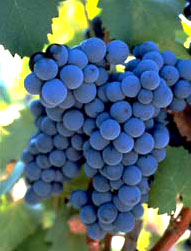 The grape has Spanish origins, near Valencia, and is the second most important Spanish grape to Grenache, where the hot climate makes it easy to grow. In France, it is an important component of Bandol,Gigondas, Chateauneuf du Pape and Coteaux du Languedoc wines (amongst others) and has become a favorite "new" variety amongst the trendy Rhone Rangers of Australia and California. In some climates such as California the variety has low acidity and poor colour, and in fact many authorities claim that by itself, it has little varietal definition. Mataro blends well with Shiraz and Grenache.

Mataro clusters are large - medium sized, spherical, black with heavy blue bloom. The grapes ripen in late mid-season. The vines are moderately productive. The variety adapts to a wide range of soils and recovers well from any set backs during spring frosts.




MATARO (MOUVEDRE) - AROMA AND RIPENESS
RIPENESS
PRIMARY AROMA
(Ripeness of Grape)
SECONDARY AROMA
(Winemakers Influence)
TERTIARY AROMA
(Developed with time)
Unripe
Approaching
Ripe
Ripe
Very
Ripe

ClickHEREto view available Mataro (Mourvedre) wines.



Merlot

There's a lot of hype about this grape variety in some circles (probably because of the high prices that the great wine of Pomerol,Chateau Petrus commands). How much is actually due to hype, (and supreme marketing by Christian Moueix), and how much is due to the intrinsic qualities of the Merlot grape is a tasting adventure that wine lovers rise to. Wine makers don't usually grow fruit unless they can make money from it, which means it has to be a saleable commodity. Merlot is an early maturing grape variety, it ripens first in the Cabernet family - sometimes up to ten days earlier, but usually a week. That's a big advantage in a cool year, as it provides viticultural insurance to the Cabernet wine grower. Merlot also likes cool damp soils, (not the well drained type that Cabernet demands) and is particularly suited to soils with some clay which retain Summer moisture. Merlot actually yields slightly higher than Cabernet and is more approachable as a young wine, having excellent colour, less tannin and less acidity - a big plus for red wine makers who want their wine out on the market with instant drinkability. (Wine makers have even done a good job educating the public into believing that Merlot equals soft, but that need not be the case!)

In Australia, Merlot is now produced in a range of styles, from 'joosy' examples filled with the varieties trademark mulberry fruit flavour, to 'old world' styles where earth & truffle characteristics are integrated with the fruit and sometimes dominate.
Merlot is a vigorous variety, but seems particularly sensitive to salinity. Merlot grape clusters are medium to large, long conical, loose to compact. The berries are medium in size, round and black in colour. Because the grapes are thin skinned, they are subject to rot should it rain - even worse in a frost prone area, because Merlot shoots a week earlier it is also more likely to suffer a set back due to frost.

MERLOT - AROMA AND RIPENESS
RIPENESS
PRIMARY AROMA
(Ripeness of Grape)
SECONDARY AROMA
(Winemakers Influence)
TERTIARY AROMA
(Developed with time)
Unripe
Black Olive
Earthy
Truffle
Toast
Spice
Vanilla
Cedar
Oak
Earth
Truffle
Leather
Approaching
Ripe
Ripe
Raspberry
Mulberry
Blackberry
Red Current
Black Current
Black Cherry
Chocolate
Tar
Very
Ripe
Plum
Licquorice
Coffee
Chocolate
Tar

ClickHEREto view available Merlot wines.


Petit Verdot

Petit Verdot is thought to have originated in Bordeaux, France, where it was once widely included in the wines of the Medoc. The variety remains the least known of the six approved grapes for making red wines in Bordeaux (the others being Cabernet Sauvignon, Cabernet franc, Malbec and Merlot.) However, it is now losing its popularity. The reason for its decline is that being a late ripening variety it does not perform well in a cool climate, however, in warmer new world climates, like McLaren Vale and the Barossa Valley in South Australia, the variety is capable of producing shiraz-like wines of great colour and aroma. Petit Verdot will often be blended as 1% to 3% of a final wine in order to take advantage of the varietals strong tannin structure and to impart colour.

NO AROMA & RIPENESS CHART AVAILABLE.



ClickHEREto view available Merlot wines.


Pinot Noir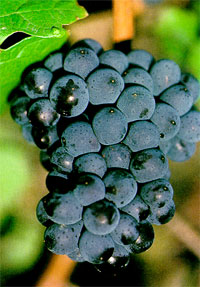 Pinot noir is the red grape of Burgundy and one of the principal components of Champagne. Michael Broadbent MW, in his book"Wine Tasting A practical handbook on tasting and tastings" explains how he recognizes Pinot Noir:"The first main recognition signal is the bouquet, in particular the Pinot grape aroma which I, personally, found impossible to describe. The smell of Pinot must be identified, isolated and memorized. The next key factor is the weight of the wine, allied to softness. There is much less of the searingly mouth drying tannins of its counterpart, produced by the Cabernet in Bordeaux."Meanwhile, Anthony Hanson, in the book 'Burgundy' states,"Great Burgundy smells of shit. It is most surprising, but something the French recognized long ago. 'Ca sent Ca merde' and 'Ca sent purin', being common expressions on the Cote. Not always but frequently there is smell of decaying matter, vegetable or animal, about them." Certainly, Great Pinot Noir has always been about juxtaposing conflicting aromas and flavours in order to create the most ellusive of profiles: Power and persistence coupled with complexity and finesse. Pinot's prized 'flavour wave' is like a peacocks tail, slowly fanning out and building momentum until it totally engulfs the palate. Once you experience it, you never forget it and for some wine lovers Pinot Noir becomes an obsession. Such 'pinophiles' find themselves bound like Ulysses, listening for the Siren's haunting, sensuous cries again and again. If they are shipwrecked while doing so, it is only because their wallets have been emptied or because disillusion sets in. They relegate Pinot forever to a class of mild, lighter style reds and ultimately misunderstand the variety altogether. The difficulty in discovering a great Pinot Noir is directly related to the difficulties inherent in its production and in the vine itself.

To begin with, there are many clones of Pinot Noir. 46 clones are recognised as descendants of the Burgundian Dijon clones, whilst there are possibly another 200-1000 other Pinot Noir clones that ampelographers have identified. Because the clones are unstable and prone to mutate, there is no guarantee the mother plant will yield exact copies of herself. For viticultural reasons, it is important to get the right clones. Pinot clones like the "Abel" clone, for example, were for a long time exclusive to Burgundy, until they were either smuggled into, or sold to new world producers like America and New Zealand, replacing inferior stocks. New vineyard plantings of Pinot should ideally have several clones present. Great Pinot Noir also needs to be produced from mature vines (flavour is not fully developed in young vines) with tension induced prior to vintage to create berry shrivel and further flavour concentration. Pinot needs heart wood to be developed in the trunk of the vine. This is where the flavour components will develop from. Old Pinot vines are like old soldiers. Time is against them and each successive vintage is an opportunity to achieve immortality. Over cropping must be strictly avoided. The power of Pinot can never be expressed with yields that are much greater than 3 tonnes per acre (7.5 tonnes per hectare). The grapes need to reach full maturity of around 14% natural alcohol (without chapitalization).

Given that the chances of producing an extraordinary Pinot are limited from the outset, one wonders,"What is it that drives a vigneron to invest so much money, time and energy in this capricious variety?"Even the concept of 'terroir' itself is insufficient to ensure an exceptional result. While some of the world's greatest taste experiences may come from Burgundy so do some of the most disappointing. What is it about this variety that makes it so frustratingly variable? There are some known quality factors which offer encouragement to winemakers. Micro-climates, for example, have been observed to play an important part in a successful matrix, particularly the diurnal temperature range. Pinot Noir is a little like Riesling, in the sense that it requires warm, but not overly hot days and cool nights to fully develop its maximum flavour potential. Sunshine hours, rainfall and time and rate of precipitation are all important. Countering this is the fact that the same clone will not respond to differences in micro-climate in the same way. Creative and adaptive viticultural management and winemaking are essential if success is to be assured.

Apart from viticultural issues, (of which we have mentioned but a few), in the winery, Pinot persists in being one of the most difficult varieties to make, again partly due to the large number of variables involved: What percentage of the whole bunch (as opposed to crushed berries) will go into the fermenting vats? How are the grapes to be de-stemmed, and are they to be crushed heavy handed or lightly? Is the must to be allowed a maceration period prior to fermentation commencing? If so, how much sulphur is to be used and when? Maximum colour extraction may include the use of 'cold soaks' prior to the start of fermentation following which, many winemakers will use a variety of fermentation techniques and barrel types, as well as changing fermentation temperatures from a hot start for three days to be followed by a prolonged cool ferment finish. A mixture of new and old oak maturation is preferred including the use of medium toast Troncais oak. The complexities continue and the variables multiply. It would seem that the only answer to our question is that it is the elusiveness of success itself that attracts winemakers, viticulturalists and wine lovers alike to Pinot. There is both ecstasy and tragedy in the gamble, though probably more of the latter. The challenge of great Pinot Noir remains very much the quest for wine's 'Holy Grail'.

Pinot Noir vines are vigorous with some clones showing more upright growth than others. Grape clusters are typically small, cylindrical, compact & well filled, with grass green peduncles (berry stems). The berries are small medium oval; black in colour. Seeds are large, plump and light brown. Pinot ripens very early, so is suited to cool climates and sunburns badly in warmer districts. Fruit from warm regions generally results in uninteresting wines, lacking both colour and depth of flavour.


PINOT NOIR - AROMA AND RIPENESS
RIPENESS
PRIMARY AROMA
(Ripeness of Grape)
SECONDARY AROMA
(Winemakers Influence)
TERTIARY AROMA
(Developed with time)
Unripe
Leafy
Truffle
Stalky
Spice
Cedar
Leathery
Toasted
Smokey
Troncais Oak
Perfumed
California Poppy
Gamy
(Perfect Hung Pheasant)
Meaty
Fragrant
Burnt
Honeyed
'Old Pinot'
Meaty/ Malty
Mushroomy
Smokey
Vinegary
Over Ripe/ Gamy
Oaky
Peppery
Dry
Cheese Rind
Stewed
Prunes
Rhubarb
Toasted Coconut
Approaching
Ripe
Ripe
Decay Flesh
(Meaty)
Game
Earthy
Black Current
Strawberry
Raspberry
Blackberry
Cherry
Violets
Ribeena
Plum
Very Ripe
Strawberry Jam
Beetroot
Rhubarb
Tarry

ClickHEREto view available Pinot Noir wines.



Shiraz (also commonly known as 'hermitage' and 'syrah')

The variety is synonymous with France's 'Hermitage' and Syrah of the Rhone Valley. Wine lore has it that Shiraz(also known as Syrah, Sirrahs, Ciras, Scyras)was taken from Persia to France by the Phoenicians. However, research by scholars Dr.Carole Meridith of the University of California Davis and Jean Michel Boursiquot of the Wine Institute in Montpellier, France have determined that Shiraz is indigenous to the Rhone Region of France. DNA sequencing indicates that Shiraz is a descendant of two little known French grape varieties, Durela and Mondeuse Blanc, and has been grown in the Rhone Valley since 500 B.C.
Shiraz was first brought to Australia in 1832 by James Busby, unwittingly with the help and co-operation of the French themselves. Busby left Australia in February 1831 and arrived in the Rhone Valley on the 10th of December. He recorded his trip in the 'Journal of a Tour' published in 1833 and wrote of the hospitality and generosity of information that French vignerons eagerly passed on:"I had no advisers...I uniformly prefaced my request for information with a statement of the object for which it was required. So far however, from having been in any one instance at all deceived or mislead. I have found every person to whom I applied anxious to forward my undertaking."It is to the French, therefore, that the Australian wine industry owes so much of its present success. If the French knew that their wisdom, knowledge (as well as their Shiraz cuttings) were being placed at the feet of 'Barbarians', perhaps they would not have been so obliging.
For some time, Cabernet rather than Shiraz, was the dominating variety for much of Australia's wine making history. Today, Shiraz has become synonymous with the ultimate expression of Australian red wine making with icons such as Penfolds Grangeand Henschke Hill of Gracebeing recognised amongst the world's great wines. Historically great Shiraz has been grown from old vines in the Barossa Valley and McLaren Vale in South Australia, however, new regions such as Margaret River (Western Australia), Heathcote and the Yarra Valley (Victoria) are pushing the wine making boundaries further. Great Australian Shiraz is characterised firstly by its intensity of colour - almost opaque with black, purple hues. Secondly by its palate weight and concentration of ripe plum, black pepper and very ripe berry flavours, often over layed by the use of toasted American oak.

Like Pinot Noir, there are many different clones of Shiraz, often used in the same wine to increase complexity. Many of these clones were first identified in Australia in 1964 by Harry Tulluch of the South Australian Department of Agriculture and include the following: SA1654 (The most widely planted Shiraz clone in Australia) which produces wines of intense black purple colour with a distinct black pepper character. SA2626, a firmer tannin structure with flavours of stewed fruit and sour cherries. SA1127 has spectacular dense purple black colour and the aroma is of violets and cherry palate flavours. SA712 is dominated by chocolate and plum flavour whilst BVRC30 offers an earthy, farmyard character to Shiraz.

Shiraz vines grow vigorously in all viticultural areas, producing grape clusters that are medium sized, slightly ellipsoidal, black with a dull blush grey bloom. The grapes are thin skinned small to medium sized oval berries, ripening in early mid season and are susceptible to damage from early rains. Shiraz will grow on low fertile soils where vigor can be contained. The skin contains an abundance of colour but tend to wilt soon after ripening. In hot seasons the grapes may sunburn badly.

SHIRAZ - AROMA AND RIPENESS
RIPENESS
PRIMARY AROMA
(Ripeness of Grape)
SECONDARY AROMA
(Winemakers Influence)
TERTIARY AROMA
(Developed with time)
Unripe
Herbaceous
Tea Leaf
Eucalyptus
Mint
White Pepper
Black Pepper
Vanilla
Spice
Pencil Shavings
Leathery
Farm Yard
Cigar Box
Cedar
Tobacco
Cowshed
Earthy
Raisin
Leather
Earthy
Gamey
Approaching
Ripe
Ripe
Confectionery
Aniseed
Licquorice
Raspberry
Dark Cherrry
Blackberry
Stewed Fruits
Stewed Plums
Chocolate
Coffee
Stewed Fruits
Tarry
Very
Ripe
Coffee
Chocolate
Dark Chocolate
Jammy
Porty

ClickHEREto view Whats Hot in Shiraz wines.


ClickHEREto view available Shiraz wines.


Zinfandel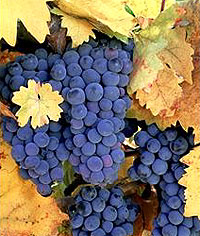 Zinfandel is California's great grape variety being the backbone of the industry, producing as wide a variety of wines as Australia does with Shiraz - from delicate roses, rich robust tannic reds and wonderful vintage ports. Until recently, Zinfandel was thought to have been introduced from Hungary by Californian viticultural pioneer Agoston Haraszthy. However, recent DNA fingerprinting has identified the variety as being the Italian grape Primitivo, still grown in Apulia.

The variety is suited to cooler districts because of its tendency to raisin and sunburn. In irrigated vineyards it is susceptible to bunch rot. The clusters are medium sized, spherical, reddish black to black. The grapes ripen early in mid-season, the vines being moderately vigorous and very productive. Zinfandel suffers from irregular ripening, tendency to raisin and cluster rot.
ZINFANDEL - AROMA AND RIPENESS
RIPENESS
PRIMARY AROMA
(Ripeness of Grape)
SECONDARY AROMA
(Winemakers Influence)
TERTIARY AROMA
(Developed with time)
Unripe
White Pepper
Black Pepper
Approaching
Ripe
Ripe
Nasturtium
Rose
Pomegranate
Raspberry
Red Cherry
Licquorice
Spice
Vanilla
Toast
Cardamon
Cedar
Leathery
Coffee
Tar
Very
Ripe
Plum
Coffee
Click HERE to view available Zinfandel wines.