Sweet White Wines
Introduction to Bordeaux's World Famous
Sweet Whites

The magic of Bordeaux sweet wines is their remarkable balance between sugar and acidity which never becomes cloying. Medium sweet and sweet wines are made principally from Semillon and Sauvignon and, to a lesser extent, Muscadelle. Their exceptional sugar content results from the activity of Botrytis cinerea, also known as noble rot which requires a very specific micro-climate to set. See Vintage School-Making Sauternes & Sticky Wines. These wines have made an enormous contribution to establishing and maintaining Bordeaux's reputation, notably with such icons as the crus classes from Sauternes-Barsac, as well as other less well-known appellations that also produce high quality sweet wines of outstanding value for money. The production area of Sweet White Wine stretches along both sides of the Garonne, south of the city of Bordeaux representing 3% of planted surfaces in Bordeaux and includes 12 AOCs outlined below.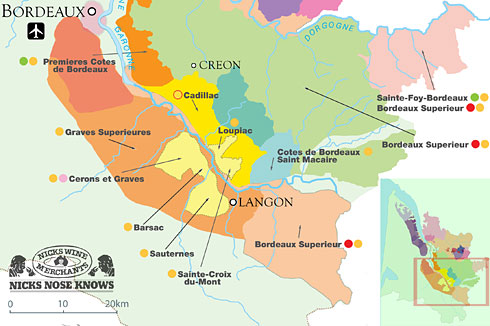 Barsac

Barsac is located at the mouth of the Ciron, a small tributary of the Garonne, in the heart of the terroir that is so favourable to the development of noble rot (botrytis cinerea).The cold waters of this river create a micro-climate where night mists give way to mostly sunny autumn days. This alternation of wet and dry keeps the rot from running riot and becoming destructive. Instead it is elevated to 'noble' status. The Barsac AOC is just as reputable as its famous sister, Sauternes, yet perhaps because it is smaller, with ten sweet dessert Crus Classes but no Premier Cru, it receives dis-proportionally less attention. The village of Sauternes had long been controlled by Barsac, and for this reason, Barsac wines are permitted to use the Sauternes appellation (the reverse is not true, however).

Barsac's dessert wines are produced with Semillon (80% of vines planted) and Sauvignon (15%) grapes. Muscadelle is used as a complementary variety. More susceptible to noble rot than the other varieties, Semillon's aromas are enhanced after infection. It is also the grape variety that is most at home in Barsac's soils of stones, gravel and red sand. Traditionally considered to be lighter than Sauternes yet of similar quality, Barsacs have a characteristic full, deep nose with a warm and elegant bouquet. In the mouth, there are notes of honey, white peach, almond, oriental spices and mango or pineapple, as well as dried apricots or even toasted bread and vanilla. These wines are exceptionally persistent, but never become cloying. They deliver a fresh and even mentholated finish. Powerful but elegant, luscious but fresh, Barsac seem to have multiple identities and much depends on individual properties' winemaking and viticultural practices.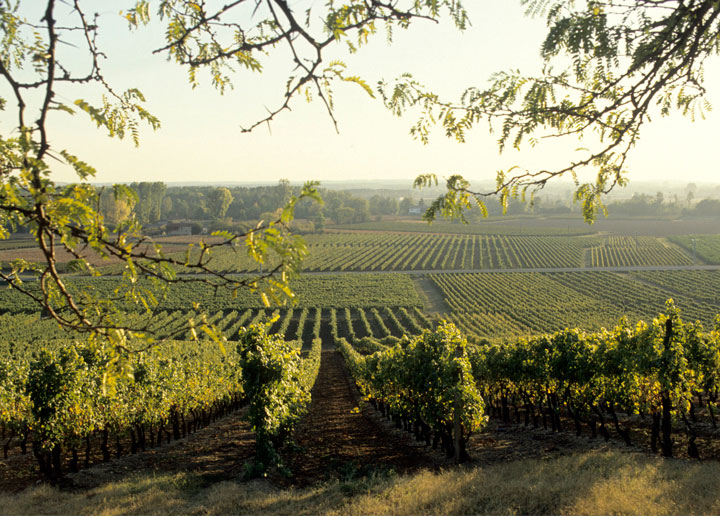 Bordeaux Moelleux

Bordeaux Moelleux is a regional AOC, which means that quality sweet wines can be produced anywhere in the Bordeaux region. They have a sugar level greater than 4 grams per litre. Semillon, Sauvignon and Muscadelle are the grape varieties used in sweet Bordeaux wines, which give them fresh and fruity aromas. Similar wines, produced using the same winemaking process in even smaller quantities, are marketed under the Bordeaux Superieur AOC. The 60 ha of Bordeaux-Saint-Macaire also produce Bordeaux Moelleux wines; they are made primarily with Semillon grapes on a terroir of hills and hillsides with southern exposures located on the Right Bank of the Garonne, facing the commune of Langon.

Bordeaux Superieur

These traditional sweet Bordeaux white wines, are perfect as aperitifs, and are ideal with poultry since their residual sugars round out its flavour.

Bordeaux-Haut-Benauge

Within the southern portion of Entre-Deux-Mers is the small Haut-Benauge AC, which produces both dry and sweet white wines.

Cadillac

Located on the right bank of the Garonne, 30 km southeast of Bordeaux, right next to the major dessert wine appellations is the small appellation of Cadillac. The AOC was not established until 1973 when Cadillac was split from the Premieres Cotes de Bordeaux AOC further north - the latter produces sweet whites as well as red wines, while Cadillac wines are exclusively white and/or sweet. Cadillac enjoys a micro-climate that favours the growth of noble rot, but because its wines cannot command the prices of Sauternes, the costs involved with the production of high quality sweet whites is difficult to justify for most in the region.
The vines are generally planted on south and southwest facing slopes of the area's clay-limestone hillsides. The sand, chalk and gravel soils are perfect for the Semillon grape, which represents 70% of the vines planted. Sauvignon and Muscadelle are planted in smaller quantities. The wines are aromatic, full and unctuous, but never as heavy as Sauternes. That said, good vintages from the likes of Chateau Fayau offer wonderfully affordable Sauternes style experiences and are worth seeking out.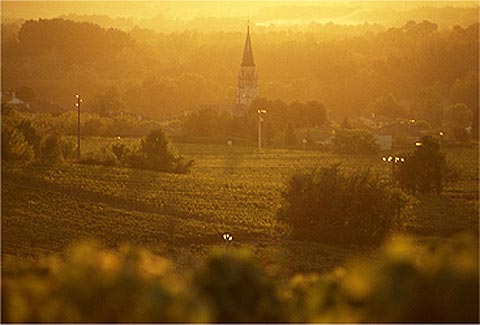 Sauternes.

Cerons

Probably the least important of the sweet white appellations is Cerons, a little-known communal AOC of 40 ha of vines that has had an association with wine since Roman times. Since 1936, Cerons has produced sweet wines , however, with the 20th century decline in consumption of dessert wines in France, its winegrowers turned to producing dry whites and red wines under the Graves AOC. Nevertheless, many wine brokers and other Bordeaux enthusiasts today consider the Cerons dessert wines to be one of the region's best kept secrets, making wines that are similar to Barsac, despite the fact that much higher yields are allowed (40 hl/ha as opposed to 25 hl/he in Sauternes & Barsac). The Cerons AOC wines are 80% Semillon, and the coarse sands that cover compacted limestone terroir suit it perfectly. Recommended are the sweet wines from Chateau de Cerons.

Cotes de Bordeaux-Saint-Macaire

The Premieres Cotes de Bordeaux are minor sweet wines produced on steep, well-oriented hillsides.

Graves Superieures

The Graves Superieures AOC sweet wines possess moderate sugar levels making them good aperitifs or complements to delicate sauce dishes and desserts. Their quality and style is sometimes compared with the sweet wines from the Cerons appellation. Since the creation of the AOC in 1937, consumption patterns have changed in favour of dry white wines and so the volume of sweet wines produced under the Graves Superieures AOC was reduced. Semillon and Sauvignon grapes are the most used varieties, planted in soils of gravel and mixed sands with veins of clay and limestone. Graves Superieures wines have notes of citrus and candied zest, as well as white peach or nectarine. They also excel when served with a Tarte Tatin (carmelized apple pie) and many other desserts.

Loupiac

Positioned between Cadillac and Ste Croix de Mont on the right bank of the Garonne River is the small appellation of Loupiac. Grape vines have long been part of its heritage with Loupiac's wines first cited in the 13th century at a time when the region was much bigger. With its south and southwest exposures, it is guaranteed excellent sunlight , and the clay-limestone soils of Loupiac's hillsides are ideal for growing the classic sweet white varietals. Its location at the meeting point of the Garonne and Ciron rivers is even more serendipitous: The Ciron is a small river that runs cold and in the autumn it produces mists as it runs into the warmer Garonne. At night, these mists cause the humidity that favours the growth of noble rot. Its sunny days are also essential to the over ripening required to produce fine dessert wines.
Sauvignon is planted, and most particularly Semillon, which represents over 80% of the vines. Production of Loupiac's sweet nectars is subject to very strict norms that with maximum permitted yields being less than 40 hL/ha. Notable producers include Domaine du Noble and Ch. Loupiac-Gaudiet.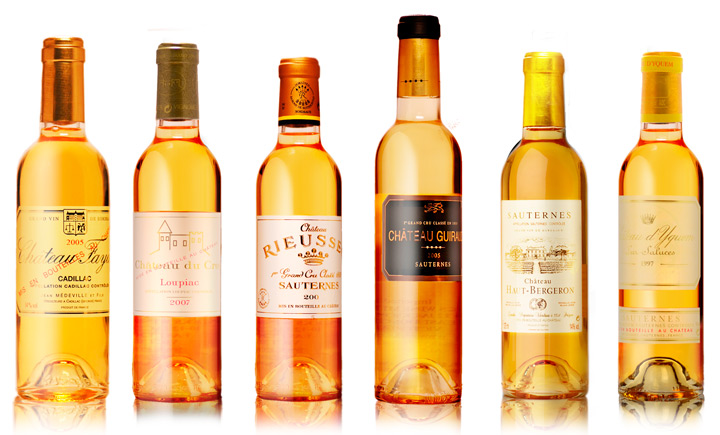 Some familiar and less well known Bordeaux Sweet Whites.

Premieres Cotes de Bordeaux

The Premieres Cotes de Bordeaux mainly produces fruity red wines, but quality sweet white wines dominate in the warmer southern part of the appellation. This quality is augmented by strict production norms which have applied to this AOC since 1937. Here, the steep clay limestone hills of sometimes gravelly terrain offer a good exposure to the sun and allow for a long and intense ripening period during which Semillon (70% of vines planted) and Sauvignon (25%) grapes are subjected to the effects of the noble rot (Botrytis cinerea).

The sweet Premieres Cotes de Bordeaux wines are more or less yellow in colour according to the degree of over ripeness. They have a fruity and floral bouquet with notes of citrus and candied fruit, quince, peach and yellow flowers. At high levels of residual sugars akin to those of the great dessert wines, they have notes of sun-roasted fruit like Sauternes.

Sainte-Croix-du-Mont

Arguably the most important of the sweet white appellations on the right bank of the Garronne is the magnificent hillside village, Sainte-Croix-du-Mont. Situated 50 km southwest of Bordeaux next to Loupiac and facing Sauternes and Barsac, this AOC occupies a strategic location for producing classic dessert wines. There the Garonne and Ciron rivers meet, creating an ideal micro-climate for the promotion of noble rot. Composed of clay and limestone, the soils of Sainte-Croix-du-Mont's sometimes steep hillsides have massive outcroppings of pure limestone, usually only found at greater depths. Here, the Semillon grape variety (85% of vines planted) experiences a slow ripening in autumn, aided by an absence of thunderstorms, which tend to follow a more northerly track. The grapes flourish in this wonderful terroir and over ripen to produce slightly lighter style dessert wines which in good years can approach Sauternes.

The Sainte-Croix-du-Mont captivate with their aromas of raisins, fig, acacia, honeysuckle, apricot and peach. In the mouth, they are livelier than their neighbour and have a more airy and expansive side. They are powerful, complex and intense with a long finish. As with all great dessert wines of the region, they have potential for aging.

Sainte-Foy-Bordeaux

Appellation regulations for this district which lies to the extreme east allow for the production of sweet whites as well as red wines , though the sweet whites are relatively undistinguished in comparison to those of its famous neighbours.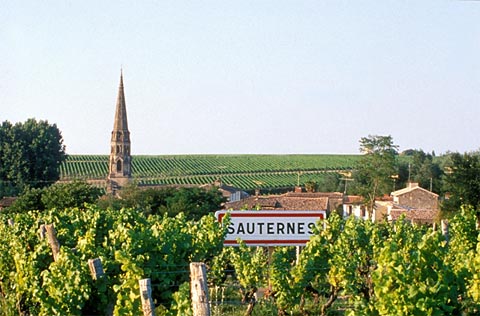 Image © Conseil Interprofessionnel du Vin de Bordeaux

Sauternes

Approximately forty kilometres south west of Bordeaux lies Sauternes, an AOC composed of five communes: Sauternes, Fargues de Langon, Bommes, Preignac and Barsac. Chalk and clay soils are found in Bommes, Sauternes and Preignac, whilst grit and sandy soils are found in Fargues de Langor and Sauternes. Vineyard orientation is very important, and the great vineyards all have a north east aspect which ensures that grapes are fully ripened, as compared with over-exposure on southerly aspects. The properties throughout the region are relatively small. There are 19 large vineyards over 20 hectares (50 acres), 83 vineyards between 5 and 20 hectares (12-50 acres) and 159 under 5 hectares (12 acres). The total area of Sauternes is restricted to around 1900 hectares (4700 acres) making it the largest dessert wine AOC in Bordeaux. Its soils and microclimate are perfectly suited to the production of some of the world's greatest botrytis effected wines. The vineyards at the highest elevations and farthest from the river have the best terroirs and produce the majority of the Crus Classes, including the monumental Château Y'quem.

The wines are made from Semillon (approximately 80% of vines planted) and Sauvignon (15%) grapes. Some Muscadelle occasionally is used. These varieties are susceptible to botrytis rot for two reasons: Firstly they have thin skins which are more easily pierced by the fungus, and secondly, the grapes grow tightly packed together in the clusters causing poor air circulation between berries creating a micro-climate conducive to fungal growth. Sauternes wines have a gold colour that is denser and darker than other dessert wines. When they age, they develop a stunning amber colour. The nose has aromas of flowers and fruit that melt together to create a bouquet of remarkable complexity and balance. The primary aromas include almond, quince, mango, pineapple, stewed peach, dried apricot and passion fruit. There are also floral notes, with touches of linden, acacia, mimosa and honeysuckle. And as is typical with Semillon, there are also notes of beeswax, almond and hazelnut. In the mouth, Sauternes wines have a power and viscosity but while retaining a sense of elegance.

The great examples from the best vintages are wines that simply must be experienced and include wines from properties such as d'Yquem - the undisputed star of the appellation - Climens, Rieussec, Lafaurie-Peyraguey, Suduiraut, Fargues, Clos Haut-Peyraguey, Coutet, Guiraud, La Tour Blanche, Rayne Vigneau, Sigalas Rabaud, Doisy Vedrine and Doisy Daene.

Appellation information sourced from the official Bordeaux Wine website: www.bordeaux.com
© Conseil Interprofessionnel du Vin de Bordeaux