Introduction to the Dry White Wines of Bordeaux
Bordeaux offers beautifully balanced white wines, predominately made from Sauvignon and Semillon, offering the ideal combination of fruit, liveliness and aromatic richness. Although most of these wines are consumed young, others are sought after for their complexity, their strength and their ageing potential. These AOCs include wines from all categories: from simple, easy to drink wines, to wines that have been classified, notably in the Graves. The family of Dry White Wines is composed of all white wines produced in the Gironde, including within appellations specific to red wine production (Medoc, Saint-Emilion-Pomerol-Fronsac etc.) or to the production of sweet wines. This family of wines is comprised of 12 AOCs and represents 8% of Bordeaux wines.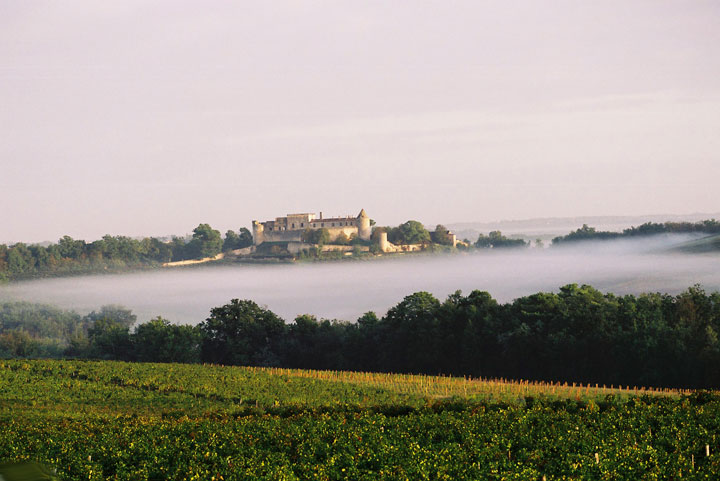 Image © Conseil Interprofessionnel du Vin de Bordeaux

Bordeaux & Bordeaux Sec

The Bordeaux region's dry white AOC wines offer a fine balance of Sauvignon's fruitiness and Semillon's roundness. These whites can be found throughout the Bordeaux region under a large regional appellation. Like Bordeaux reds, the dry whites are produced by blending the major grape varieties authorized by appellation's formal production standards. The three main varietals are Sauvignon (42% of all vines planted), Semillon (42%) and Muscadelle (9%) .
Each variety is planted in the micro-climates and soils across the region that best suit it. Sauvignon prefers cooler terroirs with soils dominated by clay and limestone (as found in the Entre-Deux-Mers area and more generally in the eastern parts of the region), while Semillon is better suited to warmer and lighter soils (such as in the Graves region).
Bordeaux AOC whites must be absolutely dry and must not surpass 4 grams of residual sugars per litre. They develop elegant, fruity and floral aromas uniting lemon notes with those of white flowers and peaches.

Entre-Deux-Mers

This appellation lies between the Dordogne and Garonne rivers, and offers lively and smooth dry white wines, produced throughout the area between the two great rivers. In fact, after Bordeaux AOC, the Entre-Deaux-Mers is the biggest dry white appellation in the Bordeaux region. Growers are members of cooperatives, and are preoccupied with the study of aromas produced by the various local grape varieties, with a specific focus on Sauvignon, the star grape variety of Entre-deux-Mers. This varietal is the subject of vinification studies in the search for a balance between its powerful aromas and its naturally high acidity.

While the primary grape variety cultivated in Entre-deux-Mers is Sauvignon, Semillon (which adds roundness and power) is its preferred partner. Muscadelle sometimes adds highly appreciated wild and musky notes. The vines are grown in clay-limestone soils and the wines which vary greatly in quality, are generally best drunk young being distinguished by a refreshing quality and a good persistence of aromas with notes of citrus, yellow flowers and exotic fruit.

Entre-Deux-Mers-Haut-Benauge

In the southern part of the region, this little-known AOC makes similar wines as Entre-Deux-Mers. The AOC takes its name from the Chateau de Benauge, the seat of the Viscount who governed the region. Vines grow in clay-limestone soils and are distinguished by a thirst-quenching freshness, but also by good persistence of aromas with notes of citrus, yellow flowers and exotic fruit.

Blaye

The largest of the Cote appellations, it is also the most northern, situated 45 km north of Bordeaux. This appellation, the l'AOC Cotes de Blaye, created in 1936, is almost unknown with only 20 ha of Colombard under vine along with Ugni Blanc and smaller plantings of Sauvignon Blanc. The resulting wines are lively and fresh, but take second place to the region's Premieres Cotes de Blaye reds.

Premieres Cotes de Blaye

In the northernmost part of Bordeaux, the Premieres Cotes de Blaye AOC offers a special exposure and micro-climate, perched on a rocky ridge dominating the Gironde's estuary. Its particularly high number of sunshine hours and clay and limestone soils make it perfectly suited to white grape varieties such as Sauvignon and Semillon. Colombard and Ugni Blanc also play a part in the blend, though they do not exceed 30% of the vines. Conditions are good for growing these two grape varieties (which are highly regarded in nearby Cognac).
The wines typically have a delicate, light colour with hints of green. Being quite delicate these wines make excellent aperitifs and can accompany fish, seafood and white meat equally well.

Cotes de Bourg

The Cotes de Bourg AOC is a 'new generation' of Bordeaux wines with enthusiastic winegrowers now delivering generous, full-bodied, aromatic wines. A blend of Sauvignon (45%), Semillon and Colombard, they enchant with their vivacity, their fullness in the mouth, and delicately aromatic notes of citrus, peach, yellow and white flowers. Ugni Blanc is also grown. With only 20 ha under vine, these wines remain rare.

Bordeaux Cotes de Francs

The Cotes de Francs area is situated about 60 kilometers east of Bordeaux, running along the Dordogne river amongst charming hilly landscapes. Recognized A.O.C Cotes de Francs in 1967, the appellation's soil is characterized by molasses and limestones. Forty producers vinify wines which have close characteristics to their cousins of Saint Emilion a strong and opulent fresh fruit flavour in their youth, which tends to soften with time as the tannins equilibrate with the structure. The Cotes de Francs are pleasant to taste young on the fruit, they normally reach their peak after 5-10 years or so. Largely unknown amongst amateurs, the best wines of Cotes de Francs are of special interest from a price/quality point of view. Properties include Puygueraud, La Prade, Vieux-Chene, Terrasson, Puyfromage, Lalande de Tifayne and Charmes Godard (red and white).
Source: http://www.winemega.com/region_cotes_de_francs.htm

Graves

Created in 1937, this AOC is dominated by Semillon rather than Sauvignon Blanc. This is not by chance, since this grape variety prefers shallow, warm well drained soils as those found here. Sheltered from bad weather by a thick pine forest and from excessive heat by breezes from the river, the terroir provides a perfect microclimate for white grape varieties. The appellation stretches for 50 km along the Garonne River southeast of Bordeaux and takes its name from its soil (Graves is French for 'gravelly terrain'), a mix of stones and gravel, carried by the Garonne from the Pyrenees, over 500 km away. The pebbles and stones are mixed with silts and light clays and rest on a soil that is sandier than that of Medoc and can be pure sand or hardpan (iron-oxide cemented sand).

Invariably blended with Sauvignon in the, the appellations wines are noted for their roundness, power and floral and fruit aromas and is undoubtedly the best in Bordeaux for the production of powerful yet elegant white wines. The most famous white wine from the district is the rare Laville Haut-Brion. Excellent oak aged or barrel fermented examples are made by Clos Floridene and Ch Chantegrive.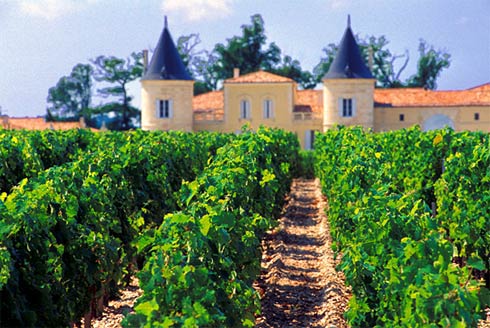 Graves de Vayres

The Graves de Vayres AOC white wines are produced in an area of gravel soil that is surrounded by the clay-limestone soil of Entre-Deux-Mers. Their complexity, roundness and power are Semillon trademarks. Situated in the extreme north of the Entre-Deux-Mers region. It is a zone of gravelly soils in the middle of a vast region of clay-limestone soils (Entre-Deux-Mers). Once again, the gravelly terroir explains the word "Graves" in the name of this AOC with the second name derived from the historic town of Vayres.

Thanks to the Dordogne River, which is very wide here, the AOC enjoys a temperate climate during the summer. Semillon and Sauvignon are planted here and are occasionally complemented with Muscadelle. On soils of gravel and sand, this appellation produces elegant dry white wines, sometimes barrel matured, marked by notes of hazelnut, citrus and white-fleshed fruit that are fresh and unctuous. Some parts of this appellation also produce sweet wines, thanks to Semillon's ability to over ripen in the autumn sun.

Pessac-Leognan

This AOC, which is literally surrounded by the urban development of the city takes its name from its two most important wine producing communes. The Classement des Crus de Graves of 1953, which predates the creation of the Pessac-Leognan AOC, identified domains that today are all part of this new AOC and the district proves that Sauvignon -- which dominates here -- can produce rich and powerful wines with a good potential for aging, as demonstrated by its Crus Classes.

The terroir is composed of a particularly thick layer of gravel and stone, carried by the river: it can be as thick as 3m in some places. Underneath this layer is sand, hardpan and clay in variable proportions. Drainage is particularly efficient. Further away from the city, the vines are planted in vast clearings, surrounded by pine forests in the south west that protect from humid western winds. Semillon is very frequently planted as it has the complexity and power needed for the traditional barrel and bottle aging of the appellation's fine whites. Sauvignon nonetheless must represent at least 25% of the blend. The result is a balance of lively fruit and power, roundness and complexity. In the last 15 years, the Pessac-Leognan appellation area has made a spectacular leap from 500 hectares in 1975 to approximately 1,300 today, thanks to the dynamism and devotion of the producers. Some world famous and highly sought after dry whites are made here, the most respected being from Ch Haut Brion, Domaine de Chevalier and Ch Malartic-Lagraviere, all of which can develop in the bottle over decades.

Cremant de Bordeaux

Bordeaux also produces small quantities of AOC sparkling wines by the same methods used in Champagne and as with champagne, both red and white grape varieties are used. All harvesting is done by hand, and to ensure the grapes are not crushed, they are transported in small baskets. Delicate pressing (to produce only 100 litres per 150 kg of harvested berries) is used to avoid extracting the red pigments in the grape skins. The grapes are subject to an obligatory registry. Sulphur use in the vinification is regulated to keep levels very low. The final major hurdle to AOC status is wine tasting, which is done at two stages: after the wine's fermentation and after the secondary fermentation that occurs in the bottle to produce the bubbles. See Making Sparkling Wine.
There are several types of Cremant de Bordeaux, depending on the grape varieties that are used in its production. Blanc de Blancs are Semillon, Sauvignon or Muscadelle based while roses are made from the classic Bordeaux red varietals. Typically these are slightly fruity, lean wines and while they can offer value for money, as yet they represent no serious alternative to the major Champagne brands. Consequently, production remains very limited but is being constantly developed.

Appellation information sourced from the official Bordeaux Wine website: www.bordeaux.com
© Conseil Interprofessionnel du Vin de Bordeaux