St Emilion, Pomerol & Fronsac
Introduction to the Red Wines of the Right Bank

This group of AOCs is located in the eastern part of the Bordeaux winemaking area, on the Right Bank of the Dordogne River, close to the city of Libourne. Wines from this family represent 10% of planted surfaces in the Bordeaux area. The landscape is composed of plateau, terraces, slopes and valleys. Soil composition varies. The vines benefit from good exposure to the sun and from the Ocean climate, characterized by cool and humid winters which regulate temperatures. These more feminine red Bordeaux wines are aromatic , supple, subtle, elegant and have velvety tannins. Merlot is the main grape variety here, along with Cabernet Franc, with Cabernet Sauvignon playing a secondary role.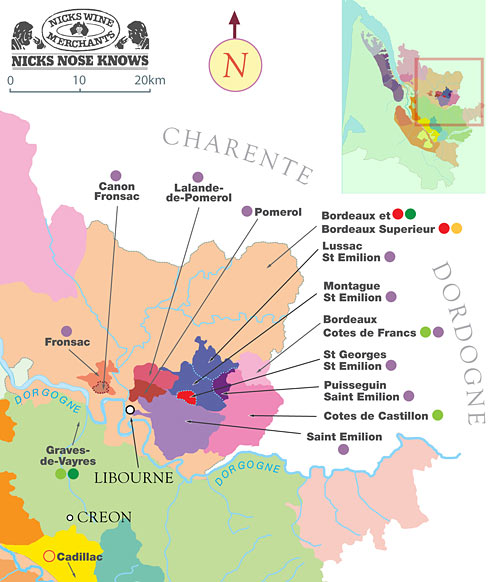 St. Emilion

The expression "the hill with a thousand Chateaux" in relation to the medieval village of Saint-Emilion is not just poetic fancy: The AOC represents more than 800 winegrowers, as well as being a distinguished world heritage site both for its historical value and its importance as an exceptional wine-growing terroir. It is also one of the most beautiful wine-producing villages in France. For various reasons, before the French revolution (1789), St-Emilion's land was initially divided into thousands of plots. Thus, the current average size of the properties does not exceed 7 ha - tiny when compared to the vast Medoc estates which can be up to five times larger. Fortunately this historical inheritance later turned out to be an advantage due to the astonishing diversity of the local soils. While the district is often divided into two main soil types, it is probably more accurate to suggest four or even five. In the centre is a limestone plateau, surrounded by chalky soils with clay and silt (also called "molasse"). In the northwest of the AOC, a sandy layer covers mostly clay soils. Finally, in the Dordogne Valley to the south, lighter soils contain alluvial stones and sand.

The weather is oceanic and temperate, due to the nearby Dordogne river, which cools the summers and helps to avoid spring frosts. Autumns are sunny, encouraging perfect ripening of the grapes. In St. Emilion, very little Cabernet-Sauvignon is to be found since it ripens too slowly. Instead, Merlot (60% of vines planted) and Cabernet Franc (30%) attain new heights of quality. Given the diverse terroir, it is hardly surprising that Saint-Emilion wines have a variety of profiles, from very powerful and concentrated, like those grown on the limestone plateau, to refined and delicate, such as those from the terroirs to the south. In St. Emilion, we also find the finest Growths, capable of maturing for decades produced alongside pleasant but light clarets. During the 1990's, a surprising new category of wines appeared: the "garagiste" wines, whose tiny production and extremely low yields give highly fruity concentrated and extracted wines. The two most famous "garagistes" estates are Valandraud and Mondotte. The Chateaux of St. Emilion are classified into four levels, in ascending order: St. Emilion, St. Emilion Grand Cru Classe, St. Emilion Premier Grand Cru Classe (B), and St. Emilion Premier Grand Cru Classe (A).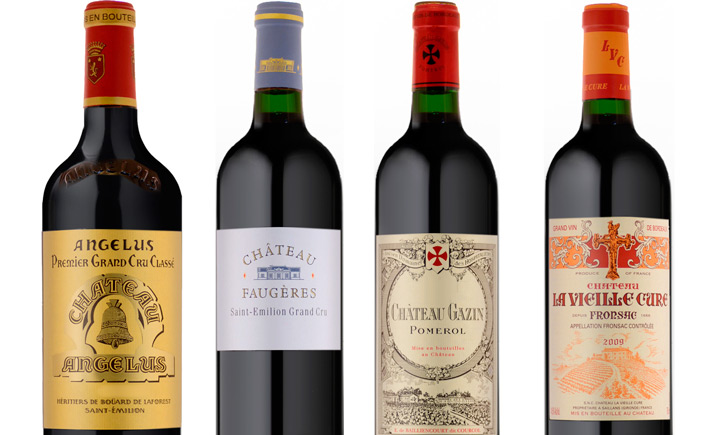 St Emilion Grand Cru

While it occupies the same prestigious territory as Saint-Emilion, this appellation has more restrictive production norms: a maximum yield of 40 hL/ha forces winegrowers to limit the vine's load so that the grapes produce concentrated berries, resulting in some of the highest quality wines in Bordeaux. Producers must also submit their wines to a second formal wine tasting after 12 months of aging. The Saint-Emilion Grands Crus develop more concentrated notes of red berries with an aromatic richness supported by a powerful structure and silky, finely woven tannins. Pleasant and plump when young, these wines have potential for aging that can often exceed 10 years. However, since the AOC Saint-Emilion Grand Cru is on the same production zone as Saint-Emilion, winegrowers can choose to produce according to the rules of one or the other appellation, depending on their soils, exposure to the sun, the age of the vines or the concentration of the grapes.

It is important to note here that St Emilion is unique amongst France's appellations in that it has a classification system which is updated every ten years based upon vertical tastings rather then market prices. Although this has not been happening on schedule, it has been revised four times since its creation in 1955 (1969, 1979, 1984 and 2006); with notable changes (unlike the 1855 Medoc classification). In theory, its regular re-evaluation compels the Crus Classes to undertake efforts to maintain and upgrade their quality. However, as prestigious as the Grand Cru classification might sound, in reality, its designation is based on little more than a few details of the harvest - a maximum of 40 hl/ha rather than 45 hl/ha for basic St Emilion - and a minimum alcoholic strength of 11%. For the consumer, the more important difference lies in one further classification by which properties are promoted to the highest status in St Emillion, namely, St Emilion Premier Grand Cru Classe.

Controversy marred the most recent 2006 re-classification, which was temporarily suspended after certain chateaux were demoted and subsequently took the Syndicat to court over the alleged partiality of its judges. However, in November 2007, the suspension was lifted and the new classification stands. Only two Chateaux, Ausone and Cheval Blanc, are included in the very top tier of class A Premier Grand cru; at the time of writing, there are 10 Châteaux in the class B of Premier Grand Cru. Famous properties include Ch Figeac and Ch Canon.


St Emilion Classification (Officially re-classified 2006)
Premier Grand Cru Classe A




(First Great Growths category A)



Chateau Ausone
Chateau Cheval Blanc




Premier Grand Cru Classe B




(First Great Growths category B)



Chateau Angelus
Chateau Beau-Sejour-Becot
Chateau Beausejour (Duffau-Lagarrosse)
Chateau Belair
Chateau Canon
Chateau Figeac
Chateau La Gaffeliere
Chateau Magdelaine
Chateau Pavie
Chateau Pavie-Macquin
Chateau Troplong Mondot
Chateau Trottevieille
Clos Fourtet

Grand Cru Classe



Chateau Balestard la Tonnelle
Chateau Bellefont-Belcier
Chateau Bellevue
Chateau Bergat
Chateau Berliquet
Chateau Cadet-Bon
Chateau Cadet-Piolat
Chateau Canon la Gaffeliere
Chateau Cap de Mourlin
Chateau Chauvin
Chateau Corbin
Chateau Corbin-Michotte
Chateau Dassault
Chateau Destieux
Chateau Faurie-de-Souchard
Chateau Fleur-Cardinale
Chateau Fonplegade
Chateau Fonroque
Chateau Franc-Mayne
Chateau Grand Corbin
Chateau Grand Corbin Despanges
Chateau Grand Mayne
Chateau Grand Pontet
Chateau Guadet St-Julien
Chateau Haut Corbin
Chateau Haut Sarpe
Chateau L'Arrosae
Chateau La Clotte
Chateau La Couspaude
Chateau La Dominique
Chateau La Marzelle Chateau La Serre
Chateau La Tour-du-Pin-Figeac (Giraud-Balivier)
Chateau La Tour-du-Pin-Figeac (Moueix)
Chateau La Tour Figeac
Chateau Laniote
Chateau Larcis-Ducasse
Chateau Larmande
Chateau Laroque
Chateau Laroze
Chateau Le Prieure
Chateau Les Grandes Murailles
Chateau Matras
Chateau Monbousquet
Chateau Moulin du Cadet
Chateau Pavie-Decesse
Chateau Petit-Faurie-de-Soutard
Chateau Ripeau
Chateau Saint-Georges Côte Pavie
Chateau Soutard
Chateau Terte-Daugay
Chateau Villemaurine
Chateau Yon-Figeac
Clos de l'Oratoire
Clos des Jacobins
Clos Saint-Martin
Couvent des Jacobins


Lussac - St. Emilion

Created in 1936, the Lussac-Saint-Emilion AOC not only bears its prestigious neighbour's name but much of its terroir too. Here, the weather is also moderately rainy with hot temperatures in the summer. The soils also share a family resemblance: a base of quality clay and limestone. In Lussac, the winegrowing areas consist of a gravel plateau in the west, and cooler clay soils that retain more water in the north. The appellation is like a theatre, with excellent southern sun exposure. It has ideal natural drainage and like Saint-Emilion, offers wines with a dominant Merlot component (60% of vines planted), though Cabernet-Franc is also in its element (30%). The wines are generally elegant and well structured, in the Saint-Emilion style. Families make up the majority of the winegrowers.

Puisseguin St Emilion

Located very close to Saint-Emilion, this AOC created in 1936 occupies the highest elevation (89 m) in the Saint-Emilion. While its wines are little known, its south and south east exposure provide the conditions necessary to ripen and produce concentrated fruit. The main component of its soils is the clay-limestone mix that is common to the region. But here it covers rocks from which the roots absorb the nutrition they require and sustain the vines during the hot and frequently dry summers. The blend remains faithful to traditional Saint-Emilion wines with Merlot dominating (60% of vines planted) due to the clay-limestone soils. In these conditions, it ripens easily even with the weather. Cabernet Franc, at 30%, is its preferred partner.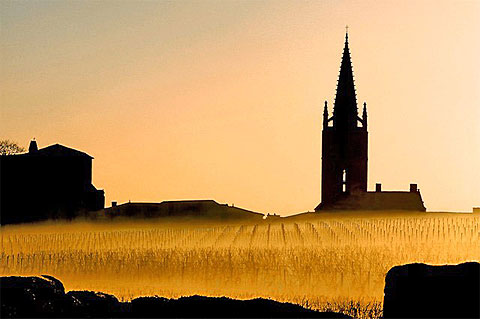 St Emilion.

Image © Conseil Interprofessionnel du Vin de Bordeaux.

Montagne St Emilion

The village of Montagne lies opposite the Saint-Emilion appellation and shares a similar terroir, though its wines are less well known. Like St. Emilion, Montage-Saint-Emilion also has a rich and turbulent history, as attested to by its monuments and other Roman vestiges. The barbarian invasions that followed put winegrowing on hold until it returned to prosperity in the Middle Ages. More recently, Montagne winegrowers have taken advantage of Saint-Emilion's proximity to improve their vines and the quality of their wines. The appellation has become a rising star in the region. Its weather is almost identical to its neighbour's Saint-Emilion, separated from Montagne by only a small stream, the Barbanne. The terroir consists of limestone and clay limestone soils on a thick and compact layer of porous asteriated limestone, which, by providing water to the vines during the summer dry period, plays an essential nutritional role. The more gravel and sandy soils produce lighter, more delicate and less tannic wines than the areas with limestone. The appellation's blend generally consists of Merlot (60% of vines planted) and Cabernet Franc (30%). Cabernet Sauvignon, which is more difficult to cultivate due to its late ripening, is reserved only for the "warmest" and best-exposed sites.

Saint Georges Saint Emilion

Until 1973, the commune of Saint-Georges was independent from Montagne, but its fusion with its neighbour is understandable, considering this little village was surrounded on three sides by it. Located very close to Saint-Emilion, this the smallest appellation in Bordeaux, however, the 35 Saint-Georges winegrowers stand out due to the consistent soils throughout this appellation. Clay limestone covers a porous layer of purer limestone that is ideal for providing the vines with nutrients in the relatively dry summer months. Naturally, Merlot is the king of grapes in this appellation. It represents 70% of all vines planted, followed by Cabernet Franc at 20%. The soft slope of this terroir guarantees perfect drainage for these varieties, yet they never suffer from drought because the underlying porous limestone ensures moisture.
The wines of Saint-Georges-Saint-Emilion are when young, fruity (with notes of red berries or stone fruit) with a spicy character. Their ability to age is known to connoisseurs.

Pomerol

Formally part of St Emilion, this appellation was created in 1936 and has had a winemaking tradition since Roman times. Viticulture was abandoned during the Hundred Years War and vineyards were not re-established until the 15th century when it was continued by religious groups who also created a hospital for pilgrims passing on their way to the cathedral in Santiago de Compostela. Like a work of art of the Bordeaux countryside, Pomerol has resisted the urban spread of its neighbour city of Libourne. Instead, every possible square metre of ground that is suitable for growing vines is used.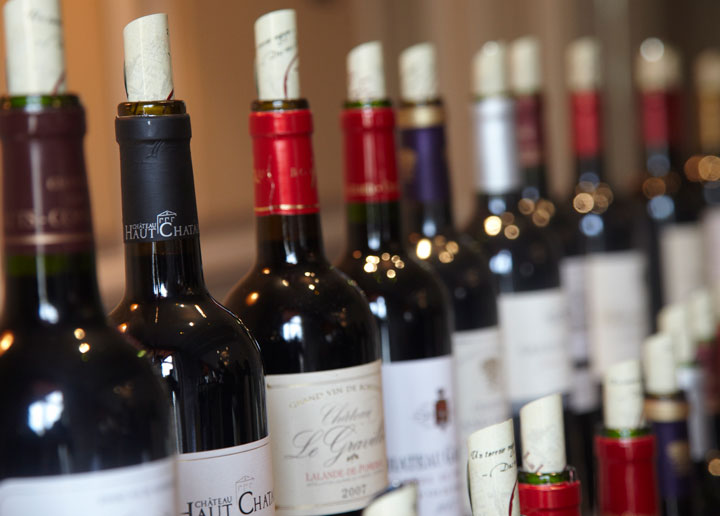 The terroir is relatively heterogeneous but generally speaking, the grounds are of a gravelly nature on the greatest properties which are located on the highest elevations. Soils tend to become more argillaceous in the Western part of the district from Pomerol and more sandy near Libourne. The terroir also has one fascinating geological feature: the surface of stones and sandy deposits covers clay mixed with iron oxides, a sort of ferruginous sandstone locally known as"crasse de fer" (iron filth).

Dense in colour, refined and powerful at the same time, the Pomerol AOC is a wine that can age, but can also be enjoyed young. Powerful tannins are partially concealed by a smooth, velvety, full texture. Thanks to its soil and extraordinarily low yields, Pomerol is today home to the world's elite Merlot-based wines that combine exceptional aromatic power with velvety tannins. The appellations most famous producer is Chateau Petrus, a worldwide icon of Merlot winemaking, whose soil is composed of black clays with a strata of 'crasse de fer' close to the surface. Merlot grows so well here that is represents 70% - 80% of vines planted (approx 20% being Cabernet-Franc). After Petrus, a non exhaustive list of Pomerol's best properties includes Chateau Lafleur, regarded as "hors classe" growths; Le Pin, one of the precursors of the "Garage" or Garagistes style - unfortunately totally unaffordable; Eglise-Clinet, Trotanoy, Vieux-Chateau Certan, La´Evangile, Certan-de-May, La Fleur-Petrus, Clinet, Bon Pasteur, Le Gay, Rouget, Clos l'Eglise, Nenin, Petit-Village, Lagrange and Gazin. Great vintages offer an extraordinary experience for any wine lover.

Lalande de Pomerol

Perhaps in part due to its proximity to its prestigious neighbouring AOC, Lalande-de-Pomerol, comprising one hundred and ninety-two producers, has gained well-deserved recognition. The AOC is composed of successive terraces covering two communes: Lalande, quite flat, and Neac, quite hilly. The soil in this appellation is an ideal mix of clay, stones and even sand in the western part, close to the river. In Neac, the clay can even be found deep in the ground, which lends a wonderful dimension to Merlot. This variety accounts for 80% of the vines planted, along with Cabernet Franc at 15% and Cabernet Sauvignon in the minority. The Lalande-de-Pommerol wines have a unique very dark ruby-garnet colour. Their very distinct and expressive nose, with notes of small red berries (red current, strawberry, cherry, raspberry), develops notes of plums, leather, game and even coco. Tight tannins are always velvety and never hard. Some wines are even reminiscent of those from neighbouring Saint-Emilion or Pomerol and at a fraction of the price. Suffice to say, Lalande-de-Pomerol has become a rising appellation and is increasingly sought after. Star properties include La Fleur de Bouard, Belles-Graves, de Chambrun, Haut Chaigneau, La Chenade, Chateau La Sergue, Tournefeuille, Jean de Gue, De Viaud, Les Annereaux and Des Tuileries.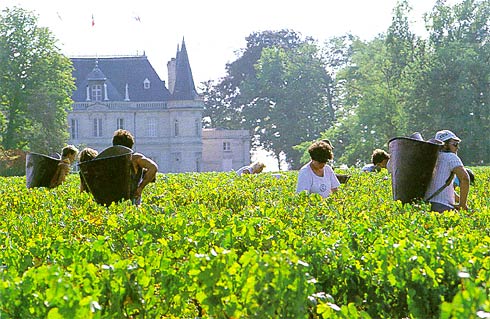 Fronsac

Located in a rugged, picturesque landscape where the Dordogne and the Isle rivers meet, Fronsac is an ancient fortified city with a long history of wine production. (Libourne's elite recognized its excellence as early as the 18th century, even before Saint-Emilion, and its wines have been appreciated in Europe since the 16th Century). Where the Isle River flows into the large Dordogne, it creates a microclimate that reduces night frosts in spring and cools summer's heat. Steep slopes are another unique feature of the terroir. The appellation has many different soil types, but they all share the alluvial characteristics at the bottom of the slopes and clay-limestone hills (and even pure limestone, as in Saint-Emilion). Deeper in the ground, rocks with chalk and clay are found (molasse) making for excellent drainage. Powerful and complex wines result.

Merlot, which prefers deep soil, ripens better here than Cabernet-Sauvignon. Cabernet-Franc contributes touches of raspberry and round but powerful tannins. The ageing potential Fronsac wines is quite significant and the best wines can easily wait 10-15 years to be tasted at their optimum. Some properties include Canon de Brem, Dalem, La Dauphine, Fontenil, Moulin Haut Laroque, La Rousselle and Cassagne Haut-Canon.

Canon Fronsac

Smaller than Fronsac, the Canon-Fronsac appellation occupies higher terrain, with steep slopes known as "Cote de Canon",being the AOC's characteristic geographic feature. Situated close to and above the neighbouring Fronsac AOC, Canon Fronsac overlooks the point where the Dordogne and the Isle rivers meet. Here too, the water cools the air in the summer, and warms it in the spring, much to the benefit of the vines. Soils are composed of clay-limestone over banks of compact limestone.

Over the last 100 years, the winegrowers of Canon-Fronsac have completely changed the types of vines planted. Malbec used to be planted on the hills of these two appellations. But when it was proven that Merlot was better suited to these clay limestone soils, the producers adopted it (70% of vines planted). Cabernet-Franc and Cabernet-Sauvignon are equally represented at 15% each of vines planted. The region's wines are often considered to be under-rated, having even more depth and consistency in the mouth than Fronsac, with a frank and powerful attack. The region is tiny, with approximately 300 ha under vine.

Appellation information sourced from the official Bordeaux Wine website: www.bordeaux.com
© Conseil Interprofessionnel du Vin de Bordeaux