The 57 Bordeaux Appellations and their Grape Varieties
Nicks Wine Merchants continue to ship wines across Australia from Europe and in particular France, as we have done for many decades. It's always a pleasure to discover something new in the world of wine, as it is to renew many of our old acquaintances with Chateau owners and negociants. Our objective is to find value for money wines with flavour profiles that are not easily found in Australia. We endeavour to deal directly whenever possible, cutting out the wholesalers, meaning our direct imports frequently offer outrageous value for money.
You can find our current selection of Bordeaux wines online here.
The Bordeaux wine trade today involves many groups, and within each there are also vast differences of scale. There is very little in common between a grand cru classe proprietor in the Haut-Medoc and a small grower with a few hectares on the opposite side of the Gironde estuary at Bourg or Blaye. Accounts of the Gironde wine industry often fail to include the many small vineyards run by peasants, although such places are immensely valuable to the region, providing wine-lovers with good wine at low prices. The variety of people and organizations is echoed in the diversity of the natural environment. First of all there are the distinctive local soils, beginning with the most famous, the gravels which have given their name to Graves and which are present throughout on the left bank of the Garonne and in the Libourne region (in Pomerol and part of Saint Emilion). These provide ideal soil conditions for vines as they encourage deep root penetration and a well regulated intake of water. Limestone and clay/limestone soils on sites in Saint Emilion, Sauternes and the Cotes also have specific characteristics. Finally, there are areas of molasse sandstone, boulbenes (stoney silt/clay) and recent alluvial deposits. The latter are typical of soils alongside rivers and are known in the Gironde area as palus (from the Latin for 'marsh'). The variety of soils has encouraged the production of a broad range of wines produced in 57 appellations which can be approached in a variety of ways. We have adopted the division into 6 major sections as follows:


1. BORDEAUX & BORDEAUX SUPERIEUR
2. MEDOC & GRAVES
3. COTES DE BORDEAUX
4. St EMILION, POMEROL & FRONSAC
5. DRY WHITE WINES
6. SWEET WHITE WINES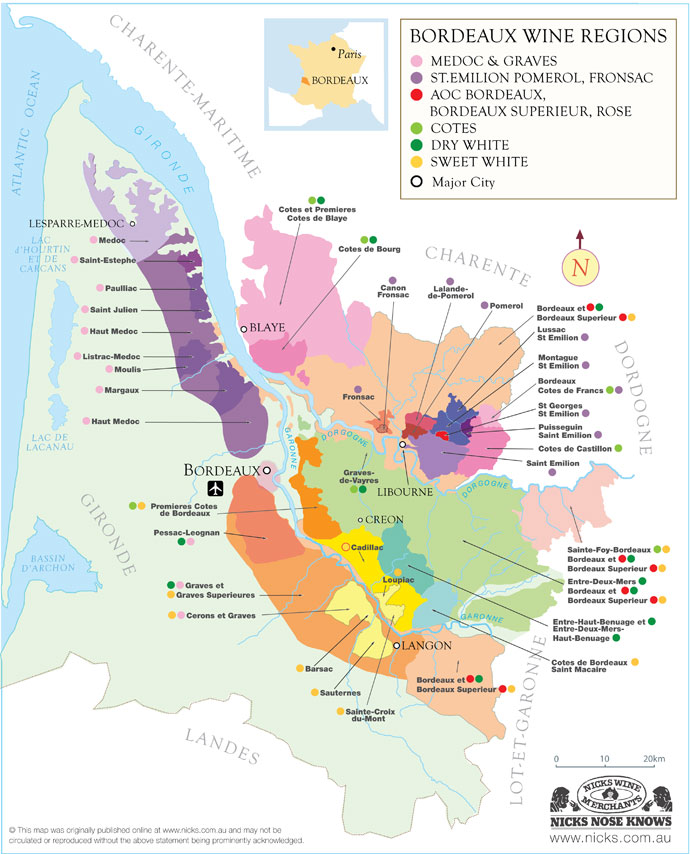 Click here
to download a printable PDF version of this map.
Becoming familiar with what regions are permitted to produce which wines is a daunting learning curve for those with little experience of Bordeaux. Thankfully, we have had some help in this endeavor, and much of the information you will find below has been compiled from the official Bordeaux web site,www.bordeaux.com with the permission of the"Conseil Interprofessionnel du Vin de Bordeaux". The peculiar or common characteristics of each appellation, the grape varieties used, along with a general impression of each district's wine style are outlined, as are some of the more notable producers. We trust this guide will serve as an introduction to "The Wine Capital of The World",and stimulate interest for Bordeaux wines which Nicks Wine Merchants continue to ship on a regular basis.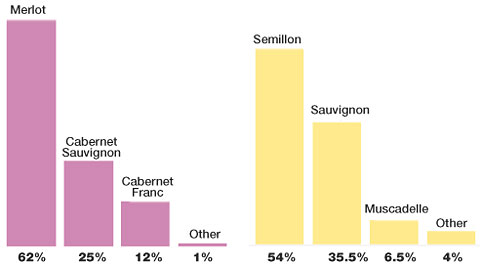 TABLE 1: Proportions of Grape Varieties planted in Bordeaux
Red varieties comprise 89% of the total area planted, while white varieties make up 11%.
Source:
© Conseil Interprofessionnel du Vin de Bordeaux.



Bordeaux & Bordeaux Superieur

Bordeaux AOC

Bordeaux AOC wines are made from Cabernet Sauvignon, whose tannins are balanced by the fruit and silky texture of Merlot. Cabernet Franc can also be part of the blend to impart roundness and spicy aromas, whereas Malbec and Petit Verdot are used sparingly. Bordeaux AOC wines can be produced on the entire wine-producing area of the Gironde in accordance with quality norms set by the I.N.A.O. (Institut National des appellations d'Origine). Accordingly, the maximum authorized yield is 55 hL/ha, and the alcohol level (in % of volume) must be between 10 and 13%. If not qualitatively then at least quantitatively, Bordeaux AOC wine are the most significant with an average yearly production of 2 500 000 hL. and a declared surface: 44 000 ha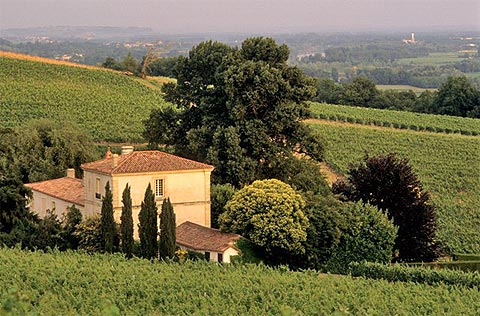 Image © Conseil Interprofessionnel du Vin de Bordeaux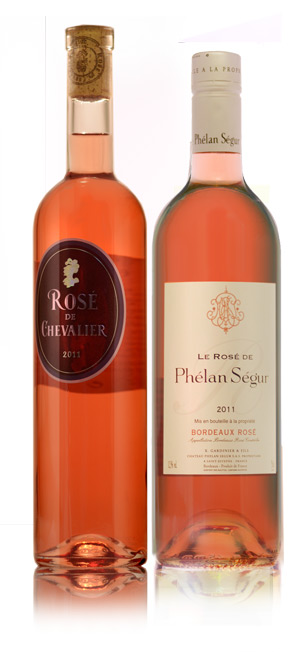 Bordeaux Superieur

Bordeaux Superieur AOC wines are produced from selected vineyard plots and older vines. As a result, these red wines are generally more complex and have a better ageing potential than Bordeaux AOC wines. Red Bordeaux Superieur wines are made from the same varieties as Bordeaux AOC wines, however this AOC has even stricter production norms that the Bordeaux AOC: smaller yields (50 hL/ha), a higher permitted alcohol strength (0.5%) and the producer must age the wines a minimum of 12 months before selling them.

Bordeaux Clairet

Taking their name from the English term "Claret", which was used to describe Bordeaux wines in the Middles Ages due to their light robe (luminous ruby colour), the Bordeaux Clairet AOC made from blends of the same grape varieties as red Bordeaux AOC wines, wherein Merlot often dominates. With little tannin, these wines are fresh, light, silky and easy to drink and subject to the same quality constraints during production as other Bordeaux AOC wines: yields of 55 hL/ha maximum, chemical analysis and an official tasting.

Bordeaux Rose

Bordeaux Rose is a regional appellation which stretches over the whole Gironde production area. As with other Bordeaux wines, they must conform to production norms: yields are limited to 55 hL/ha, a chemical analysis and an official tasting to validate the granting of AOC status. While consumers' interest for Bordeaux Roses has recently increased, they can be difficult to produce. Aromas, which depend on the type of yeast used and on the conditions under which maceration occurs, are very sensitive to oxidization. In order to achieve this and to satisfy consumer demand, producers have equipped themselves with the latest technology to better master the production process. Combining freshness and aromatic richness, Bordeaux Roses are perfect with all types of food, notably light Summer meals and exotic dishes and are best drunk within 1-2 years.

Wine lovers who also enjoy whisky should note that Nicks Wine Merchants offer a vast range of rare Scotch whisky as well as Tasmanian whisky online. Our selection continues with a vast range of Australian Shiraz plus extended selections of Italian wines, French wines and more. Whatever you're after, remember, we ship Australia wide!
Introductory notes adapted from: "The Wines and Vineyards of France" published by Viking (Penguin)
Appellation information sourced from the official Bordeaux Wine website: www.bordeaux.com
© Conseil Interprofessionnel du Vin de Bordeaux.