Bordeaux, Understanding the Appellation System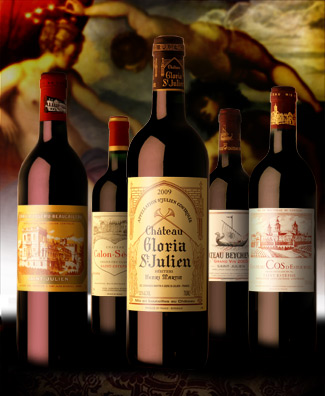 In France, the present day organization of the wine industry is founded on the appellation d'origine laws, (as opposed to the'Appellation d'Origine Controlee'laws, which came later). The first law of its kind was conceived in 1919 and was a practical response to economic depression and widespread fraud within the viticultural sector. The law was designed to ensure wines actually came from the place as defined on the label in order to assure the consumer, protect the integrity and quality of French Wine in general, and ultimately improve sales.

Before the final wording was decided upon, a vast number of verbal battles had taken place and the result was that the appellation d'origine law was watered down so badly that it was virtually useless: Provided that the makers of a certain wine could, within reason, show that they had been making it for some time according to local customs, and that it came from a particular commune, then the right of the title of origin automatically applied. As the years passed it became clear that the very law which had been designed to protect the quality of French wine was having the opposite effect. In 1923, the total amount of appellation d'origine wine declared in all France was 5 million hectolitres and by 1934 it had passed 15.7 million hectolitres. What was happening was, according to M. Capus, the then Minister of Agriculture and a former professor of agriculture in the Gironde, that,"...straight away in regions where the appellation d'origine applied, people planted thousands of hectares of barley or scrub land with low grade grape species, but big bearers". The inferior wines that resulted nevertheless benefited from the appellation quality statement."It was a disaster!"exclaimed Capus. So the better vignerons revolted, and Capus formulated a further law which was passed in July 1927 and was called the "Law Capus". This re-articulated the earlier law and tied up rather loose phrases, but was mainly concerned to see that wines should not have the appellation d'origine right unless the grape species and the nature of the soil both conformed to usages local, loyal and constant.


Progress was being made, but it was nothing like enough. Great abuses of the law were still taking place until in July 1935, there appeared another law which this time had teeth. (It should be mentioned that in the meantime M. Capus had become a senator). At a meeting with representatives of la Gironde, la Dordogne, Gaillac, les Charentes, la Touraine et Centre-ouest, la Bourgogne, Arbois, Chateauneuf-du-Pape, and I'Alsace, he had propounded new legislation which he proposed to call "appellation d'origine controlee". This 1935 law resulted in the establishment of the"Comite national des appellations d'origine des vins et eaux-de-vie".

The committee started work in May 1936 and in May 1938 they had published 108 decrees on controlled appellations around France. From then on, if a wine had the controlled title right and was being sold in bottle, it had to have an appellation Controlee statement. The law then turned its attention to cultivation and vinification. It obliged wine makers to plant the correct types of grapes, that vineyards were not over cropped (which could significantly effect quality), that the actual viticulture and vinification methods conformed to certain standards and even added the necessity of seeing that the alcoholic degree of wines was sufficient. Some difficulties inevitably appeared. For example, certain vineyards found that they had a double appellation; the new controlled one and the old d'origine one. Thus, on 3rd August 1942, this duality was suppressed, leaving only the controlled one with the maximum guarantees.(1) Capus had laid the foundations for the"Institute National des Appellations d'Origine des Vins et Eaux de Vie"(INAO), a body which for more than fifty years has been responsible for refining the concept of the appellation d'origine controlee (AOC), and ensuring that old traditions are preserved, while new technology and the commercial domain are not neglected.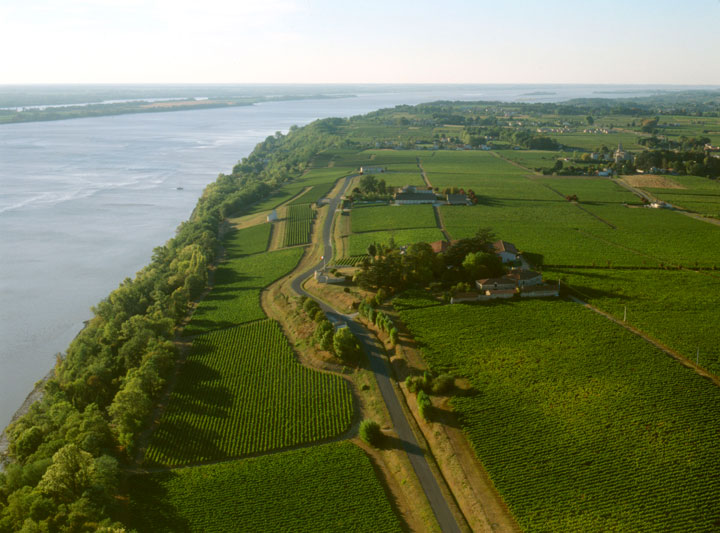 In spite of all the bureaucracy, the French appellation system has not always delivered what it has promised. There are growing criticisms suggesting that it impedes, rather than enhances, actual wine quality; that current law does not adequately recognise the importance of the winemaker in determining the quality of his or her wine. Others are concerned that in many parts of France, the boundaries of the appellations do not adequately reflect the realities of the terroir, that rules governing both viticulture and vinification are too strict on style and not strict enough on quality, and that French wine labels are confusing and offer little information relevant to the quality of the wine.

For better or worse, such appellation systems have now spread to other western European nations. European Union law now stipulates that wines made outside the specifically demarcated regions, or without following the other legal requirements, may not call themselves 'quality wine' but instead are defined as 'table wine'. This means that they are generally forbidden to give a region of origin or vintage date on their label (although the introduction of 'vins de pays' in 1979 modified this somewhat).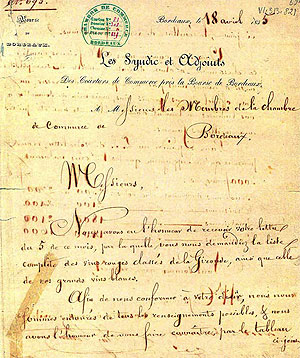 Above:

The first page of the 1885 Medoc Classification.
The Classification of 1855

The 1855 Bordeaux classification remains something of an anomaly within the modern appellation controlee system. It is today the wine world's most enduring classification, yet it was never actually intended to be permanent. Ironically, it still has a major impact on the world wine market - particularly the secondary market - and so an understanding of the reasons for its creation are of obvious interest.

After London hosted the first international exposition in 1851, Napoleon III realized that France needed to seize back the initiative. The motive given for the 1855 Paris World's Fair (Exposition Universelle de Pari) was to celebrate forty years of peace in Europe since Waterloo. A hidden agenda, however, was the competition among the major European nations to establish their industrial and artistic supremacy - all ultimately to boost trade. Having decided that the great Bordeaux Wines should be shown, Napoleon asked each selected wine region to establish a quality classification to inform visitors at the exhibition. This classification was initially developed for the Medoc (Red Bordeaux) and Graves (Sweet White Bordeaux) wines and included 60 wines of the Medoc (one of them actually a red Graves-Chateau Haut Brion). The classes were termed "Growths" with the Medoc divided into 4 first growths, 15 seconds, 13 thirds, 11 fourths and 17 fifths. The Sauternes district was divided into 1 grand first, 10 firsts and 12 seconds. Chateau Peixotto, a second classified growth of the Sauternes, ceases to exist.*(The predominance at the time of wines from Medoc and Graves and the absence of the CCI ['Chambre de Commerce et d'Industrie de Bordeaux' in Libourne, only established in 1910] explain the absence of wines from the right bank.)

The Chamber of Commerce was responsible for the Gironde department. This department, in turn asked the Syndicat des Courtiers (brokers' syndicate) to classify the Gironde wines into five groups according to quality. Being pragmatic businessmen, the brokers ranked the wines according to the traded prices being attained by each of the chateaux in prior years. This was in distinction to the appellation d'Origine system, the classification of which was primarily geographic in nature. Given this fact alone, it is remarkable that the 1855 classification has survived at all, let alone that it continues to command respect. What's more absurd is that it has only being officially updated once in 150 years when in 1973, and even then only after tireless campaigning from Phillipe de Rothschild that Jacques Chirac, then the Minister of Agriculture, passed a decree conferring the status of Premier Grand Cru Classe upon Chateux Mouton Rothschild.
Below is the 1855 Classification as it stands:


Les Grands Crus Classes du Medoc en 1855
Chateau

Appellation

FIRST GROWTHS (Premiers Crus)

Chateau MARGAUX
Margaux
Chateau LAFITE-ROTHSCHILD
Pauillac
Chateau LATOUR
Pauillac
Chateau MOUTON ROTHSCHILD

(upgraded in 1973)

Pauillac
Chateau LATOUR
Pauillac
Chateau HAUT-BRION
Pessac

SECOND GROWTHS (Deuxiemes Crus)

Chateau RAUZAN-SEGLA
Margaux
Chateau RAUZAN-GASSIES
Margaux
Chateau DURFORT-VIVENS
Margaux
Chateau LASCOMBES
Margaux
Chateau BRANE-CANTENAC
Margaux
Chateau PICHON-LONGUEVILLE
Pauillac
Chateau PICHON LONGUEVILLE COMTESSE DE LALANDE
Pauillac
Chateau COS D'ESTOURNEL
Saint-Estephe
Chateau MONTROSE
Saint-Estephe
Chateau LEOVILLE LAS CASES
Saint-Julien
Chateau LEOVILLE-POYFERRE
Saint-Julien
Chateau LEOVILLE BARTON
Saint-Julien
Chateau GRUAUD LAROSE
Saint-Julien
Chateau DUCRU-BEAUCAILLOU
Saint-Julien

THIRD GROWTHS (Troisiemes Crus)

Chateau LA LAGUNE
Haut-Medoc
Chateau KIRWAN
Margaux
Chateau D'ISSAN
Margaux
Chateau GISCOURS
Margaux
Chateau MALESCOT SAINT-EXUPERY
Margaux
Chateau BOYD-CANTENAC
Margaux
Chateau CANTENAC BROWN
Margaux
Chateau PALMER
Margaux
Chateau DESMIRAIL
Margaux
Chateau FERRIERE
Margaux
Chateau MARQUIS D'ALESME BECKER
Margaux
Chateau CALON SEGUR
Saint-Estephe
Chateau LAGRANGE
Saint-Julien
Chateau LANGOA BARTON
Saint-Julien

FOURTH GROWTHS (Quatrieme Crus)

Chateau LA TOUR CARNET
Haut-Medoc
Chateau POUGET
Margaux
Chateau PRIEURE-LICHINE
Margaux
Chateau MARQUIS DE TERME
Margaux
Chateau DUHART-MILON
Pauillac
Chateau LAFON-ROCHET
Saint-Estephe
Chateau SAINT-PIERRE
Saint-Julien
Chateau TALBOT
Saint-Julien
Chateau BRANAIRE-DUCRU
Saint-Julien
Chateau BEYCHEVELLE
Saint-Julien

FIFTH GROWTHS (Cinquiemes Crus)

Chateau BELGRAVE
Haut-Medoc
Chateau CAMENSAC
Haut-Medoc
Chateau CANTEMERLE
Haut-Medoc
Chateau DAUZAC
Margaux
Chateau DU TERTRE
Margaux
Chateau PONTET-CANET
Pauillac
Chateau BATAILLEY
Pauillac
Chateau HAUT-BATAILLEY
Pauillac
Chateau GRAND-PUY-LACOSTE
Pauillac
Chateau GRAND-PUY DUCASSE
Pauillac
Chateau LYNCH-BAGES
Pauillac
Chateau LYNCH-MOUSSAS
Pauillac
Chateau D'ARMAILHAQ

(previously Ch Mouton-Baron-Phillipe)

Pauillac
Chateau HAUT-BAGES LIBERAL
Pauillac
Chateau PEDESCLAUX
Pauillac
Chateau CLERC MILON
Pauillac
Chateau CROIZET-BAGES
Pauillac
Chateau COS LABORY
Saint-Estephe
Les Grands Crus Classes de Sauternes & Barsac en 1855
| | |
| --- | --- |
| Chateau | COMMUNE |
| FIRST GREAT GROWTH (Premier Cru Superieur) | |
| Chateau d'YQUEM | Sauternes |
| | |
| FIRST GROWTHS (Premiers Crus) | |
| Chateau CLIMENS | Barsac |
| Chateau COUTET | Barsac |
| Chateau LA TOUR BLANCHE | Sauternes |
| Chateau LAFAURIE-PEYRAGUEY | Sauternes |
| Chateau GUIRAUD | Sauternes |
| Chateau CLOS HAUT-PEYRAGUEY | Sauternes |
| Chateau RIEUSSEC | Sauternes |
| Chateau de RAYNE-VIGNEAU | Sauternes |
| Chateau RABAUD-PROMIS | Sauternes |
| Chateau SUDUIRAUT | Sauternes |
| Chateau SIGALAS-RABAUD | Sauternes |
| | |
| SECOND GROWTHS (Deuxiemes Crus) | |
| Chateau de MYRAT | Barsac |
| Chateau NAIRAC | Barsac |
| Chateau DOISY DA NE | Barsac |
| Chateau CAILLOU | Barsac |
| Chateau DOISY-DUBROCA | Barsac |
| Chateau SUAU | Barsac |
| Chateau DOISY-VEDRINES | Barsac |
| Chateau BROUSTET | Barsac |
| Chateau de MALLE | Sauternes |
| Chateau díARCHE | Sauternes |
| Chateau ROMER DU HAYOT | Sauternes |
| Chateau FILHOT | Sauternes |
| Chateau ROMER | Sauternes |
| Chateau LAMOTHE | Sauternes |
| Chateau LAMOTHE-GUIGNARD | Sauternes |

What does this classification mean to us today?
Given its methodology and original intent, the classification could be considered as little more than an historical curio. Its relevance is diminished by the fact that since 1855, many of its Growths have merged or have acquired neighbouring estates which were not even included in the original classification, thereby potentially effecting the quality of the wines for better or worse (the vineyards of third growth, Ch Desmirail, for example, have for long being subsumed into Ch Palmer). Secondly, while the perception that high ranking, premier cru estates on the whole tend to make better wines, there are a number of wines that frequently disappoint, as well as some lesser estates that offer quality well beyond what one would anticipate. The 2005 vintage is a case in point, a year which had Robert Parker describing the wines from many minor producers as 'Little Big Ones', represented by"...sincere, over-achieving men and women who are taking unheralded, less prestigious terroirs and turning out brilliant wines...".
Acknowledging the 1855 classification for what it is, we can confidently disregard it, before moving on to discover the wines of Bordeaux for ourselves.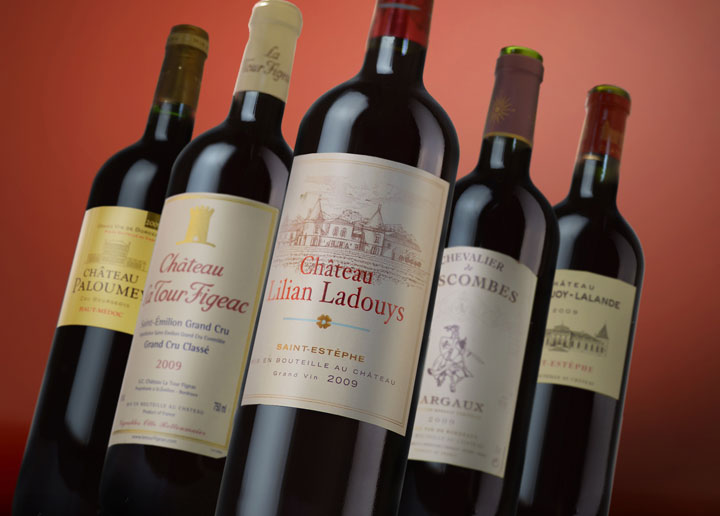 The Five Official Classifications Since 1855

Five categories of Bordeaux wine have now been established at different points in time. These legally defined classifications have identified benchmark producers in their respective appellations. Though, as with the original 1855 Medoc Classification, these benchmarks remain fundamentally subjective. Each new vintage feeds debates amongst wine professionals and consumers alike.

1. The 1855 Classification, which has already been mentioned above, concerns 60 Crus from the Medoc including 1 Grand Cru Classes in Graves (Chateau Haut-Brion). As with wines from Medoc, the weighty reputation and incredible demand for these sweet wines positioned them as the ideal representatives from the Gironde at the 1855 Exposition Universelle. The classification of the Sauternes and Barsac crus has only three classes: Premier Cru Superieur, Premiers Crus and Deuxiemes Crus. The "Premier Cru Superieur" does not exist in the Medoc classification. It was attributed only to the Chateau d'Yquem. Thus 27 sweet wines from the Sauternes and Barsac regions were classified in 1855, including 10 from the Barsac region.

2. The Graves Classification
At the request of the Defense de l'appellation Graves, the Institut National des appellation d'Origine (INAO) proceeded to classify the crus from this region in 1953, and revised and completed its work in1959. The classification was organised by district and wine colour for these terroirs, since both excellent red and white wines are produced. 16 Domaines (or estates) were classified for one (red and/or white) or both colours (6 of them). Chateau Haut-Brion was not part of this process, since it was included in the 1855 classification. The Graves crus classification has only one level and thus does not establish a hierarchy. All of the crus classes from Graves are situated on the appellation of Pessac-Leognan, which explains the pre-eminent quality of this relatively recent appellation (1987). The legal written framework of this classification does not allow for revision.


Official 1959 Graves Classification
| | |
| --- | --- |
| Chateau | commune |
| Classified Red Wines | |
| Chateau Bouscaut | Cadaujac |
| Chateau Haut-Bailly | Leognan |
| Chateau Carbonnieux | Leognan |
| Chateau de Chevalier | Leognan |
| Domaine de Chevalier | Leognan |
| Chateau de Fieuzal | Leognan |
| Chateau d'Olivier | Leognan |
| Chateau Malartic-Lagraviere | Leognan |
| Chateau La Tour-Martillac | Martillac |
| Chateau Smith-Haut-Lafite | Martillac |
| Chateau Haut-Brion | Pessac |
| Chateau La Mission-Haut-Brion | Talence |
| Chateau Pape-Clement | Pessac |
| Chateau Latour-Haut-Brion | Talence |
| | |
| Classified White Wines | |
| Chateau Bouscaut | Cadaujac |
| Chateau Carbonnieux | Leognan |
| Domaine de Chevalier | Leognan |
| Chateau d'Olivier | Leognan |
| Chateau Malartic-Lagraviere | Leognan |
| Chateau La Tour-Martillac | Martillac |
| Chateau Laville-Haut-Brion | Talence |
| Chateau Couhins-Lurton | Villenave d'Oron |
| Chateau Couhins | Villenave d'Oron |
| Chateau Haut-Brion | Pessac |

3. The St. Emilion Classification
The first Saint-Emilion classification was established a century after those of Medoc and Graves, and unique to Bordeaux in that its legal framework provides for systematic updates every 10 years. Every cru classe from Saint-Emilion must follow the same procedure to continue to be classified. Price is not considered in the classification as it was in Medoc and the Graves in 1855. Instead, the decree states that in order to be a candidate for classification, the estate "must constitute a sufficiently large economic and viticultural unit and have cellars used exclusively for wine made on the estate," but also that "at least 50% of the total vines must be able to produce wines entitled to Saint-Emilion Grand Cru status from vines over twelve years old." Furthermore, "over the last ten years, the estate must have obtained the approval certificate for Saint-Emilion Grand Cru status for at least seven harvests." The current classification criteria were designed to ensure stability in the quality and management of the vineyards. As a result, candidates must also undertake not to modify the property and to bottle their wine at the château. The first classification was done in 1954; the most recent (2006) is the subject of lively discussions among wine insiders and the press. See the entry on the St. Emilion appellation for more.


St Emilion Classification (Officially re-classified 2006)
Premier Grand Cru Classe A




(First Great Growths category A)



Chateau Ausone
Chateau Cheval Blanc




Premier Grand Cru Classé B




(First Great Growths category B)



Chateau Angelus
Chateau Beau-Sejour-Becot
Chateau Beausejour (Duffau-Lagarrosse)
Chateau Belair
Chateau Canon
Chateau Figeac
Chateau La Gaffeliere
Chateau Magdelaine
Chateau Pavie
Chateau Pavie-Macquin
Chateau Troplong Mondot
Chateau Trottevieille
Clos Fourtet

Grand Cru Classe



Chateau Balestard la Tonnelle
Chateau Bellefont-Belcier
Chateau Bellevue
Chateau Bergat
Chateau Berliquet
Chateau Cadet-Bon
Chateau Cadet-Piolat
Chateau Canon la Gaffeliere
Chateau Cap de Mourlin
Chateau Chauvin
Chateau Corbin
Chateau Corbin-Michotte
Chateau Dassault
Chateau Destieux
Chateau Faurie-de-Souchard
Chateau Fleur-Cardinale
Chateau Fonplegade
Chateau Fonroque
Chateau Franc-Mayne
Chateau Grand Corbin
Chateau Grand Corbin Despanges
Chateau Grand Mayne
Chateau Grand Pontet
Chateau Guadet St-Julien
Chateau Haut Corbin
Chateau Haut Sarpe
Chateau L'Arrosae
Chateau La Clotte
Chateau La Couspaude
Chateau La Dominique
Chateau La Marzelle Chateau La Serre
Chateau La Tour-du-Pin-Figeac (Giraud-Balivier)
Chateau La Tour-du-Pin-Figeac (Moueix)
Chateau La Tour Figeac
Chateau Laniote
Chateau Larcis-Ducasse
Chateau Larmande
Chateau Laroque
Chateau Laroze
Chateau Le Prieure
Chateau Les Grandes Murailles
Chateau Matras
Chateau Monbousquet
Chateau Moulin du Cadet
Chateau Pavie-Decesse
Chateau Petit-Faurie-de-Soutard
Chateau Ripeau
Chateau Saint-Georges Cote Pavie
Chateau Soutard
Chateau Terte-Daugay
Chateau Villemaurine
Chateau Yon-Figeac
Clos de l'Oratoire
Clos des Jacobins
Clos Saint-Martin
Couvent des Jacobins

4. The Medoc Crus Bourgeois Classification
The Alliance of Medoc Crus Bourgeois includes over 200 estates that maintain a tradition of quality dating back to the 12th century. Although the middle-class were able to purchase high-quality land in Medoc as of the 15th century, it was not until 1932 that 444 of them were named "Crus Bourgeois" by the Syndicat des Courtiers de la Place de Bordeaux. However, due to the war and successive crises in winemaking, their number dropped to 94. During the exceptional development of Bordeaux wines in the 1980's and 1990's the Crus Bourgeois returned to centre stage developing a growing reputation.
Today, the Medoc Crus Bourgeois account for 44% of the vines in the Medoc. Beginning with the 2006 vintage, three new labelling rules have come into effect in order to improve the perception of quality: any reference to a cuvee, or special bottling, is forbidden for a Cru Bourgeois; additional references of an unregulated or informational nature (old vines, barrel aged, etc.) that may create confusion among consumers are forbidden on the front label; and the Cru Bourgeois designation, followed by its classification rank, must appear on the label.

5. The Cru Artisans Classification
Although not widely known, in Medoc, vineyards with the "cru artisan" denomination have existed for more than 150 years alongside larger, and often classified, estates. A ministerial decree of January 11, 2006 officially reserves the "Cru Artisan" denomination for 44 properties in Medoc, Haut-Medoc and the Medoc's community appellations. The publication of this classification is the result of a long process undertaken by the Union of Medoc Crus Artisans at the instigation of several chateaux. Since February 1989, the Union worked to restore the rightful title to this family of crus that disappeared in the 1930's.
It helped restore honour to the term "artisan", which was formally recognized by the European Union in 1994. The 44 classified properties must be family businesses that grow, make, market and sell their wines. The Crus Artisans may use the "Cru Artisan" denomination on labels, in presentations, advertising and all other forms of marketing. Today, they represent 340 hectares of vines in production, mainly in the Medoc and Haut-Medoc appellations, but also the Medoc's community appellations of Listrac, Moulis, Margaux, Saint-Julien, Pauillac and Saint-Estephe. As such, the Crus Artisans are subject to the same controls and production standards as the other Medoc wines, under the aegis of the Institut National des appellations d'Origine. (2)

* "A classification very similar to the one done for the Exposition supposedly already existed in the 18th century according to T.A. Layton in his "Winecraft - The Encyclopaedia of Wines & Spirits".
1. Introductory information regarding the history of the appellation d'Origine system was partly sourced from "Winecraft - The Encyclopaedia of Wines & Spirits" which was originally compiled by - T.A. Layton.
2. Information regarding the five classifications was partly sourced from www.bordeaux.com