Sauvignon Blanc: The New Zealand Experience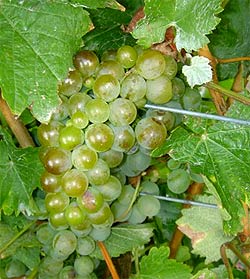 Marlborough, in the north eastern tip of the south island remains New Zealand's most acclaimed area for Sauvignon Blanc. Yet, if you'd visited the region in the early seventies,"...you'd have seen enough sheep to set up a knit wear empire, but not a single vine". (14)

How is it that within twenty years Marlborough has gone from producing no wine at all, to being synonymous with the world's finest Sauvignon Blancs? After all, the varietal has been around for centuries - the wonderful whites of the Loire Valley from the towns of Sancerre, Quincy and Pouilly-sur-Loire (home of Pouilly-Fume) and the dry whites of Bordeaux are all Sauvignon Blanc based.* While these wines can offer exceptional combinations of fruit, lively acid and aromatic richness there's one instantly recognisable characteristic that sets New Zealand Sauvignon Blanc apart - that classic note that wine writers so often liken to 'gooseberries' - small grape-like berries with a flavour that combines lemon, lime and tropical fruit with a sort of grassy herbaceousness. Stereotypical New Zealand 'Sauvy's' (as winemakers refer to the variety there) have this in abundance; Old World examples are much more subdued. Marlborough Sauvignon Blanc in particular tends towards vibrant, gooseberry, capsicum and cut grass flavours with fresh, 'zingy' acidity. (Less distinguished examples have been variously described as tasting like"...green tomatoes that have been stewed with their leaves left on" or even "cat's pee"- they can acquire an aggressive "cat box" odour when the grapes lack sun exposure or are harvested under ripe).

Ross Spence of Matua Valley Wines first planted the variety at West Auckland on New Zealand's North Island in 1969, with a commercial release in 1974, though commercial quantities didn't appear until 1980. Today, New Zealand is probably the only country in the world that has more Sauvignon Blanc planted than any other traditional varietal (making up more than 50% of total wine production). Two broadly definable styles are produced: Northern (those from Hawkes Bay and further north) and Southern (esp. those from the Marlborough and Martinborough regions). Northern Sauvignon Blanc styles tend to be riper with melon, nectarine and other stone fruit flavours. Southern Sauvignon Blancs are typically less ripe, crisper with pungent gooseberry and passionfruit flavours as well as capsicum and herbal characteristics. Climate is the major factor that distinguishes the two, influencing the degree of the fruit's ripeness.(15)

Arguably, it's Marlborough that possesses the ideal terroir, a flat plain protected by mountains with a synergy of cool, maritime South Pacific climate and extended sunlight coupled with meager rainfall during the ripening period. (It's also one of New Zealand's driest regions making irrigation a necessity).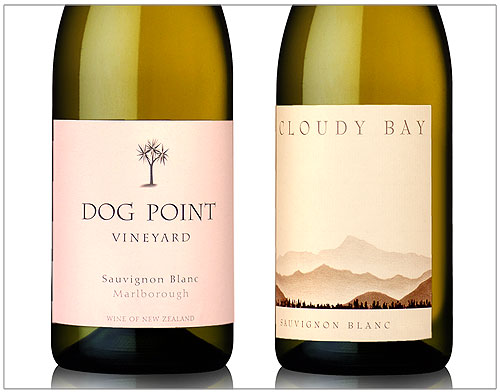 If one wine can be credited for the Marlborough Sauvignon Blanc phenomenon, it would have to be 'Cloudy Bay'. The brainchild of Australian, David Hohnen of Cape Mentelle in Western Australia, its Sauvignon Blanc is regarded as the quintessential expression of the Marlborough region. When it was released in 1985 it was described as a"bungee jump into a gooseberry bush" - a completely new and exotic style of white that was also brilliantly marketed setting a remarkable price standard which it's maintained ever since. At tastings in London the following year, Hunter's Sauvignon Blanc won an award at the Sunday Times wine club festival. Producers quickly saw the potential of New Zealand's distinctive take on the variety, and from the late 1980s, plantings expanded. When exports commenced in 1985, Australian's and American's fell for its liveliness and versatility that could accompany vegetarian dishes, salads, high acid foods, raw oysters and other seafood. At the very least, it provided a predictable, easy-to-like flavour profile that wine lovers could count on for vivacious refreshment.

Success at wine competitions strengthened confidence in Sauvignon Blanc and by the early 1990s, it was firmly established as Marlborough's (and New Zealand's) signature varietal. For Marlborough's winemakers, the allure of Sauvignon Blanc remains irresistible. It's about as close as one can come to a 'vinuous gold mine'.(16) Vines are high yielding and the juice is cheap and easy to process making it particularly attractive for 'industrial' wineries to cash in on. Hand picking and delicately handling the fruit is not required, which reduces harvest costs by up to four times. In fact,"In order to make a very aromatic, intense, commercial style Sauvignon Blanc, machine harvesting is advantageous... some aromatics are released by an enzymatic reaction between the crushed berries and the juice."(17)
Once in the winery, the typical producer simply crushes the grapes, adds yeast and ferments at a cool temperature in stainless steel tanks. (No expensive oak is required which can double the cost of tank based winemaking). Several days later the wine is ready for bottling, using screwcap seals rather than corks. By the time a winemaker has to pay growers for their grapes, the wine is already on the market.

The insatiable world wide demand for 'industrial' New Zealand Sauvignon Blanc has discouraged many winemakers from producing more exciting styles. Having said that, there's probably more diversity to the varietal in New Zealand than most wine lovers would give credit. Jaded palates and passionate winemakers have been seeking alternatives that offer more complexity: 'hand-crafted' styles that combine an Old World inspiration with New World freshness along with an emphasis on terroir and flavour.

Winemakers are incorporating a period of barrel maturation, stirring lees to obtain a creamier mouthfeel, or blending with Semillon to mimic Bordeaux's dry whites. Cloudy Bay's super premium 'Te Koko' is an extreme example: After harvesting and pressing, the juice is transferred to French oak barrels and allowed to undergo a primary fermentation with naturally occurring yeast. This is followed by a full malolactic fermentation during the following Spring. The wine is left in barrel on yeast lees for 18 months prior to bottling, and released after a further 18 months in the cellar. Dog Point's outstanding 'Section 94' is another wine that succeeds in transcending the mainstream by employing a similar, though shorter (and some might say more prudent) use of barrel fermentation, which can also extend the wine's longevity.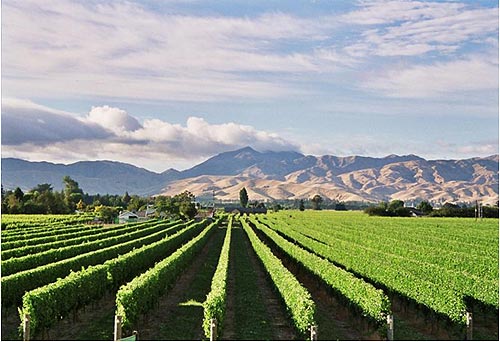 Other winemakers and viticulturalists are equally concerned with terroir and 'sub regions' within Marlborough that consistently deliver particular flavour profiles have been mapped out."Gravelly soil and relatively high rains in the Northern Wairau Valley subregion give riper, more tropical flavours; clay and cooler temperatures in the Southern Valleys, where small tributaries flow into the Wairau River, yield the grassiest grapes; and the dry climate, cool temperature and loess soil of the Awatere Valley, over the hills to the south of the Wairau plain, give more vegetal aromas".(18) St. Clair Family Estate founder, Neal Ibbotson and chief winemaker, Matt Thomson, have taken this one step further, identifying the unique flavours and textures offered by their own vineyard sites, subsequently releasing their 'Pioneer Block' series, each Sauvignon Blanc being made from small parcels of fruit from single vineyards.

Natural yeasts are also being trialled for commercial use thanks to research from The University of Auckland as part of a $9.6 million government-funded project. By testing the yeasts found on the vines and in the grape's juice, scientists have isolated a species of yeast which works together with common commercial strains of Saccharomyces cerevisiae to produce higher levels of 'thiols', which are some of the compounds which give Sauvignon Blanc its fruity taste.(19)

Despite these interesting departures, consumers on the whole have maintained a preference for straightforward, crisp, gooseberry / grassy styles. The scope for successful experimentation is also limited by the nature of the grape itself - Marlborough's winemakers may have to concede that"...dry Sauvignon Blanc cannot reach the profundity of a great Chardonnay or Riesling because nearly always, its signature notes are too intense for terroir and/or vinification techniques to overcome them." (20)

At the crossroads, Pinot Noir presents the most exciting challenge to bored Marlborough winemakers, and potentially the most lucrative upside.