New Zealand Pinot Noir - The New Burgundy?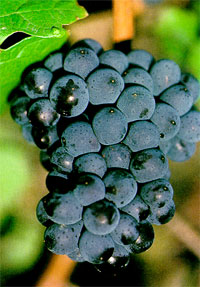 For viticulturalists and winemakers, as well as wine lovers, Pinot Noir has a reputation as one of the most difficult varieties to come to terms with. Those growing and making Pinot Noir as a table wine (as opposed to a Sparkling wine) are at the high end of the passion scale. Creative and adaptive viticultural management and winemaking are essential for any degree of success.

New Zealand seems made for Pinot Noir, where the climate has proven more important than soils for wine quality. (Excellent Pinots have resulted from clay soils to free-draining fluvio-glacial gravels and silts).(21) While experience has shown that only a few parts of New Zealand (notably Hawke's Bay) are able to consistently ripen other red varietals like Cabernet Sauvignon, Pinot Noir will ripen with good flavours and colour in many regions. Though because it ripens very early, it's been found to be most suited to the cool, low rainfall climates of the South Island and lower North Island regions where plantings are concentrated. If it ripens too fast, it fails to develop a desirable flavour profile and can even become jammy.

Importantly, New Zealand has also acquired a highly desirable mix of clones - those like the "Abel" clone, for example (see below) were for a long time jealously guarded and exclusive to Burgundy, until they were either smuggled into or sold to new world producers like America and New Zealand, replacing inferior stocks.

Constant intra-winery critiquing and exchange as well as expeditions to Burgundy and the U.S., have provided New Zealand vignerons with an essential understanding of canopy management, ripeness, clonal selection and the importance of limiting Pinot Noir yields, so that they consistently achieve fruit of high quality to offer consumers a viable alternative to Burgundy. All this has happened at an astonishing rate within the last twenty years.

Not surprisingly, Pinot Noir has been the most recent 'classic varietal' to show rapid growth. Its modern day emergence is really a story of the 1990's, although its potential was revealed in several regions during the late 1970's and early 1980's, particularly Auckland during the mid 1970's.** Three areas are now fighting for Pinot Noir supremacy: Marlborough and Central Otago in the South Island, and Martinborough in the north, though the latter two are leading in the quest for the 'Holy Grail'.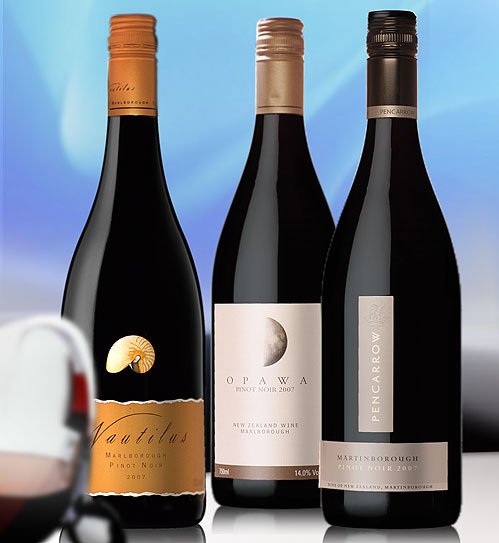 Pinot is now the second most planted grape in Marlborough, where much of it is been used as a base for sparkling wine. Winemakers are in a transitional stage with a fickle grape that demands everything opposite to varietals like Sauvignon Blanc that they're used to: careful site selection, control of yields and vine vigour, delicate hand harvesting and oak instead of stainless steel amongst other considerations already mentioned.

"Marlborough Pinot Noir can be very good, indeed, as good as any Pinot in the country," says Mike Weersing, owner of Pyramid Valley Vineyards."Is it often very good? No. I think this remains the case for two reasons."First, he says, local growers need to learn to handle Pinot Noir differently: They can't push up yields and be blase about viticulture. Second, Pinot Noir requires more thought about site than most growers give to Sauvignon Blanc. "The region is still learning that the Sauvignon Blanc mentality - high yields, little or no canopy management, etc. - cannot be applied to Pinot Noir."(22)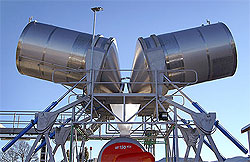 Nautilus Pinot Winery 'Tippy Tanks'.


Nautilus is one exception. The Estate have constructed a specialised, state-of-the-art wine making facility dedicated exclusively to Pinot Noir incorporating principles of minimal handling and gravity flow. Fruit is carefully selected and blended from six vineyard sites, usually located on hillside slopes. The wine sells out each year, but at present only accounts for 15% of production.

While Marlborough remains a work in progress, it's names like 'Ata Rangi' and Alana Estate (Martinborough) or Felton Road and Carrick (Central Otago) that are threatening to eclipse the great wines of Burgundy. Martinborough's Pinot Noirs are usually earthier, more Old World in style while a deeper coloured, more fruit driven, black cherry style is typical of Central Otago whose wines tend to be longer lived. A range of winemaking techniques, including pre and post- fermentation maceration, partial whole berry fermentation, and various methods of tannin, colour and flavour extraction add further variation to regional differences in styles.

In a recent tasting, Neal Martin writing for the Wine Advocate asked whether or not"In qualitative terms alone, New Zealand' s Pinot Noir equal Burgundy? No, not yet."he admits."Does New Zealand offer better QPR? [Quality Price Ratio] Undoubtedly."(23) U.K. wine writer, Jancis Robinson agrees, writing"The best are nowhere near as good as the best red Burgundy, but the worst are so, so much more delicious than the worst Burgundy." (24)

A critical factor here is time. Pinot vines take at least four years to come into viable production, and around six years to reach full production depending on the trellis system chosen. Truly great Pinot Noir is only produced from mature vines - heart wood needs to be developed in the trunk of the vine. This is where the flavour components will develop. Many of New Zealand's plantings are less than ten years of age, with a vast majority under five and a miniscule proportion close to twenty five. Clearly, the best is yet to come and it's doubtful that any one region is set to monopolize the future of Pinot Noir in New Zealand, with vineyards all over Canterbury to Nelson and cooler, high-altitude sites in Hawkes Bay burgeoning and showing some serious potential.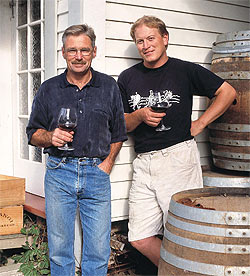 Ata Rangi founder, Clive Paton, left.

The Abel Clone



In 1980, Clive Paton, a Martinborough farmer, purchased five hectares of land with the intent of growing mainly red grape varieties. Pinot Noir was the star of the vineyard right from the beginning, being planted to Pinot Noir clones, Abel, Clone 5, 10/5, Dijon clones. Since then, his 'Ata Rangi' label has been producing what is internationally acclaimed as New Zealand's benchmark Pinot - a wine for Australian (and many Burgundian) wine makers to aspire to. The significance of clones to the wines quality, in particular the 'Abel Clone' is explained in this amusing anecdote from Ata Rangi and goes some way to accounting for why New Zealand has had the jump on Australia when it comes to world class Pinot:



"In 1982, soon after purchasing the Ata Rangi home block, Clive called Auckland winemaker Malcolm Abel and volunteered to work a vintage. He knew that Malcolm was also chasing premium pinot noir, and the two soon became close friends. Clive returned for a second vintage. Tragically, Malcolm died unexpectedly a year later and the Abel Vineyard itself was ultimately lost to urban sprawl.

But Malcolm had already given Clive some promising pinot cuttings, the offspring of a single vine cutting allegedly taken by a traveller from Burgundy's finest estate, Domaine de la Romanée-Conti. The illegal cutting had been intercepted and confiscated at Auckland airport, where Malcolm, coincidentally, was working as a customs officer in the mid 70's. He immediately understood its significance, and sent it straight to Te Kauwhata, the state-owned viticulture research station of the day. Malcolm waited patiently for the very first cuttings to become available, and duly planted them.

To this day, the Abel Clone, or Gumboot Clone (legend has it the nicked cutting was secreted inside a Kiwi gumboot!) remains at the heart of Ata Rangi Pinot Noir. We love the texture, and length of palate it delivers. Its tannins are substantial, yet are incredibly silky and fine. From our site, it brings dark cherry, and a brooding, savoury feel.

The Pinot Noir vine is genetically very unstable, so there are literally hundreds of naturally occurring variants referred to as clones. Premium pinot needs the complexity that a range of these clones brings. We have over a dozen planted, with Clone 5/ Pomard also considered very valuable, giving the wine a solid mid-palate structure. It may not have the length of Abel, but brings wonderfully vibrant, aromatic fruit. The much feted Dijon Clones, selected by the research unit at Dijon University in the late 80's, are less textural but have more front palate weight, and beautifully perfumed high notes".

(25)

Footnotes & Bibliography.
* Similarly, in California during the late 1960's, dry style Sauvignon Blanc gained favour but only after it was re-christened and marketed as 'Fume Blanc' (derived from Pouilly-Fumé) by industry pioneer, Robert Mondavi.
** And in some places earlier than that: In 1895, visiting viticulturalist Romeo Bragato wrote

"There is no better country on the face of the earth for the production of Burgundy grapes than Central Otago..."
1. Bronwyn Dalley. 'Wine', Te Ara - the Encyclopedia of New Zealand, updated 20-Nov-2008 URL: http://www.TeAra.govt.nz/TheSettledLandscape/Crops/Wine/en
2. Prohibition. The Movement in New Zealand. John Richard Sinclair Daniels, M.A., Local Government Branch, Department of Internal Affairs, Wellington. From An Encyclopaedia of New Zealand, edited by A. H. McLintock, originally published in 1966. Te Ara - The Encyclopedia of New Zealand, updated 18-Sep-2007
3. Bronwyn Dalley. 'Wine', Te Ara - the Encyclopedia of New Zealand, updated 20-Nov-2008.
4. ibid
5. ibid
6. www.nzwine.com
7. New Zealand Wine Industry Profile 2007-2008.
8. http://www.bragato.org.nz/about-bragato.php
9. Wine of the Week, Sue Courtney, 18 October 200. Updated 19 September 2004. http://www.wineoftheweek.com.
10. Information on the Marlborough Wine Region adapted from http://www.wine-marlborough.co.nz
11. Information on the Central Otago Wine Region adapted from http://www.centralotagopinot.co.nz
12. Information on the Gisborne Wine Region adapted from http://www.gisbornewine.co.nz
13. Wine of the Week, Sue Courtney, 18 October 200. Updated 19 September 2004. http://www.wineoftheweek.com
14. Bottle Banks. Tim Aitken. The Observer, Sunday 16 March 2008
15. Adapted from the New Zealand Wine Website: http://www.nzwine.com/winestyle/
16. Bottle Banks. Tim Aitken. The Observer, Sunday 16 March 2008
17. Clive Dougall of Seresin Estate, Marlborough as quoted in 'New Zealand's Next Step'. Derrick Schneider. San Franscisco Gate. Friday April 11, 2008.
18. New Zealand's Next Step'. Derrick Schneider. San Franscisco Gate. Friday April 11, 2008.
19. New ways for New Zealand wine. 26 March 2008. The University of Auckland
20. New Zealand. More than a Savalanche. Neal Martin, www.erobertparker.com
21. Terroir. The Human Factor, Warren Moran, The University of Auckland, 2000.
22. New Zealand's Next Step'. Derrick Schneider. San Franscisco Gate. Friday April 11, 2008.
23. New Zealand. More than a Savalanche. Neal Martin, www.erobertparker.com
24. New Zealand - A Great Pinot Noir Resource? Jancis Robinson, The Financial Times, 11 Feb 2001.
25. Source: - www.atarangi.com
26. Additional information on regions including some industry statistics sourced from www.nzwine.com, the website of New Zealand Winegrowers which aims to represent, promote and research the national and international interests of the New Zealand wine industry.