Prohibition to Modern Dynamism


Between 1890 & 1910 domestic wine consumption gained real momentum (approx. 25% of total production), only to be dragged back by the effects of the Temperance movement. At first, the reformers merely raised issue that the sale and consumption of alcoholic liquor should be decided by popular vote. Gentle and reasonable arguments were gradually overwhelmed by demands for State-enforced total abstinence. The movement was probably inevitable in New Zealand at that time:
"... unrelieved rigours of pioneering life, the opportunities for the production of inferior and highly intoxicating liquor, and the unsettled period of the Maori Wars were conditions that made for hard drinking, and there was inevitably a strong reaction. Drunkenness was commonplace, as contemporary newspapers testify in reports of accidents, deaths, and domestic tragedies."
(2)
Prohibition would later be considered the most important mass social movement in New Zealand's history, attracting support which in its heyday, cut across political, religious, and class groupings, arousing emotions and passions rarely generated by moral or political issues in the country. Throughout the period of Bragato's consultancy, the Prohibition movement gained considerable momentum, to the point that political pressure from the New Zealand Alliance for the Suppression and Prohibition of the Liquor traffic saw the Department of Agriculture's viticulture division disbanded. Bragato left New Zealand in 1909, frustrated and disillusioned. Competition from imported wines increased (due to low tariffs) while local standards dropped further. The industry went into decline. Various forms of prohibition continued until 1918, when the votes of returning World War I servicemen finally tipped the balance against it.

Changing Social Attitudes

Wines produced at the Government research vineyards were successfully exhibited at London Wine Exhibtions in 1908, but Bragato's visions for the future of New Zealand wine remained largely ignored. This, together with a lack of political support, the residual effects of Temperance, the disruption of two World Wars and the Depression all retarded the growth of New Zealand's Wine industry. There was a short respite when the War in the Pacific increased demand for wine from American troops stationed in the country from 1942-1944, but the next major obstacle was to be a cultural one. The New Zealand people had to change their attitudes towards wine.

A wave of post-war Dutch migrants became catalysts challenging the core of the nation's social drinking culture. Otto Groen was at the forefront. When he arrived in 1952, he was dismayed to find bars closing at 6pm. The vestige of a law that was never meant to be permanent, (prompting the notorious 6 o'clock swill), it made the European custom of drinking wine with meals in restaurants impossible. In 1954, Groen opened the 'Gourmet' in downtown Auckland. The restaurant followed the American custom of serving iced water to diners as soon as they arrived, and those who smuggled in bottles of wine under their coats were able to use the glasses to drink. Groen faced numerous police raids and was convicted four times for breaking the country's licensing laws, (although the diners themselves were never prosecuted!)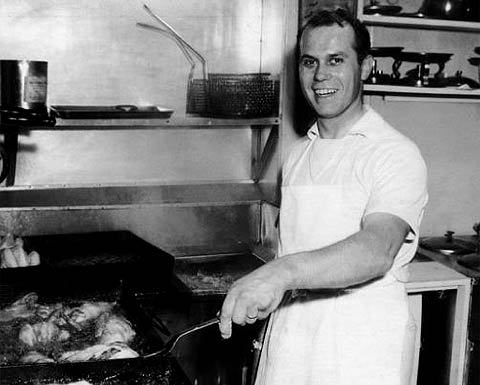 Otto Groen at work in his kitchen.


It was seven more years before his restaurant became the first in New Zealand to be granted a liquor licence in 1961. It is illustrative of the then state of the wine Industry that of over 700 bottles that made it onto his wine list, the majority were French or German. New Zealand wines were still mostly ports or sherries even though the climate was hardly suited to quality fortified production.

Changing social habits meant that it was no longer just migrants who wanted to drink wine with their meals."Some New Zealanders who served overseas during the war experienced new ways of dining and developed a taste for wine...".(3)The abolition of the "six o'clock swill" allowed hotels to close at 10pm, and for the first time theatres, cabarets, taverns and specialist shops, though scarce, were all given license to sell wine which previously had only been available from hotels or direct from wineries.

New Zealand vignerons responded to the new wine culture - from the 1960s, table wines took over from just 12% of wine produced in 1962, to more than 73% by the early 1980s.(4) More vineyards were established, especially in West Auckland and Hawke's Bay. Then"... in 1963 Auckland firm Corbans made the first major export of New Zealand wine...The geography of the industry shifted as winemakers learned more about matching grapes to local conditions. The Auckland area lost its dominance to Gisborne and Hawke's Bay; by the end of the 1970s, these two regions had the largest area under vines. Other areas opened up. Marlborough's first large commercial plantings were made in 1973, and within a few years, the country's biggest winemaking firms had moved there".(5)

Modern Dynamism

The decision of Marlborough farmers to replace pasture land with vines was encouraged by Britain's entrance into the European Economic Community in 1973. Historic trading terms with New Zealand ceased, resulting in massive agricultural changes. Farmers had to adapt, some did so by moving away from traditional farmed products. Viticulture was an obvious option because Marlborough's large, flat river valley with deep deposits of silt and gravel, abundant sunshine and long autumns was well suited to producing quality grapes for wine production. What was previously seen as inferior pasture became attractive vineyard country.

Sauvignon Blanc vines went in a couple of years later. New York firm Seagram bought a 40% share in the industry giant Montana who'd established the South Island's first commercial winery at Marlborough in 1973 in an effort to expand their North Island grape-growing and wine-making operation. Further overseas investment boosted the local industry, helping winemakers modernise with new equipment. More efficient organisation occurred in 1975 when several groups merged to form the 'New Zealand Wine Institute', giving the industry a single voice to promote its interests.
It was the beginning of a period of major growth.

The 1980's saw Marlborough gain critical acclaim for its Sauvignon Blanc , with the 1985 vintages from Cloudy Bay and Hunter's introducing the British public to New Zealand wine. Critics noted Marlborough's ability to create new and exciting exotic aromas whilst retaining the acidity and structure of the Loire Valley's finest Sauvignon Blancs, such as those from Sancerre.

Due to the international recognition gained, prestigious 'Old World' grape varieties such as Chardonnay, Pinot Noir and Sauvignon Blanc rapidly replaced the 'cheap' American hybrids in other regions. The uncontrolled expansion caused supply to far outstrip demand, which also lead to a ferocious price war during the mid 1980's. The 1985 crush saw some 75,000 tonnes of fruit processed, when only 55,000 tonnes were required. The New Zealand Government intervened and offered growers $6175 per hectare to grub vines and some 1500 hectares were removed (around 25% of the national vineyard), mostly around the Gisborne and Hawke's Bay regions.

Meanwhile, entrepreneurs like Ernie Hunter (founder of Hunter's Wines) had set about vigorously promoting New Zealand wines in Europe, and paving the way for the now healthy export market. By the end of the 1970s, the prospect of a significant New Zealand wine export industry looked possible, and by 1980 wine exports had jumped from $40,000 in 1970 to almost $400,000. Over the next decade, the country began to make its mark as a wine producer of international repute, with a rapid rise in the number of winemakers. In 1986 exports exceeded the $1 million mark for the first time. That year was also significant, with Hunters winning the top award at the Sunday Times Wine Show in London. The following year, work on a global marketing strategy began. By 1993 exports had risen to nearly $50 million and in the mid-1990s an export strategy was implemented focusing on five key countries - UK, Germany, Canada, USA and Australia. By 2000, export value per litre exceeded $8, with around 160 companies actively exporting. New Zealand Winegrowers was formed in 2002(6)to represent the interests of the wine industry. In 2005, total sales of New Zealand wine exceeded 100 million litres for the first time. In 2006 another milestone was reached with earnings from secondary markets of $100 million. (7)New Zealanders had begun to take their wine industry very seriously indeed.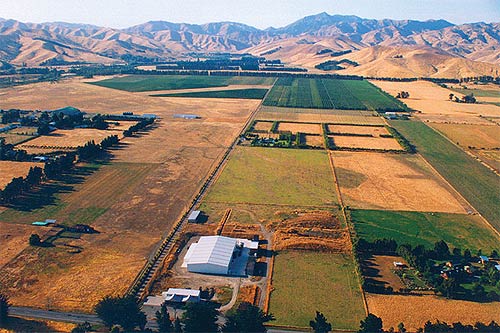 The landscape has continued to change as vineyards are planted and expanded in the most suitable climates and conditions for growing grapes. Nine major regions are now recognised: Auckland, Waikato, Gisborne, Hawke's Bay, Martinborough (Wairarapa), Nelson, Marlborough, Canterbury, and Central Otago. We'll briefly profile these regions in the following pages. We've also incorporated the primary red and white grape varieties presently grown in their respective regions into a map which can be printed out for future use.