Major Wine Regions: North Island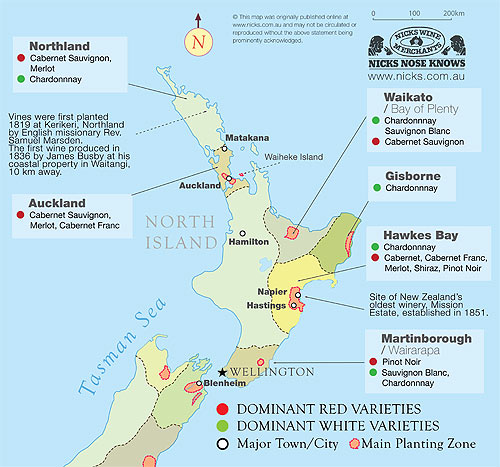 Auckland

Primary Grape Varieties
Red Grapes:
Cabernet Sauvignon, Merlot.
White Grapes:
Chardonnay, Sauvignon Blanc, Semillon, Pinot Gris.
For both historical or commercial reasons, all the country's largest winemakers are based in Auckland: Montana (which now incorporates Corbans), Villa Maria and Nobilo as well as other familiar names like Babich, Delegats, Kim Crawford, Lincoln and Matua Valley, though they all source grapes from other regions within New Zealand.

The traditional winemaking districts of Auckland are Henderson, Kumeu and Huapai to the northwest of the city centre. Soils are mainly shallow clays over hard silty-clay subsoils or sandy loams. The vineyards are mostly planted in pockets of flat land on the drier east coast or in the shelter of western ranges.

In the early 1980's Waiheke Island, in Auckland harbour, was established as a fashionable district for the production of high quality red wines based on Cabernet Sauvignon, Merlot and Cabernet Franc. Matakana, on the east coast about one hour's drive north of Auckland city, has also earned an enviable reputation for Cabernet Sauvignon and has since undergone a very rapid expansion in both red and white wine production. Auckland's most recent premium wine district, Clevedon, has established small vineyards in the rolling farmlands about half an hour south of the city. Cabernet Sauvignon, Merlot and Chardonnay are the most popular varieties here although Sauvignon Blanc, Semillon and other white varieties are also planted.


Northland

Primary Grape Varieties
Red Grapes:
Cabernet Sauvignon, Merlot.
White Grapes:
Chardonnay.
Apart from its place in New Zealand's early viticultural history (the first vines were planted in Northland in 1819), vineyards are not a dominant feature of the Northland landscape - it still rates as the country's smallest wine producer, though there has been a resurgence of interest in recent years.

Viticulture is scattered over three districts: Kaitaia on the west coast in the far north, around the Bay of Islands on the northern east coast and near Whangarei, Northland's largest city. Vineyards are sited mainly on flats or gentle slopes. Soils vary throughout the region from shallow clay soils over sandy-clay subsoils to free-draining volcanic structures.

Northland typically experiences the country's warmest ripening conditions which explains the popularity of Cabernet Sauvignon, Merlot and Chardonnay, the three most widely planted grape varieties.


Gisborne

Primary Grape Varieties
Red Grapes:
Merlot
White Grapes:
Chardonnay.
Located on the country's most easterly tip and closest to the international dateline, Gisborne boasts the world's most easterly vineyards and the first vines to see the sun each day. The region receives high sunshine hours on coastal plains that are sheltered from the west by a range of mountains.
As in Northland,"missionaries dabbled with grape growing in Gisborne in the mid-1800's, [however] the region did not produce wine commercially until the arrival of Frederick Wohnsiedler from Germany after the World War I. The vineyard and winery he set up in the Waihirere Valley near Ormond thrived long after his death in 1956."

Wohnsiedler's vineyard was later bought by industry giant, Montana, whose 1998 Reserve Gisborne Chardonnay won the White Wine of the Year Award at the London International Wine Challenge in 1999. For a long time the region had a reputation as a bulk wine producer, with Montana & Corbans making large quantities of cask wine. Gisborne's now re-branded itself as the"Chardonnay Capital of New Zealand", and hosts the International Chardonnay Challenge every year. Today, it's the third largest viticultural centre in the country, divided into several sub-regions with the main concentration of grape growing on the Gisborne Plains around Ormond, the Central Valley and Patutahi. Soils include alluvial loams over sandy or volcanic subsoils of moderate fertility. Vineyards are predominantly sited on flats.

Not surprisingly, Chardonnay occupies around half of the region's vineyards, though Gisborne does have a broader varietal mix and diversity of styles that reflect its different soils and mesoclimates. Its celebrated reputation for Gewurztraminer stems from the country's first benchmark examples being produced by Matawhero in the 1970's. More recently some fine Semillon and Chenin Blanc wines have been released and the latest development is the emergence of Pinot Gris and Viognier as varieties with a promising future. Red varieties include vibrant fruity Merlots, Malbec and the re-emergence of Pinotage.(12) Visit the Wines of Gisborne website for more.


Hawkes Bay

Primary Grape Varieties
Red Grapes:
Cabernet Sauvignon, Merlot, Syrah (Shiraz), Pinot Noir.
White Grapes:
Chardonnay, Sauvignon Blanc.
Hawkes Bay around the town of Napier, is the country's second largest region with a century old viticultural heritage: The oldest existing winery in New Zealand is Mission Estate near Napier, approximately 500km south of Marsden & Busby's initial ventures in Northland.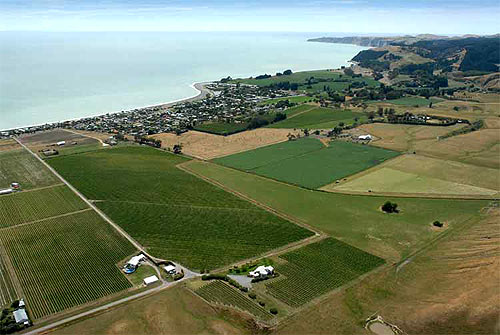 The complex, variable topography and wide range of soil types, from fertile silty loams to free-draining shingle, produces a considerable range of wine styles that make it difficult to generalise the terroir. (There are 22 categories of soil types on the Heretaunga Plains alone, from stones to hard pans to heavy silts). The climate is maritime, with low rainfall, low relative humidity and frequently records the country's highest sunshine hours, though ripening dates for a single grape variety can vary by as much as three weeks between the hot, shingle soils of the Gimblett Road area to the cool, inland, higher altitude vineyards of central Hawkes Bay such as Puketapu and Matapiro. (The latter area is susceptible to late spring frosts, as evidenced in November 2000 when frosts reduced yields by approximately 50%). Excellent vineyards are also to be found in coastal areas such as Te Awanga and Esk Valley, where vineyards were first established in 1933.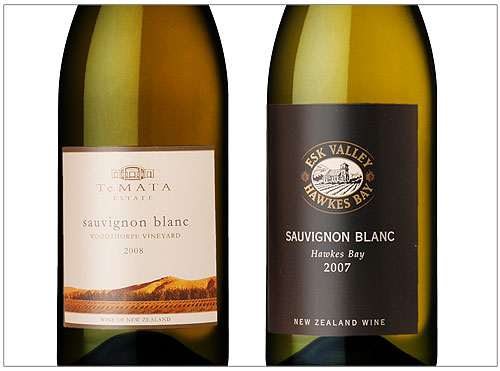 There are around fifty producers in and around Hawkes Bay today. Chardonnay is the most widely planted white variety. Sauvignon Blancs tend to be softer with more stone fruit (esp. nectarine) character than those from Marlborough. The long sunshine hours have also attracted a high percentage of later-ripening red grape varieties such as Cabernet Sauvignon, Merlot, Cabernet Franc and Syrah, as well as the early ripening Pinot Noir. The best Hawkes Bay reds are typically Cabernet based wines, reminiscent of Bordeaux's.

Notable producers include Craggy Range Vineyards, C.J. Pask, Esk Valley Estate, Bradshaw Estate, Unison Vineyard and Te Mata Estate.


Martinborough & Wairarapa

Primary Grape Varieties
Red Grapes:
Pinot Noir.
White Grapes:
Chardonnay, Pinot Gris, Gewurztraminer, Riesling and Sauvignon Blanc.

Martinborough is the oldest and best known wine area within the Wairarapa region, with over 30 wineries located around the picturesque township located at the foot of New Zealand's North Island, just 1.5 hours drive from Wellington. There are also a smaller number of wineries around Gladstone and Masterton. Historically, the district is notable for some of New Zealand's first Pinot Noir and Shiraz wines of any considerable quality. William Beetham found his passion for the vine in France, and returned to plant his own vineyard on his farm near Masterton in 1883."The government viticulturist, Romeo Bragato, noted Beetham's vineyard and wine when he toured the country in 1895... Bragato decided that Wairarapa and nearby Hawkes Bay was great wine country." [a bottle of 1906 Pinot Noir from Beetham's vineyard was tasted in 2001 and remarkably was reported to be "alive and well"].(13) Unfortunately, at the time, Prohibitionist sentiment had settled in at Masterton and Beetham's venture was abruptly cut short.

Dr Neil McCallum planted the 'Dry River' vineyard in 1979, leading the revival of the region, however, originally not with Pinot Noir. Instead, it was left to Ata Rangi and Martinborough Vineyards to demonstrate that world class Pinot could be produced there. Today, Pinot continues to be the region's most planted and certainly most acclaimed variety, to a large extent the driver behind the rapid development of this very dynamic and quality-focused region.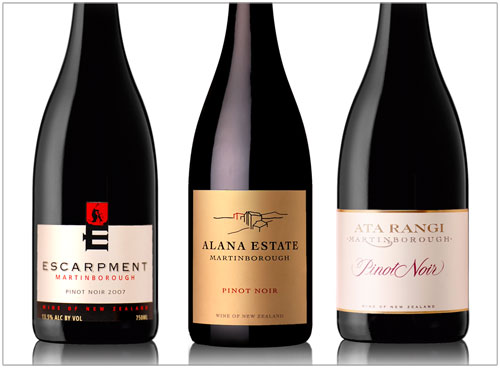 There are good reasons for the geographic proximity of many of the leading vineyards (all three producers just mentioned are situated within a few minutes of the Martinborough town centre). Their sites are all very similar; shallow silt-loam over deep, free-draining alluvial gravels, however, New Zealand wine writer, Bob Campbell notes that"The most sought-after sites are on a terrace that sits above the surrounding farmland, ensuring good drainage on even the wettest days. Terrace properties have traditionally commanded a price premium, although in recent times equally excellent sub-regions have been planted ...Examples of the dry, gravelly soil favoured by viticulturists have been found in various parts of the province".

Generally speaking, the terroir is not dissimilar to that of its famous southern counterpart, Central Otago. Rainfall is very low at approx 700mm per annum. The vineyards are shielded from the elements by steep mountains, while the growing season from flowering to harvest is amongst the longest in New Zealand. Naturally breezy conditions control vine vigour, creating low yields with great intensity - all conditions well suited for the production of great Pinot Noir.
Other varietals include Sauvignon Blanc, Chardonnay, Riesling, Syrah and Pinot Gris. A small number of wineries are producing Cabernet Franc of a high standard.

Prominent producers include Martinborough Vineyard, Ata Rangi, Dry River Wines, Palliser Estate Wines, Te Kairangi Wines and Nga Waka Vineyard.