Major Wine Regions: South Island
The stunning scenery of New Zealand forms a backdrop to a wine industry that while insignificant in terms of global production (less than 1% of world output) is home to some of the New World's most progressive and distinctive wines. There are nine main New Zealand wine regions:


South Island

Nelson

Marlborough

Canterbury / Waipara

Central Otago

North Island


Auckland
Northland
Gisborne
Hawke's Bay
Martinborough

South Island


Marlborough

Primary Grape Varieties:
Red Grapes:
Pinot Noir.
White Grapes:
Sauvignon Blanc, Chardonnay, Riesling, Pinot Gris.
While it's commonly accepted that the first growers planted grapes in Marlborough in the 1970s, the region's viticultural heritage actually extends into the late 19th Century.
"Cynthia Brooks, in her book 'Marlborough Wines and Vines' (1992) reports how pioneer wine makers David Herd and Charles Empson planted the first Marlborough vineyard in 1873, exactly 100 years before Montana's revival of NZ's premier grape growing region. Although Empson died soon after the first harvest in 1875, Herd went on to win prize after prize for his well regarded red muscatel wine. The winery survived until 1931...During this time, other tiny operations in the region came and went, prohibition and poor prices for grapes being the doom of some..."
(9)

Marlborough's viticultural pioneers would never have imagined the extent of the region's future growth and fame, let alone that it would come down to a single varietal - Sauvignon Blanc. The distinctive pungency and zesty 'gooseberry' fruit flavours of the first Marlborough Sauvignon Blancs captured the imagination of the country's winemakers as well as international wine commentators and consumers to spark an unparalleled boom in vineyard development. Worldwide demand has continued to fuel that regional wine boom.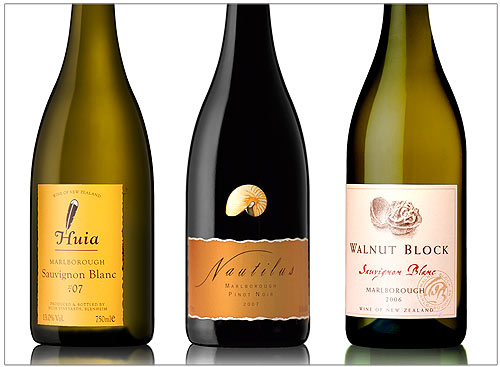 Located on the east coast with mountains to the west, Marlborough is one of New Zealand's sunniest and driest areas. In these bright, but relatively 'cool' climate conditions, the grapes have the advantage of a long slow, flavour-intensifying ripening period. The average daily temperature during summer is nearly 24 degrees C but clear cool nights keep acid levels high in the grapes. These marked diurnal (day/night) temperature variations are a key factor behind the ability of Marlborough grapes to retain both fresh, vibrant fruit and crisp, herbaceous characters.

Plantings are primarily located within the Wairau Valley on sites with moderate low fertility and a noticeably stony, sandy loam top soil overlying deep layers of free-draining shingle that help to produce lush, aromatic ripe wines, partly due to reduced vine vigour. Where a more herbaceous style is desired, sites with greater water retentive soils and moderate fertility are chosen. Viticulture has also spread southeast into the smaller slightly cooler Awatere Valley. More recently the southern side valleys of the Wairau - Fairhall, Hawkesbury and Waihopai - have also gathered a collection of vineyards.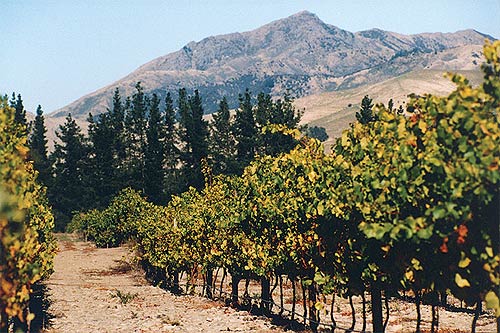 Wither Hills Vineyard first planted in 1978
.
The large rock formation in the distance is known as "The Ned", standing 909m above sea level, it commands impressive views of the Marlborough region.

Marlborough is now the largest wine producing region in the country (well over 50% of total output), estimated to reach 11,153 producing hectares in 2008.(10)Apart from Sauvignon Blanc, Marlborough is also earning a reputation for Méthode Traditionelle sparkling wines as well as a wide range table wines, perhaps most notably Chardonnay and Pinot Noir.

Prominent producers include Cloudy Bay Vineyards, Dog Point Vineyard, St. Clair, Vavasour, Jackson Estate, Walnut Block Wines, Lawson's Dry Hills, Huia, Spy Valley, Mud House, Wither Hills & many more...

Nelson

Primary Grape Varieties:
Red Grapes:
Pinot Noir.
White Grapes:
Chardonnay, Sauvignon Blanc.
Located at the top of the South Island at the base of the beautiful Tasman Bay, Nelson is the country's eighth largest wine region, traditionally associated with apples, tobacco and hops, and now joined by a small viticultural industry.

The region is unusually sited on the western side of the country near the northern tip of the South Island. Mountains to the west of the region provide a rain shadow effect while coastline helps to moderate temperature extremes. The region gets significantly more rainfall than the neighbouring dry Marlborough. Despite the rain, the northern exposure gives it long hours of daylight and the second highest total hours of sunshine in the country.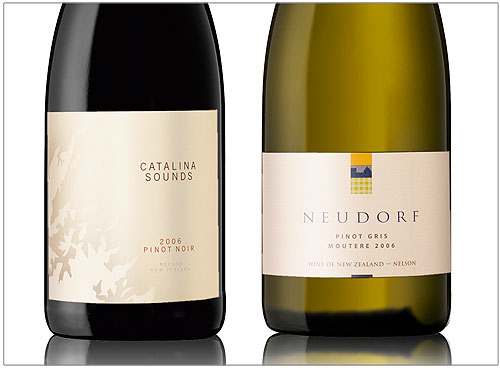 Viticulture occupies scattered pockets on the alluvial loam soils of the Waimea Plains and in the folds and valleys of the beautiful hills throughout the district. Soil structure here changes to clay loams over hard clay subsoil. Nelson presently is home to about thirty wineries, specialising in varieties that respond to cooler growing conditions. Chardonnay, Sauvignon Blanc, Riesling and Pinot Noir account for over 80% of the region's vineyard area.


Canterbury

Primary Grape Varieties:
Red Grapes:
Pinot Noir.
White Grapes:
Chardonnay, Riesling, Sauvignon Blanc.
New Zealand's fourth largest wine region, Canterbury, in the middle of the South Island has two major areas suited to viticulture; the vast plains around the city of Christchurch, where grapes were first planted in the late 1970s, and the more recently developed valley area of Waipara, an hour's drive north of Christchurch. In the southern area the soils are mainly alluvial silt loams over gravel subsoils while in Waipara they are chalky loams that are often rich in limestone. Long, dry summers, abundant sunshine and relatively cool growing conditions (subject to frosts) are a feature in both areas although Waipara, which is sheltered from the coast by a low range of hills, can be significantly warmer.

Research at the local Lincoln College first helped to determine which varietals were most suited to Canterbury's terroir; today, Chardonnay and Pinot Noir are the most widely planted, being best suited to the cool climate, together making up nearly 60% of the region's vineyards. Giesen Estate is probably the most well known Canterbury brand, responsible for pioneering the production of quality dry Riesling in the region (the third most popular variety with Sauvignon Blanc in fourth place).

Some producers include Waipara Hills, Giesen Estate, Trent's Estate, Gatehouse Wines.


Central Otago

Primary Grape Varieties
Red Grapes:
Pinot Noir.
White Grapes:
Chardonnay, Riesling, Sauvignon Blanc.

Vineyards were first planted in Central Otago in 1864 by Jean Desire Feraud, the first Mayor of Clyde. Awards for his wines were won at exhibitions in Sydney and Melbourne, as reported in the House (of Parliament) by the goldfields M.P., Vincent Pyke, in 1881. In fact, the district's potential has being recognised by French and Australian viticulturists from the 1860's, but grapes were not commercially grown again in Central Otago for more than a century. Today the prophetic words of visiting wine consultant Romeo Bragato are being confirmed with every vintage:"There is no better country on the face of the earth for the production of Burgundy grapes than Central Otago..."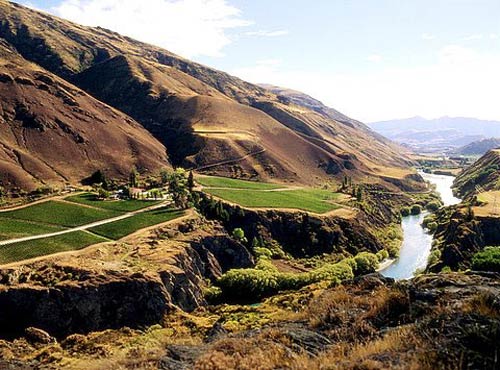 Chard Farm Vineyard, Central Otago.

It is New Zealand's highest and the world's Southern-most grape-growing region located at latitude 45º south (similar to the Northern Hemisphere's Willamette Valley in Oregon U.S.A., and the Northern Rhone Valley in France) with vineyards located east of the resort town of Queenstown, including the small towns of Wanaka, Cromwell and Alexandra. Locals believe that the natural health of the district's vines is a reflection of their isolation - especially from industry (in fact, there is no vineyard in Central Otago within 200 kms of a traffic light!)

The modern day wine revival began with a trial vineyard that was planted at the Department of Scientific and Industrial Research (DSIR) near Alexandra in 1972 and shortly followed in 1975 with experimental plantings at Rippon Vineyard, Lake Wanaka. The first commercial release of a Pinot Noir from Central Otago was the 1987 vintage from pioneer Alan Brady at Gibbston Valley winery. Other early pioneering wineries include Taramea, Blackridge, William Hill and Chard Farm.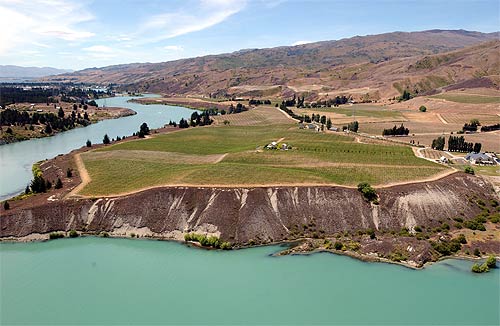 Aerial view of Carrick Estate, Central Otago.

The district is better described as a series of sub regions: each a pocket of possibility in a rugged mountain landscape. Many are quite different and the wines they produce have distinctive characteristics, though individuals may differ in their opinion as to precisely what these characteristics are. Sub regions are generally classified as follows:


Wanaka:
The most northerly and one of the most beautiful sub regions. Wanaka is cooler than some, but often has a good frost record because of the influence of the stunning lake.
Lowburn:
This area stretches from the township of Lowburn up the Greater Cromwell valley for some 25 kilometres. It has the largest areas of potential grape land, but very few northerly slopes for such a large area. As it is one of the warmer regions, Pinot Noir seems to ripen here without the need of slopes.
Bendigo:
Bendigo is possibly the warmest sub region, though only recently planted, consisting of a North facing ridge at the junction of the Cromwell and Lindis valleys, with more gentle Northerly slopes below it. Many wineries based elsewhere in Central Otago are growing fruit here.
Alexandra:
The most southerly sub region, Alexandra would be in the middle of the heat range of Central Otago microclimates. Spreading from gentle hills to wild rocky escarpments, it is probably the most varied as well. This was one of the earlier sub regions to be explored and planted.
Gibbston:
The first location to be planted in Pinot Noir, Gibbston is a north facing valley slope of The Kawarau Gorge, as it falls from Queenstown to Cromwell. The coolest of the sub regions, and visually very dramatic, it produces a distinctive intensity from the later harvest grapes produced here.
Bannockburn:
Currently the most intensively planted of the microclimates, Bannockburn is a North facing crescent bordering the Kawarau River as it flows across the base of the Cromwell valley to its meeting with the Clutha River. A warm site, which like Alexandra has a long fruit growing tradition and was famous for its gold mining.

Pinot Noir in particular seems ideally suited to the peculiar terroir of Central Otago, namely, a narrow range of heat summation, long cool and dry autumns which offer extended hang time (attributable to extra depth of flavour) and low humidity (Pinot Noir is very susceptible to Botrytis, so low humidity and low rainfall in the autumn is desirable.) A heavy though well drained soil is also significant. In Burgundy, the combinations of clay and limestone achieve this. Otago has heavy Loess soils interspersed with gravels. Either way, the roots have access to good minerality in low organic matter, but don't get waterlogged.(11)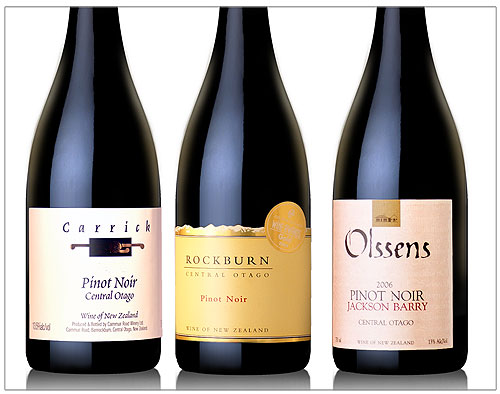 Notable producers include Olssens, Pisa Range Estate, Mt Difficulty, Felton Road, Carrick, Rockburn, Chard Farm and Gibbston Valley Wines.