Chile's Unique Terroir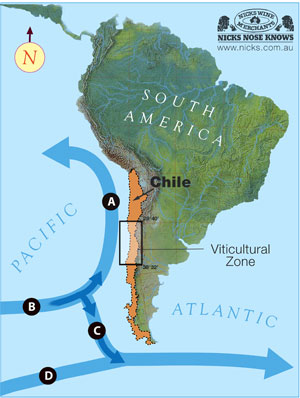 A

= Humboldt Current.

B

= Current from the East Drift


C

= Cape Horn Current

D

= Polar Current



For those who don't know South America's geography, Chile must rank as one of the most peculiarly shaped countries in the world. It's a long, narrow north-south stretching sliver of spectacular landscapes, guarded by the magnificent Andes Mountain Range to the east and the wild Pacific ocean to the west. Between the central valleys and the ocean lies a smaller, coastal mountain range. The key climatic influence throughout is the icy Pacific, cooled by what's referred to as 'The Humboldt Current'[see illustration on right]which brings cold water from the southern oceans. Where there are breaks in the coastal range, cool air makes its way into the central valleys, moderating temperatures.

The important viticultural regions are concentrated in the centre of Chile between the parallels 27o 30' and 38oS, a series of valleys spanning around 1200 km (750 miles). There are a variety of micro climates, some more suited to premium grape production than others.

The hot northerly sites around Atacama and Coquimbo produce table grapes and specialise in production of Chile's national spirit, 'Pisco'. It's further south that the traditional centre for premium grape growing can be found, within a 1000 km plateau known as the Central Valley. It's wines from this region that justifiably established Chile's present reputation as a producer of easy drinking, value for money wines. Here the climate is 'Mediterranean' (think of coastal California, South Africa and southwestern Australia) with warm summers tempered by sea breezes. Unbroken sunshine, little rain except perhaps towards the very end of harvest, and low atmospheric humidity, present ideal conditions for disease free, premium grape growing (here bio-dynamic farming is the rule rather than the exception). A criss cross of river systems carry melted snow during the growing season from the Andes to the Pacific, guaranteeing irrigation for the next summer's vintage. Thus, unlike Australia, the core of the Chilean wine industry is more-or-less drought proof.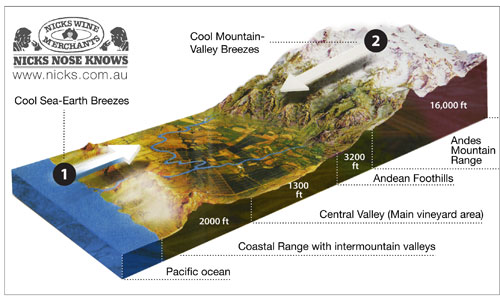 Above: General topography and climatic influences.
Illustration adapted from Chilean Wine Regions 2003 Map. Hernan Maino, 2002.
When Jancis Robinson published her second edition of The Oxford Companion to Wine in 1999, several of Chile's most exciting new wine regions (e.g. San Antonio, Colchagua, Leyda and the Limari Valley) were not even identified on the map nor mentioned in the text. It's testimony to just how fast Chile's wine scene is transforming. In 2009, U.K. wine writer, Chris Losh spent a week west of the Andes with some of the UK's finest sommeliers to explore the country's diversity. He was stunned at the rate of development since his last visit in 2002."Go back just six years and Chile was a country that, viticulturally speaking, hadn't changed all that much in the previous hundred years. Sure, grape growing techniques were better, and there was less País and a lot more Cabernet, but in terms of what was planted and, crucially, where it was planted (bar the emergence of the Casablanca Valley), it was a set-up that would probably have been familiar to anyone involved in the industry at the turn of the 20th century. To say there have been big developments in the past 10 years is to understate the case by a factor of about 20. This is an industry that has not so much evolved as changed out of all recognition".(5)


Chile's Primary Grape Varieties

(6)





The 2007 registry, published in January 2009, indicates the following:


- Total Area planted to wine grapes : 117,559 hectares
- Total Red varieties : 88,703 ha (75%)
- Total White varieties : 28,856 ha (25%)



Primary Red Varieties (in hectares)


- Cabernet Sauvignon : 40,766
- Merlot : 13,283
- Carménère : 7,284
- Syrah : 3,513
- Pinot Noir : 1,413
- Cabernet Franc : 1,177
- Malbec (Cot) : 1,050



Primary White Varieties: (in hectares)


Sauvignon Blanc: 8,862
Chardonnay : 8,733
Moscatel of Alexandria : 6,035
Riesling : 305
Viognier : 309
Gewürztraminer : 195

In conjunction with demarcating the massive Central Valley into more concise micro-regions, Chile's major project is the ongoing identification of sites previously thought to be too cold for viticulture, including Casablanca, San Antonio, Leyda, Limari and Bio Bio. Until several years ago, the southern valleys such as Maule and Bio Bio, for example, remained un-developed, mainly producing undistinguished bulk wines from Pais. (The further south one gets, the cooler and wetter the climate is). Yet it is in these marginal regions that some of the most exciting developments are taking place. In Bordeaux-like conditions, the potential to make more expressive, elegant wines from a broad repertoire of European grape varieties is being realised.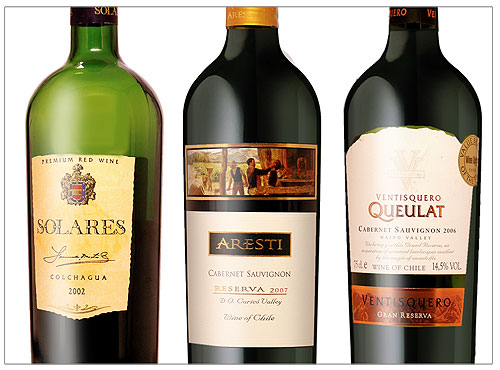 Red varietals continue to dominate in Chile, with Cabernet Sauvignon still the most widely planted.
While neighbouring Argentina continues to focus its efforts (almost exclusively) on Malbec, Chile is taking the opposite approach branching out with aromatic varieties like Sauvignon Blanc and Gewurztraminer that are delivering some excellent results in cooler climes. Hard work with both clone and site selection is already paying dividends; Sauvignon Blanc is hardly new to Chile, but it's now the country's most important white varietal. Two up and coming red varietals that have responded well to a range of micro-climates are Pinot Noir and Shiraz (Syrah in Chile). Chile can capitalise on Pinot if it enters the market with quality wines in the sub AU $20 category, a scenario that will potentially put real pressure on New Zealand producers. Meanwhile, Shiraz (a variety that didn't exist in Chile until the mid 1990's now showing the most rapid growth - approx.3500ha) is also revealing serious potential in cooler areas like San Antonio, Casablanca and Leyda, offering an alternative to Australian styles that some now find overpowering. These are very much works in progress and while the diversity is welcome, conservatives can rest assured that Cabernet Sauvignon still dominates. With over 40,000 hectares under vine, it's destined to remain the most planted Chilean variety for some time into the foreseeable future.