Premium Chilean Wines
Shipped by Nicks Wine Merchants

Carmenere: Chile's New World vision of Pre-Phylloxera France

Carmenere [pronounced car-men-YEHR] offers a style of red unlike anything else in the world. Naturally, we were delighted to introduce the varietal to Australian wine lovers with our first shipment but for those who are completely oblivious to this unusual variety, some background information: Carmenere was once common in Bordeaux, along with Cabernet Franc, Merlot, Malbec and Petit Verdot. It can be produced in a variety of styles. Chile's expansion into new terroirs means that there's already a remarkable diversity to be found. Losh's group of Sommeliers, for example, reported a tasting of twelve Carmeneres that had more stylistic diversity than would an equivalent line up of Burgundies. When yields are kept in check, the results can be as explosive as the best Australian Shiraz, delivering enormous colour, silky texture and spicy, dark fruit flavours.


Once common in Bordeaux, particularly in the Medoc (where it was known as 'Grande Vidure'), Carmenere is now rarely found in France; firstly because most plantings were wiped out in 1867 due to the vine disease, 'phylloxera'; secondly, because it is the last of the red grapes to ripen, and in Bordeaux often does not fully ripen resulting in green flavours. This combined with its erratic tendency to develop a condition called 'coulure', (poor fruit set after flowering) and its resultant low yields have contributed to the demise of Carmenere throughout Europe.

Long thought to be Merlot vines, Chilean cuttings have thrived for 150 years. It was only in 1993 when the renowned viticulturist, Professor Jean-Michel Boursiquit of Ensa de Montpellier, carried out a detailed scientific survey that winegrowers realized the two similar vines had been growing together for more than a century.(7) When Chilean winemakers witnessed the colour and taste of the pure Carmenere, they realized they had been ignoring a huge asset. Along side Cabernet Sauvignon, Carmenere now represents one of the country's signature varietals. Our tasting notes regarding the wines expected to arrive September 2009 follow below.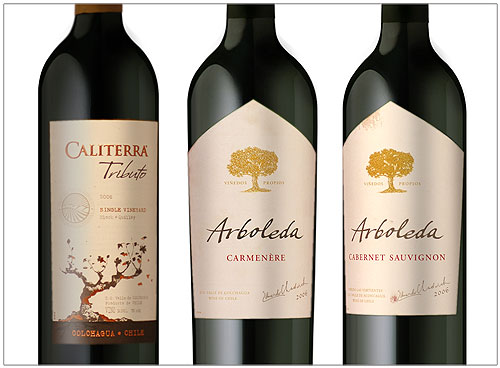 2007 Arboleda Carmenere
Region: Colchagua Valley.
A superb follow up to the 2006. Opaque black crimson colour with deep crimson mauve hue. Perfumed nose of violets, spice, fresh blackberry and cherry. The palate delivers excellent weight and mouthfeel. Flavours of dark cherry, blackberry, dark chocolate and spice. Velvet tannins. Spicy back palate and aftertaste with black pepper emerging. A New World classic! Cellar 3-4 years (2012-2013) Alc/Vol: 14.5%Rating: 98 points

2007 Caliterra Tributo Single Vineyard Block Boldo Carmenere
Region: Colchagua Valley.
Outstanding colour. Opaque black purple with black purple hue. Top note of freshly crushed blackberry followed by a touch of vanilla, spice and liquorice. The palate is generous with flavours of blackberry, dark chocolate, spice and cherries. Fine grained soft tannins. Aftertaste of dark chocolate, spice and cherry. Cellar 3-4 years (2012-2013) Alc/Vol: 14.0% Rating: 95 points


The French Connection:
Los Vascos and Lafite Rothschild.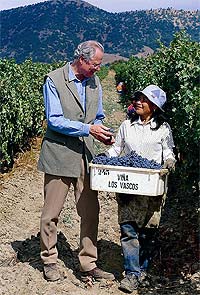 Despite being historically linked to Spain, Chile's wine history has been most profoundly influenced by French winemaking, particularly that of Bordeaux. This association is exemplified at one of Chile's best vineyard sites, 'Los Vascos', an Estate in Colchagua who specialise in the production of superb Cabernet Sauvignon, as well as other Bordeaux varietals under the supervision of one of the Old World's most prestigious Chateaux - Lafite Rothschild. Not content with the success of just one vineyard, over the last 20 years, the owners of Chateau Lafite, Domaines Barons de Rothschild, have made strategic acquisitions around the globe, selecting specific sites that possess the terroir required to produce exciting New World wines with Lafite Rothschild's First Growth know-how. In order to achieve this ambition, Domaines Barons de Rothschild has developed a simple philosophy: Respect each terroir; Use local winemaking expertise in tandem with that of its own team of winemakers; Provide the necessary investment to enable each project to succeed; Have the vision to look at the long term; Allow the time it takes to make great wines that are a true reflection of their provenance. In addition to these guiding principles, Domaines Barons de Rothschild employ their own cooperage, which is located at Chateau Lafite. The oak, from Allier and Nivernais forests, is left to air dry for two years before being broken down into staves for barrel making, after which five coopers produce 2,000 barrels per year, destined for use at the various Rothschild estates around the world. This comprehensive commitment to perfection enables Domaines Barons de Rothschild to succeed in working with like minded people from different cultures, with each group recognising each others worth and contribution.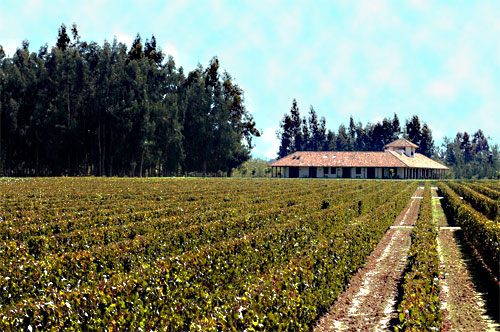 The Los Vascos Estate & Vineyards.
Domaines Barons de Rothschild took over the Los Vascos Estate in 1988. At the time, 220 hectares were planted. Prior to purchasing, the Rothschild team visited many properties and tasted many wines to ensure that the terroir they purchased was the best possible acquisition. The vineyard is located 40 km from the Pacific Ocean, some 130m above sea level. The site has excellent exposure to sunlight as well as adequate water resources, semi arid soils and is frost free. From 1983 to 1994, the vineyard was restructured with bores drilled for water, a weather monitoring station was installed and the winery refitted. Stainless steel tanks, new pneumatic presses and a barrel cellar were also part of the refurbishments.
When the venture first started, Rothschild's brief to the winemaking team was modest
"...make a really good $7 wine".
(8)
Only after ten years of experimentation did he feel they were ready to make wines of the highest quality. The Estate's wines continue to be made under the supervision of Lafite's winemaking team. As the vineyards have matured, so the quality of Los Vascos wines have improved, particularly that of the premium wines, 'Grande Reserve' & the 'Dix de Los Vascos'.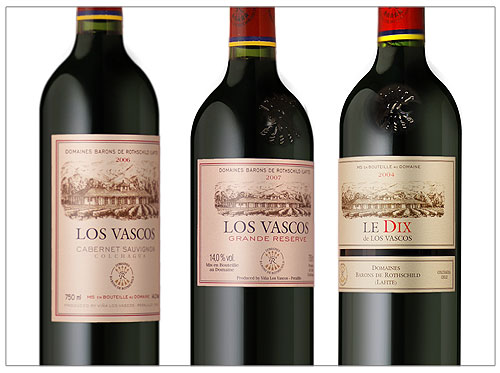 New releases of their flagship reds are included in our next shipment as follows:

2007 Los Vascos Cabernet Sauvignon
Colchagua Valley Chile.
An outstanding Bordeaux inspired Cabernet at a bargain basement price. Very deep crimson mauve colour with deep purple mauve hue. Top note of cedar, followed by blackcurrant and confectionary, with a hint of cigar box delivering a refined sniff. Very French in its aromatics which is also reflected on the palate. The palate displays refinement, with length and classic Bordeaux restraint. Flavours of cedar, cigar box and blackcurrant are overlaid with a hint of dark chocolate. Exceptionally long aftertaste. Cellar 5-8 years (2014-2017) Alc/Vol: 13.5% Rating: 94 points

2007 Los Vascos Grande Reserve Cabernet
Colchagua Valley, Chile
Superb colour - Very deep black crimson with mauve purple hue. Strong varietal nose with distinctive Cabernet lift. Cassis, blackcurrant and violets deliver a perfumed lift. The palate is relatively light but classic in its structure. Flavours of blackcurrant, cedar, spice and dark chocolate. Outstanding length and depth. Fine dryish tannins. Very spicy back palate. Perfect balance. Nuances of dark chocolate emerge on the aftertaste. Cellar 4-5 years (2013-2014) Alc/Vol: 14%Rating: 96 points

2006 Los Vascos Le Dix Cabernet Sauvignon
Colchagua, Chile
The pinnacle of winemaking for Barons de Rothschild Lafite's Chilean operations. Medium body, deep crimson colour with deep crimson mauve hue. Perfumed nose of violets, cedar and confectionary with blackcurrant end note. A superb sniff. The palate is reminiscent of classed growth Bordeaux with real elegance and refinement without being thin. Excellent weight with mouthfilling palate flavours. Cedar, blackcurrant spice and liquorice allsorts fill the palate and are enhanced by a very spicy back palate. Excellent length and perfectly balanced, with fine dry tannins. Very long aftertaste of cedar and spice.
Cellar 5-8 years (2012-2015) Alc/Vol: 14.0%Rating: 97 points


Reaching the Summit:
Sena and the Tasting that Changed Chile.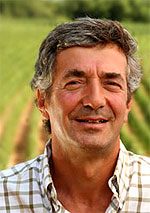 Eduardo Chadwick.
In the last two decades, several ambitious Chilean producers have attempted to define the limits of Chile's viticultural potential by producing an ultimate expression of terroir. Known as 'icon wines', the success of the most famous example, 'Sena', is partly attributable to the flamboyant promotional efforts of its creator, Eduardo Chadwick, a fifth generation family member of Vina Errazuriz. The concept started out as a joint venture between Chadwick and pioneering giant of California's Napa Valley wine industry, Robert Mondavi. Their four year search for an ideal terroir ended in 1999, when a hillside vineyard was acquired in the Ocoa District, at the western end of the Aconcagua Valley, 41km from the Pacific Ocean. 45 hectares were planted to Cabernet Sauvignon, Merlot, Cabernet Franc, Petit Verdot, Carmenère and Malbec.

In particular, it was Chadwick's organising of international tastings and seminars that put Sena in the limelight. Starting at the Ritz Carlton Hotel in Potsdamer Platz in Berlin, Chadwick invited forty of Europe's leading wine writers, critics, sommeliers and trade to taste 'blind' a selection of the world's finest wines, including Chateau Margaux, Chateau Latour, Chateau Lafite, Sassacaia and Tignanello from the 2000 and 2001 vintages."...The event promised a David-and-Goliath-style contest between Chile and some of France's and Italy's top wine estates. The atmosphere was intense. No labels were visible and nothing but the chinking of glasses could be heard as each taster strained every taste bud to identify and evaluate the wines. But it was Chile that bagged three of the top five scores".(9)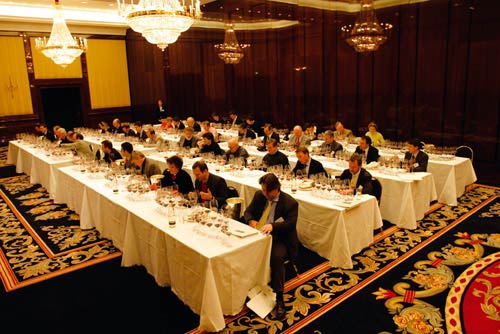 The historical 'Berlin tasting'.

Sena came out on top."We were trying to prove that we were in the company of the best wines of the world,"commented Chadwick."It was a milestone for us demonstrating the quality of our wines; we never expected this."(10)

Andrew Catchpole, wine writer for UK's Daily Telegraph, who took part in the tasting reflected afterwards"I have long been a fan of Chilean wines, particularly those priced between £5 and £10, but I had always thought of Sena and Vinedo Chadwick and several other expensive cult wines over-priced and over-hyped. Berlin changed my mind. Given the choice of a bottle of Lafite for £285 or six Sena with change to spare, the Chilean newcomers suddenly look remarkably good value. The real lesson of Berlin is not to let price or labels pull the wool over your eyes. Neither is a guarantee of quality."(11)
(See http://www.theberlintasting.com for more information on this historical tasting).

'Roadshow' tastings were repeated in Brazil (3rd), Tokyo (2nd) and Toronto (5th & 6th) with similar results. Sena has since cemented its place as Chile's first icon wine, a testimony to the prudence of the Mondavi-Chadwick partnership and Chile's incredible potential. The 2006 release is a brilliant follow up to our first shipment, a wine that had many seasoned wine lovers declaring Sena to be one of the finest reds they'd tried.

2006 SenaDry Red
Aconcagua Valley, Chile
The high point of the collaboration between the late Robert Mondavi and Eduardo Chadwick. The blend is composed of 55% Cabernet (for structure) 10% Merlot (for rich berry flavour)10% Carmenere (for spice and black pepper flavours) 13% Petit Verdot (for colour) and 6% Cabernet Franc (for ripe raspberry flavours). The wine has been matured for 18 months in French Oak. Opaque black crimson colour with black crimson mauve hue. Lifted aromatics, Classic Cabernet blend nose. Top note of violets followed by spice, mulberry and truffle. Velvet smooth tannin structure. Mouthfilling flavours of mulberry, dark chocolate and blackcurrant over a spicy background. Excellent length and depth. Very long aftertaste of mulberry, spice and violet infusions.
Cellar 5-8 years (2014-2017) Alc/Vol: 14.5%
Rating: 97 points

Footnotes & Bibliography
1. Oxford Companion to Wine. 1999 Edition.
2. Ibid
3. http://www.winesofchile.org/
4. Wine: Red Hot Chile. The Independent. Anthony Rose, July 26, 2008
5. Imbibe. 'Divine Intervention' Chris Losh. January/February 2009
6. http://www.winesofchile.org/
7. Carmenere - lost grape of Bordeaux. Wines and Vines. Kevin Sinclair, May, 2000
8. Los Vascos Cabernet Challenges Chile's Top Wines. Thomas Matthews. Wine Specatator Magazine, October 14th, 1999
9. Andrew Catchpole, The Daily Telegraph, United Kingdom, April 10, 2004
10. Ahead of the Pack. Jamie Goode. Drinks International Magazine, May 2008
11. Andrew Catchpole, The Daily Telegraph, United Kingdom, April 10, 2004
Some general regional information sourced from: Chilean Wine Regions 2003 Map. Hernan Maino, 2002.