The Historical Development of Chile's Wine Industry
Many Australian wine lovers will be unfamiliar with South American wines, yet the continent actually has a longer tradition of wine production than our own. Where 16th century attempts by Spanish Conquistadors failed, primarily because of the north's tropical climate, a quarter of a century later, Hernan Cortes managed to grow vines in the Mexican highlands from European cuttings (or more likely seeds). It was here that the America's first successful vintage was produced. The Spanish missionaries who arrived in the New World with the Conquistadors and explorers encouraged viticulture because wine had an essential role in the sacrament of the Eucharist, and as Spanish settlers spread, so viticulture slowly migrated south.
Hernan Cortes

(1485 - 1547)

Francisco Pizaro (c. 1475 - 1541)


When Bartolome de Terrazas, a lieutenant of the Spanish explorer, Francisco Pizaro, bought vines to Peru in 1548, the first Chilean vines were also being planted. Small quantities of wine were been produced around Santiago by 1550 using 'rustic' varieties that probably no longer exist, although specific grape varieties mentioned by the 16th Century Jesuit priest and Chilean historian, Alonso Ovalle, include Muscatel, Torontel, Albilho, Mollar and"...the common black grape."*(1)

Spanish rule over the Chilean territories restricted wine production with the stipulation that Chileans should purchase the bulk of their wines directly from Spain itself. In 1641, wine imports from Chile and the Vice-royalty of Peru into Spain were banned, severely damaging the wine industry in the colony (the huge surplus of grapes was subsequently made into Pisco, a regional white spirit). For the most part the Chileans ignored these restrictions, preferring their domestic production to the oxidized and vinegary wines that didn't fare well during the long voyages from Spain. And as the 'forced' regress into Pisco production in Peru all but eliminated local wine production there, it was not long before Chilean wines were being exported, in bold competition against the imported wines of Spain.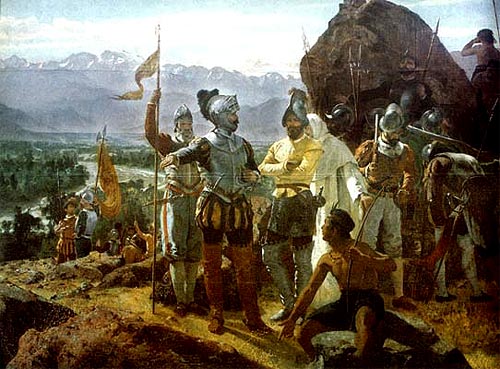 Pedro Lira's 1889 painting of the founding of Santiago by Conquistadors.
As the Spanish conquered the land they and the missionaries that followed, brought grapevines with them.

Some early vineyards, particularly south of Santiago, were ransacked as a result of a prolonged war with the native 'Mapuche' peoples, however, the areas around Santiago were uninterupted (in fact, they've remained in continuous wine production for over four centuries).

During the 18th Century, coinciding with the rise of more efficient irrigation techniques, viticultural development in Chile's central regions (between Santiago & Chillan) became more readily viable. The dominant grape varieties were Pais [pronounced "pah-EES"] and Alexandra Muscatel which were made into sweet wines, whereby they were often boiled, concentrating the grape must. Following his shipwreck off the coast at Cape Horn, Admiral John Byron (Grandfather of the poet Lord Byron) travelled across Chile and came back to England with a glowing review of Chilean Muscatel comparing it favourably to Madeira.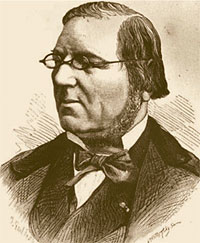 Claudio Gay (1800-1873), French illustrator and naturalist and one of the chief catalysts of the modern Chilean wine industry.
Then something of a wine renaissance took place in Chile. It was the result of 19th century viticultural pioneers (mainly well travelled, wealthy industrialists) inspired by the vineyards of France, in particular Bordeaux. Fortuitously, for both the past and present Chilean industry, the Government of the time had previously been persuaded to establish the 'Quinta Normal' - an experimental nursery for all manner of exotic botanical species, including more than 40,000 vines and 70 different varieties, many of them European. The project was the brain child of an enterprising French naturalist and scientist, Claudio Gay. It meant that"...Chile had its own collection of vinifera cuttings safely banked in viticultural isolation before the onset of the world's late 19th century scourges of powdery mildew and phylloxera." (2)

The first of these cuttings formed the foundation of the modern industry, and were planted in the Caneten Valley of Colchagua in 1859. (Silvestre Ochagavia is generally credited with being the first to introduce French varieties for commercial purposes in the Maipo Valley). Their introduction proved to be timely. While phylloxera devastated Europe, Chile's vineyards were rapidly expanding due to the sudden demand for 'Bordeaux-style' wines in Europe where Chilean wine was first exported in 1877. At the same time, a class of 'gentlemen farmers' was emerging, some who had made significant fortunes on the country's abundant mineral deposits, and who considered owning a vineyard on the outskirts of Santiago as something of a status symbol, particularly if it were being managed by a refugee French vigneron displaced by the effects of phylloxera.

Just as Europe's great vineyards were been systematically uprooted, Chile was boasting one of the only profitable, disease free wine industries in the world. In 1870, 9,000 hectares were under vine, and by 1900 this figure reached 40,000 hectares. It's not surprising that some of Chile's best-known wine names date from this period: Concha y Toro, Errazuriz, Santa Rita, Cousiño Macul, Undurraga and La Rosa, to name but a few, each offering a heritage to rival many of Europe's finest estates. It was an incredibly prosperous time, and by 1947, the wine industry had undergone a period of reorganisation and rationalization. New infrastructure was established with land being cleared for planting and water supply systems put in place.

Yet, in the years that followed, the Chilean wine industry started showing signs of recession - partly due to political, geographic and economic reasons - increased taxation on wine for example, meant domestic demand declined as did wine prices. Combined with decades of under-investment and lack of technological innovation, many Chilean wineries were left with no alternative but to grub vines. Throughout the 1970's and '80's, about half of Chile's vineyards, many located on excellent sites, were uprooted.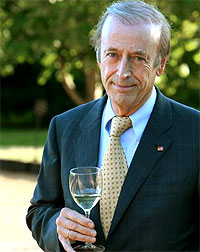 Miguel Torres

.
The brake on progress continued to take its toll until a return to democracy and free trade stimulated vignerons to regroup and lobby for change. However, the re-invigoration of the wine industry was to be led from unexpected quarters - namely, the famous Spanish vigneron, Miguel Torres. His model investment blazed a trail that others were to follow en masse. Old native oak casks were replaced by stainless steel tanks and by quality French and American oak barrels; while investors from the USA, Spain and France looking to establish a presence in what was clearly a unique location, followed Torres' lead, modernising wineries and viticultural practices.

Chile's diverse viticultural terroirs combined with world class winemaking talents soon saw the country offering wines that were astounding critics worldwide. The global reaction to this dramatic increase in quality was testified to by the rise of exports: From an average of $15 million dollars worth of wine annually in the 1990's to nearly $600 million in 2001.(3)
The industry now represents a united front (see http://www.winesofchile.org), boosted by government support, as would be expected from a country presently exporting the equivalent of 4 out of every 5 bottles of wine produced. (4)Chile has become the largest exporter of winepro rataof any major wine producing country today, while Chileans themselves are finally waking up to the vastly improved quality of their own wines.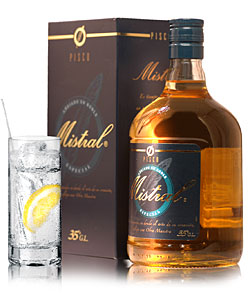 Pisco:
Chile's National Spirit.

Pisco is a distillate of Chilean grape varieties, mainly of the Moscatel family, grown primarily in the semi-arid "little North" zone of Chile.
Chile claims Pisco as its own, protecting its quality through strict adherence to production regulations. Pisco can be enjoyed by itself, on the rocks, with lemon or fruit juice or with your favourite cocktail.
*
presumably he was referring to 'Pais', identical to the 'Mission' grape of California. It's believed the Pais grape of Chile is a descendant of the Negra Corriente or Monica grape originally brought over to the new world by the Spanish. In southern Chile it's also referred to as Negra Peruana.