Chilean Wine Primer

The 'Global Financial Crisis' has not stopped people from enjoying wine, but it has made many people more price-sensitive. Reports from retailers, restaurateurs and industry analysts indicate that consumers are buying as much wine as they did a year ago, though they're spending much less. Naturally, the big beneficiaries are those that can offer outstanding wines at bargain prices. Chile is one of these.

The last five or six vintages have been very good, with many believing that the 2007 vintage reds will surpass the exceptional 2005 and 2003 vintages in quality. As challenging as this might make things for Australian and New Zealand producers, it presents an opportunity for Chilean wines to move up the scale in price and prestige, and enter the middle segment of the market, at least so long as Chile's winemakers can resist the temptation to return to the 'bargain basement'. With land and labour costs still far below those of 'premier' regions like Bordeaux or the Barossa, Chilean winemakers have known for some time that if they can focus on quality, they can over-deliver at almost any price point.

The perception of Chile as a producer solely of inexpensive but pleasant, value for money wines has been difficult to shrug off. It was abruptly skewed with the release of Eduardo Chadwick's 'Sena' in 1995. Such truly great (and expensive AU$100+) offerings have now placed the country firmly in the company of the best wines in the world (see below for details), despite having little track record in comparison to Europe's greatest estates.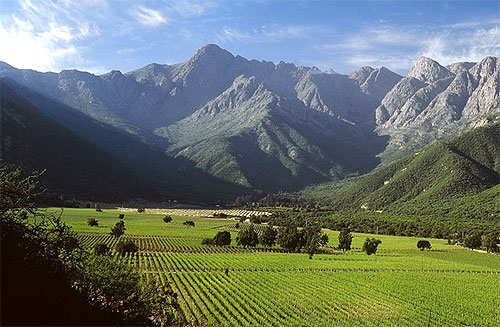 Chile's geography is amongst the most spectacular in the world. Its wines are fast catching up to the scenery.
Above: Arboleda's vineyards in the Aconcagua Valley.

Now the vast gap between inexpensive 'quaffers' and 'icon' wines is gradually being filled, with the emergence of unique, engaging, mid-priced wines from Chile. While these wines may not be prestigious enough to woo collectors and high rollers, they will certainly appeal to bargain-hunters. Quite simply, for those desiring wines with more interest and complexity than the 'cheap and cheerfuls', you can now look to Chile for $20 wines that taste like $40. Last year we tested the waters with a trial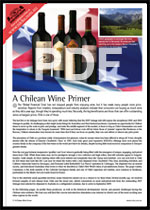 shipment from Chadwick's Vina Sena (including Arboleda and Caliterra vineyards) based in Aconcagua, and Domaine Lafite Rothschild's 'Los Vascos' operation in Colchagua. The shipment was an instant success, and introduced Australian wine lovers to what we described as Chile's New World vision of pre-phylloxera France. The grape variety, Carmenere, is the sixth member of the Cabernet Sauvignon family, and one of Chile's signature red varieties, once common in Bordeaux, particularly in the Medoc but now rarely found in France.

Due to the relatively small quantities involved, many winelovers missed out on a chance to try these wines. Several months ago, we received forward samples of new releases from Chile and the stand outs, (which concentrate on more mid-priced reds from the outstanding 2007 vintage) were selected for shipment to Australia in a refrigerated container, due to arrive in September 2009.

In the following pages, we profile these producers, as well as the historical development, terroir, and present challenges facing the Chilean wine industry. We trust you will find this concise introduction stimulates your interest in what is one of the most exciting new wine regions in the world.