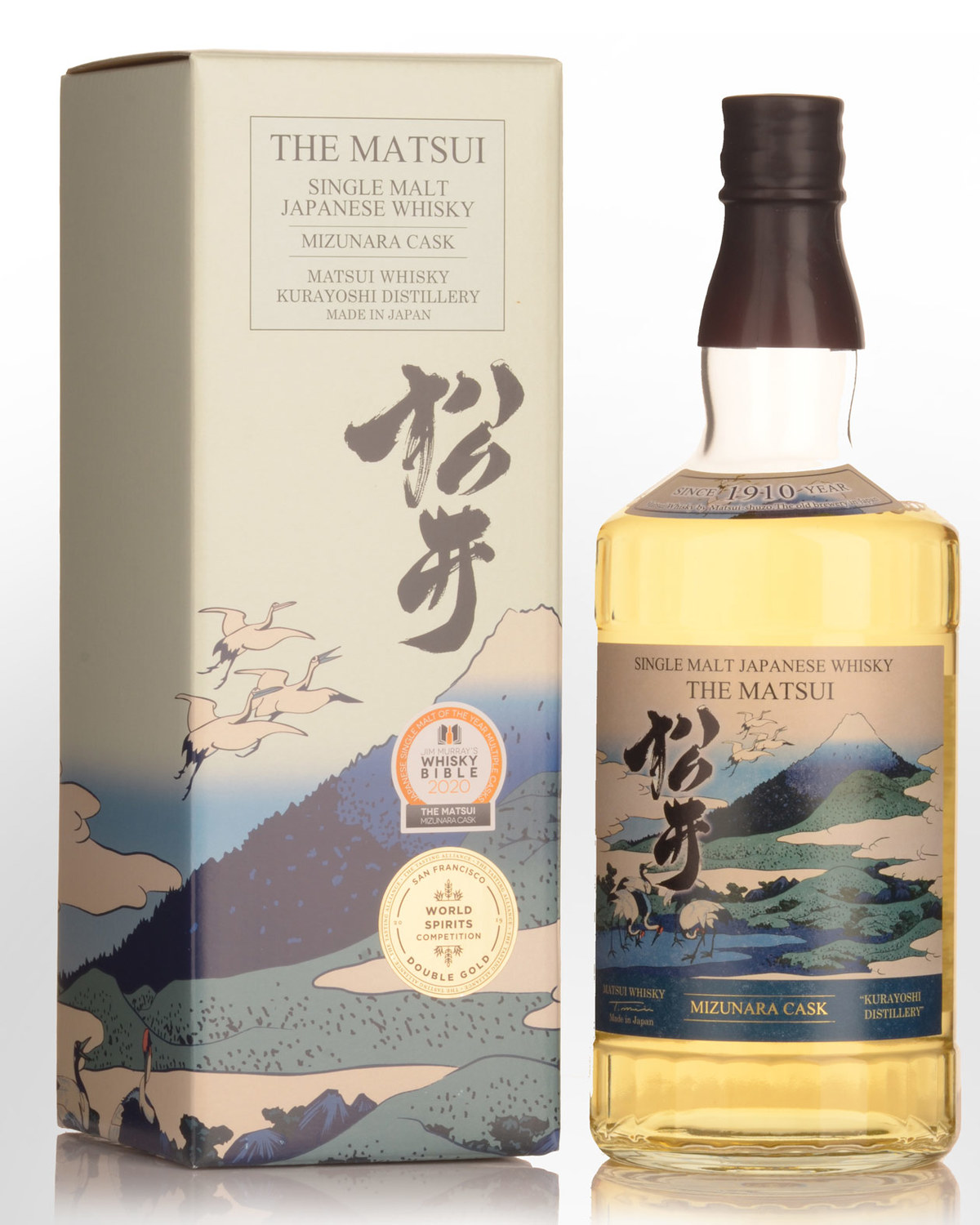 Matsui Mizunara Cask Single Malt Japanese Whisky (700ml)
JAPAN
Winner: Japanese Single Malt of the Year - Jim Murray's Whisky Bible 2020.
Matsui Shuzo, owner of the Kurayoshi whisky brand was established as a schochu distiller in Tottori, Japan back in 1910. Since then, the company has also been sourcing and selling imported age statement malts, but only started to distill whisky in 2017. The Matsui label is their first actual 100% 'Made in Japan' offering.
This particular expression makes use of Japanese Mizunara oak casks (Quercus mongolica). Suntory began to experiment with the indigenous species after the Second World War when supplies of foreign oak were difficult to source. It made a far from ideal vessel: Mizunara's loose grains tended to cause leakage, and also created challenges in terms of timber selection and cooperage. Blenders at the time had few kind words to say about the wood. It's scarcer than European and American oak, notoriously expensive, and to top it off, the trees are harvested at around 200 years old (compared to around 75 for American/European oak).
For drinkers, the obvious question is "Does Mizunara oak give a distinctive flavour to whisky?" The consensus is that it tends to offer a more definite coconut aroma. Other sources suggest the wood contributes attractive sandalwood notes. Some bottlings are clearly more successful than others. By all reports, this expression falls into the "success" category in a major way, taking out several accolades since its debut. No doubt, some will just buy it for the beautiful bottle that features Katsushika Hokusai's Thirty Six Views of Mount Fuji with a fly-by of red-crowned cranes, native to Japan.
Other reviews... If you want to see why Japanese oak can give the indigenous whisky industry a leg up on their rivals, then it might be worth tracking this down. The flavour profile is really one, to the extent, that you see only in Japan and seems to give an extra sharpness to their malt; as though the colours on the nose and palate are pastel shaded and not just water. A quite beautiful whisky, as elegant and delicate as a demure Japanese girlfriend in a flowing silk kimono. 48% Alc./Vol. Non chill filtered. 95 points - Jim Murray's Whisky Bible 2020
Very pale, fresh whisky, with lychee, fresh pear, morning dew, apple notes, and just a dash of salt and white pepper. It's a honeyed and thick dram on the palate, with caramelized apples and tangerine, then late bittersweet citrus that attempts to dampen down the jackhammer of pepper. Enjoyable weight, texture, and flavors, but the mizunara signature notes are a little subtle and underplayed. (3,972 bottles)
90 points - whiskyadvocate.com, reviewed by: Jonny McCormick (Fall 2019)
Double Gold award at the San Francisco World Spirits Competition 2019