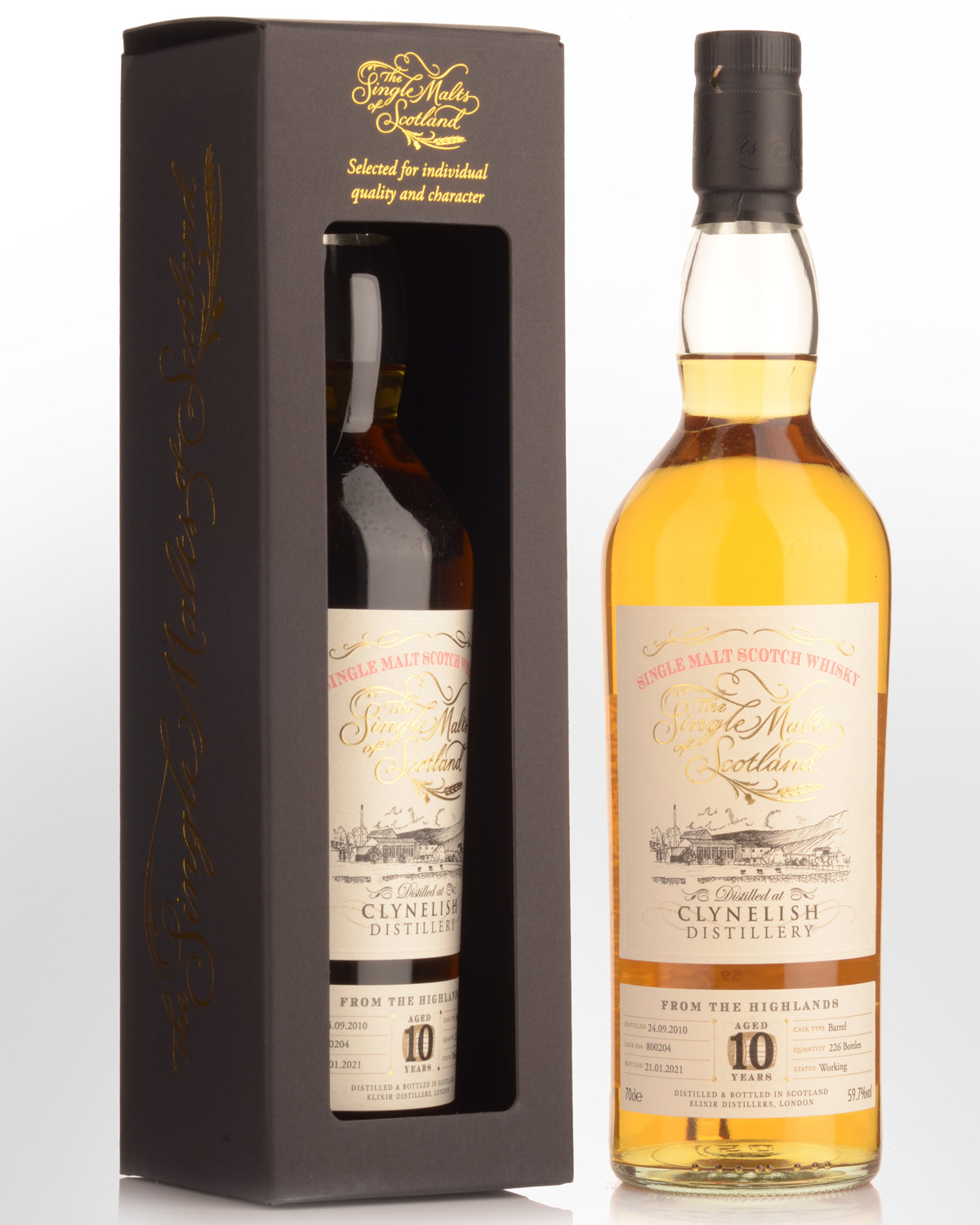 2010 Single Malts of Scotland Clynelish 10 Year Old Cask Strength Single Malt Scotch Whisky (700ml)
Now gathering momentum with collectors, with its signature waxy character and sweet fruit notes to match, Clynelish in its purer forms has gained a place as one of the most sought-after singles. Some bottlings also reveal a subtle peatiness referencing Brora. Indie releases don't often land on our shelves. The yield for this youthful expression was 226 bottles from a single hogshead at 59.7% Alc./Vol. Non chill filtered.
The causal link to this distinctive flavour profile is explained by scotchwhisky.com: "Clear worts and long ferments start the process, while distillation involves maximising copper conversation – unusually, but not uniquely, Clynelish's spirit stills are larger than its wash stills. This regime would help to produce a fruity spirit were it not for what happens in the feints receiver. In any distillery there is a natural precipitation of oils in the tank which would normally be removed during the distillery's annual silent season when the plant is fully cleaned. When this happened at Clynelish, the waxy character disappeared. Realising that the gunk had specific qualities, these days it is removed during silent season and then replaced. The mature character retains waxiness as a mouth-coating texture allied to citric notes and, occasionally, a little mineral/ozone hint. Tastings of single malts (and blends) from the 1950s and 60s suggests that waxy was a significantly more prevalent style industry-wide in those days."
Other reviews... These vintages are great but I tend to believe that they're a little too young, and that the superb waxiness that we all enjoy so much needs a few more years to become really prominent. Just a gut feeling… Colour: white wine. Nose: well, not quite, this is waxy, what didn't come through yet is rather some rounded citrus, I would say. Bread, fresh scones, marshmallows, wool and grist, paraffin, 'sweet' candles… but remember, almost 60% vol. With water: sameish plus barley water, malt, sweet maize bread, brioche… Mouth (neat): tart lemons and rhubarb plus chalk and leaven bread. Seems to work but then again, 60% vol. With water: you bet it works. Lemons, chalk, cinchona, paraffin… Finish: long, on the same kinds of notes. Paraffin, dough, citrus… Comments: young and phat, thick, oily whisky, and yet it's got this refreshing side. Major style today. 87 points - whiskyfun.com