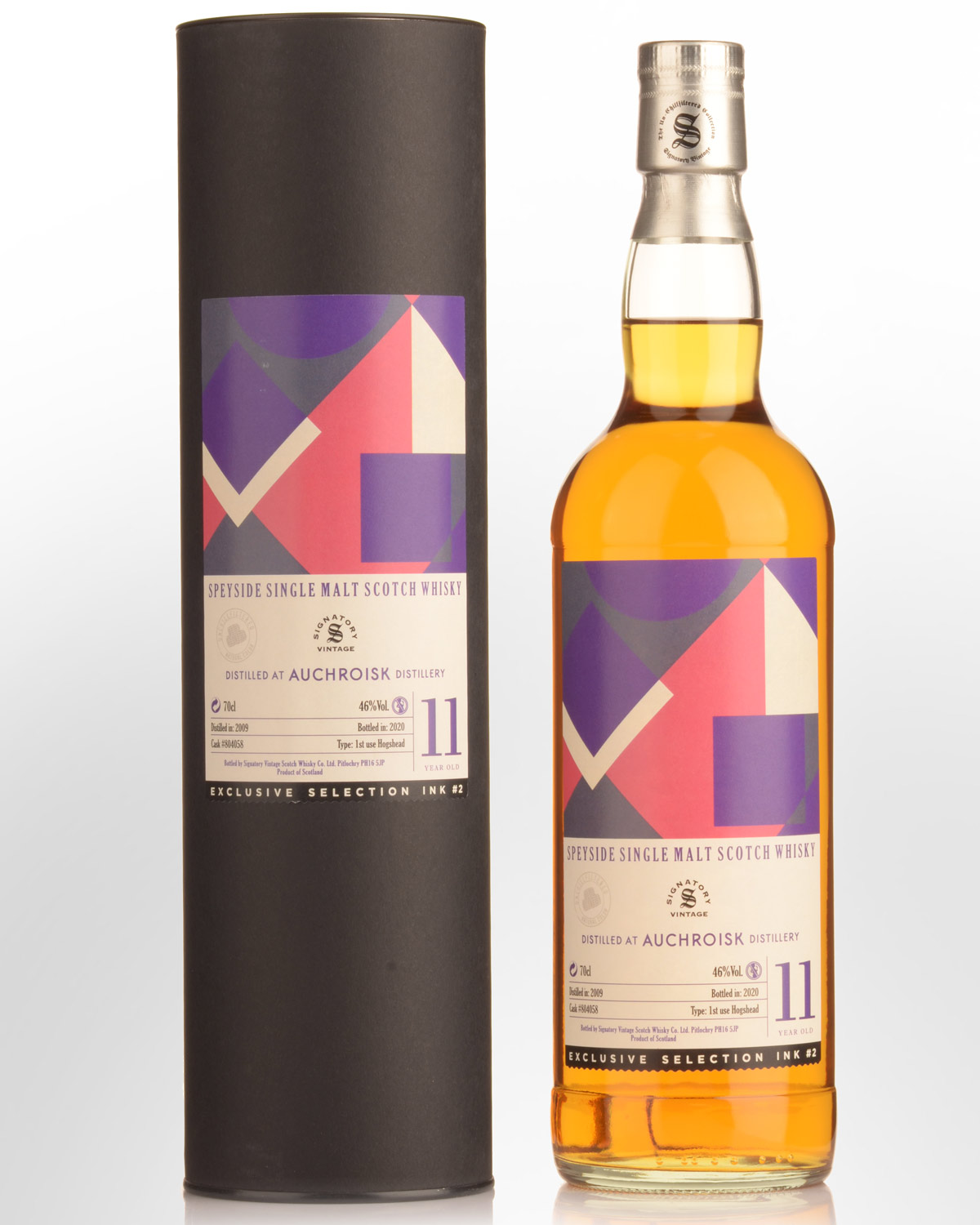 2009 Signatory Vintage Exclusive Selection Ink #2 Collection Single Cask Auchroisk 11 Year Old Single Malt Scotch Whisky (700ml)
Speyside, Highlands,
SCOTLAND
Tasting note: French retailer, Le Comptoir Irlandais selected this first-fill hogshead because it was "atypical and relatively complex while retaining the finesse specific to Auchroisk" (or "OH-thrusk" in Gaelic). The amber gold colour is advanced by a first fill maturation. The aroma opens sharp and slightly green, relaxing over time and becoming almost rum-like in its vanilla-malt nose-feel; shows a nice transition of oak to barley with notes of tea biscuits and emerging orchard fruits (pears / ripe apples). Oak creams up the mid-palate with an injection of off-dry, Bourbon richness. Not often a fan of this distillery which is frequently over-spicy, 'grassy' and off-key, especially in youth. This one has achieved balance early. While it remains softly spoken, it's unquestionably one of the better Auchroisks to date. 46% Alc./Vol. Non chill filtered.
Notes from the bottlers... On the nose, very grassy, dry, floral. It is direct on aromas of vanilla and very fresh green tea. It's classy, precise, atypical. The palate is still herbaceous, almost oriental with honeyed flavors that complement very spicy notes, a pastry aspect in a second time around more vanilla and almond notes. The finish is fine and spicy, pastry again. Atypical, excellent, a real great tasting experience on an unusual Speysider.